QUEER NOTES
With Robert Haaland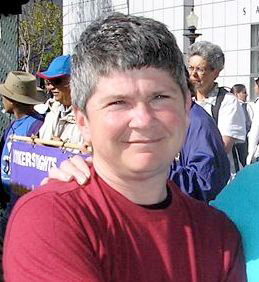 Republished with permission
Harvey Milk Club Dinner: Everything's Coming Up Daisies
June 2, 2006
Well, the night was simply great. A bunch of cool folks got awards. Queer lefties got to listen to speeches and see some great entertainment. Tamara Ching, mother of all trannies everywhere got an award, State Senator Carole Midgen, our fierce fighter in Sacramento, Brian Basinger, our uncompromising HIV/AIDS housing activist, Heather MacAllister, didn't you think her speech rocked the house? She made me remember why we put up with all the stuff we do and work as hard and long as we do. We do this because we truly are trying to change the world for the better.
An award went to Sharen Hewitt, longtime anti-violence organizer and peace activist who is the only known person in history to make the Harvey Milk Club members shout "amen" and to Young Workers United, the coolest, hippest, new union that is already kicking ass, and to Patrick Califia, the sexiest porn writer I know and wasn't his boyfriend cute?
And finally, the surprise award that no one knows about until the end was the Simeon White Award for Howard Grayson. Hurray Howard.
Sleaziest Campaign Mailer
Prop D sank to a new low by sending out a mailer with a picture of a woman who had a black eye. Since Prop D is purportedly about patient care at Laguna Honda, one might think she was a patient there who had been attacked. But no. She is an actress, and worse, they photo-shopped the black eye. See this stock photo of the woman on the mailer prior to her attack by a photo-shop.
Debra Walker is a stooge for the Mayor? Yeah, right.
Last week the Coalition of San Francisco Neighborhoods reconsidered their endorsement of Proposition D. Apparently, they felt that they had been deceived about the true purpose of Prop D. Like others, they thought the initiative was about improving patient care and weren't told that it would legalize private development on public land across the city, and of course on the land where Laguna Honda sits. As someone said to me just today, "they" are always trying to get that land…
Land use activist Debra Walker gave the presentation for the No on Prop D side and former Supervisor Tony Hall spoke for the Yes on Prop D side. During the debate, former Sup Hall saw he was losing ground and launched a personal attack on Debra, calling her a stooge for the Mayor. Sheesh. What will they come up with next? Puppet activist for Tim Redmond?
Anyway, the vote was a landslide to rescind their endorsement. So one of the main proponents isn't a proponent anymore. Guess they must all be stooges for the mayor.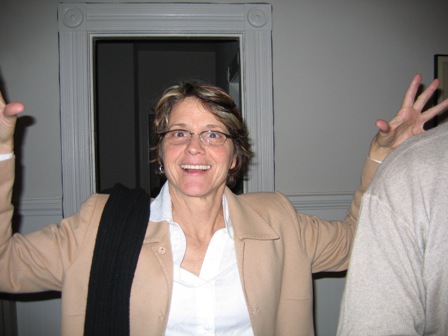 Debra Walker, Stooge for the Mayor and Puppet Activist for Tim Redmond
Photo by Robert Haaland

Fundraiser for the Compton Cafeteria Riot Commemoration
After the election, come out and have some fun and raise money for a good cause. Assemblyman Mark Leno, Supervisor Tom Ammiano and Supervisor Bevan Dufty, and the SF LGBT Center are co-hosting a fundraiser for the Compton Cafeteria Riot Commemoration. It will be Sunday, June 11, from 3-5PM at The Deco Lounge, 510 Larkin Street. Just to review: The Compton's Cafeteria Riot was in 1966, three years before Stonewall, when a group of transgender women, mostly women of color, and gay street-hustlers fought back for the first time against everyday police harassment.
This act of resistance brought about a dramatic turning point in the way the transgender and gay community were treated by society.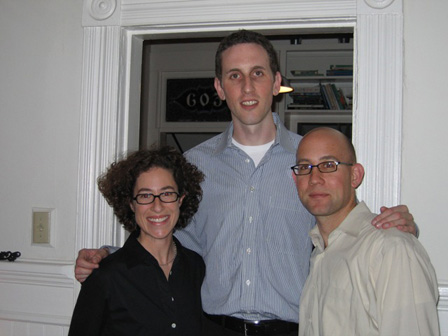 Photo by Robert Haaland
Newcomer Rafael Mandelman with incumbents Scott Wiener and Laura Spanjian
Election predictions:
Prop D is going down. How badly? Hard to say. Turnout will be abysmal. But I have to say; I learned a lot on this campaign and recently was told I was a puppet activist of Tim Redmond's. That's cool. I'm in good company. Prop A and Prop B pass. Prop C goes down. Prop 82 squeaks by maybe. In the end, I think Angelides will take it. I think turnout will drive this campaign. Whoever drives voters to the polls wins and Westly doesn't have a field campaign at all. Since it is a dead heat, Angelides pulls ahead in the end I think. Or maybe just I hope.
On the DCCC race, newcomers are all running strong, vibrant campaigns so it is a close call in the 13th AD. Hard to say. As one political consultant said, DCCC races are a mystery. Endorsements matter. Name recognition matters. But what is the winning strategy? We shall see on June 6th. Good luck to all.
Robert Haaland publishes leftinsf.com.
Email Robert Haaland at robert_haaland@hotmail.com.

####