Haaland sworn in
Becomes first transgender to sit on San Francisco Board
of Appeals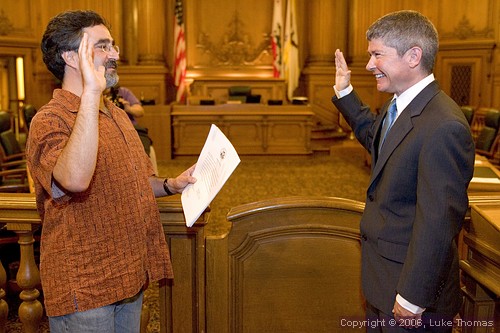 San Francisco Board President Aaron Peskin officially swears in Robert Haaland.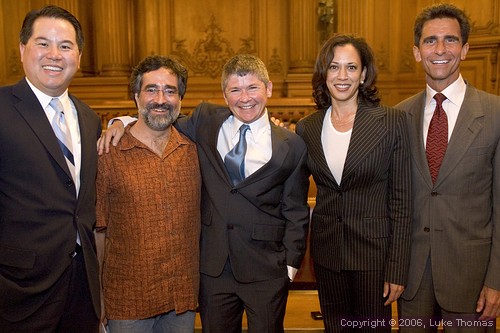 Elected San Francisco officials embracing Robert Haaland include, from left,
San Francisco Assessor Phil Ting, Board of Supervisors President Aaron Peskin,
San Francisco District Attorney Kamala Harris, and California 13th Assembly District representative Mark Leno.
Photo(s) by Luke Thomas
July 14, 2006
Robert Haaland was sworn in as a member of the San Francisco Board of Appeals today becoming the first transgender to hold the post.
Board of Supervisors President Aaron Peskin administered the Oath of Office before a crowd of well-wishers, describing the Board of Appeals as the City's most powerful commission.
"It is a testament to who Robert is that everybody is here for this swearing in," said Peskin.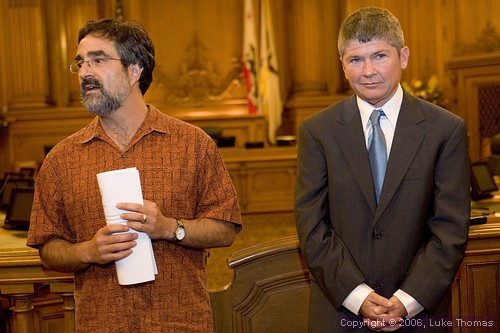 "He has done really a rather remarkable job not only being all the things that we have known him to be - tenant activist, labor activist - but... more than an activist Robert is actually one hell of a bridge builder.
"We have seen that across political lines.
"We have seen that in the work he has done with Alice and Milk (LGBT Democratic Clubs) and we have seen that in any number of ways.
"I think it takes that kind of maturity.
"The Board of Appeals maybe is not as well known as the Planning Commission but frankly it is to my mind the most powerful commission in San Francisco.
"It is the court of last resort for many, many people, many of them who are undergoing difficult experiences.
"For those of you who do not know about the Board of Appeals it is not just about land use - they deal with any appeal of any permit in San Francisco.
"When the Board of Appeals is working at its best it often is able to not have a winner and a loser but be able to take a set of parties who are fighting and really bring them together.
"I think Robert really knows how to do that and he will be an incredible addition to that body."
Haaland addressed a cross-section of San Francisco politics in attendance.
"I want to say thank you to everyone of you," Haaland extended.
"I am incredibly lucky. I think that, I know it sounds silly, but I think that every single day.
"I have the most amazing people in my life, the best possible life one could hope for.
"I've learned so much from all of you and I try to learn more and more every day."
The new commissioner reflected on being the first transgender appointed to the board.
"I was telling someone that I was going to be the first transgender on the commission in San Francisco and that's a victory for all of us.
"The more and more that we're out there, the more and more people know us, the more and more we're just everyday citizens it's a victory for all of us."
He added bridge building requires outreach.
"It's about honoring people when you build bridges and honoring people where they come from.
"And where they come from (when) it's not where I come from... but until you reach out and find them where they are... you're never going to build a bridge.
"I'm going to do my best on that commission to find out where people are and try to reach out to them."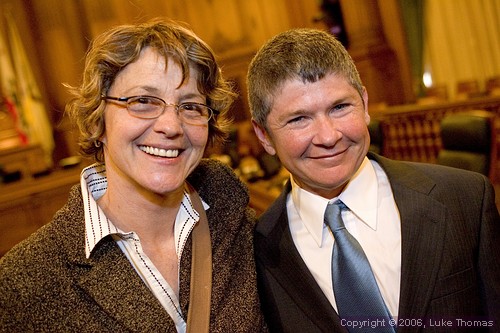 Building Inspection Commissioner Debra Walker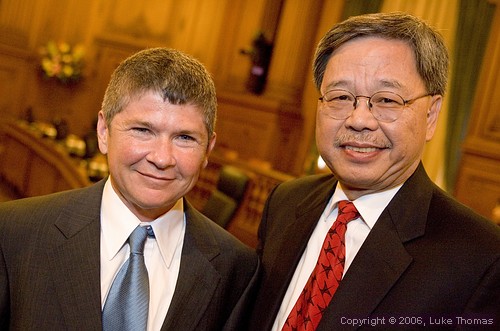 Board of Appeals President Frank Fung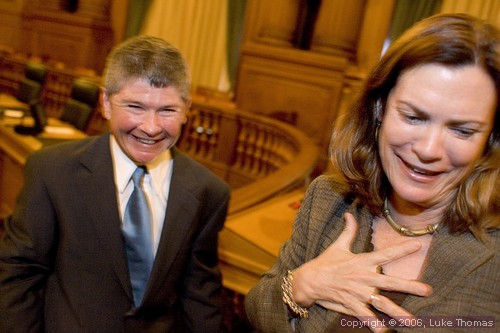 SEIU Local 790 Executive Director Josie Mooney
####