Hennessey announces candidacy for Sheriff
Seeks unprecedented eighth term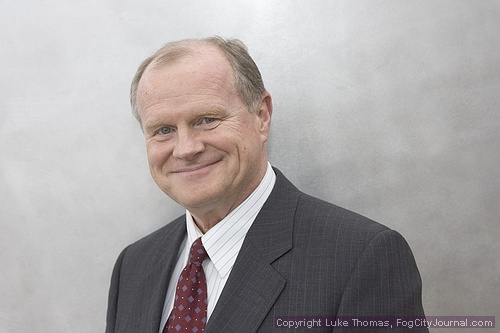 Sherrif Michael Hennessey today officially announced his candidacy for re-election. Hennessey is San Francisco's and California's longest serving elected sheriff.
Photo(s) by Luke Thomas
From the campaign to re-elect Sheriff Michael Hennessey
May 21, 2007
Sheriff Michael Henneseey announced today his candidacy for an unprecedented eighth term in the November 6, 2007 election. He is San Francisco's and California's longest serving elected Sheriff, and heads the nation's twentieth largest Sheriff 's Department.
First elected in 1979, Sheriff Hennessey has presided over an era of unprecedented innovation in the Sheriff 's Department, including developing award-winning rehabilitation programs, constructing three modern jail facilities, and expanding deputy sheriffs' duties to include security at City Hall and San Francisco General Hospital.
As Sheriff, Hennessey has received accolades for hiring law enforcement's most diverse staff. Over 70% of the deputized staff are women and minorities. He has been named Law Enforcement News' Man of the Year for developing staff training regarding HIV issues.
During his tenure as Sheriff, Hennessey has consistently created rehabilitation and recidivism-reduction programs unique in law enforcement, including:
• FIVE KEYS CHARTER HIGH SCHOOL. The only certified charter high school in a jail or prison in America. Now in its 4th year, the high school has a daily attendance of over 200 students, and has awarded high school diplomas to two graduating classes per year.
• EVICTION ASSISTANCE. Since 1980, tenants facing eviction are contacted and offered social service assistance coordinated by the Sheriff 's Department.
• RESOLVE TO STOP THE VIOLENCE PROGRAM (RSVP). This groundbreaking anti violence counseling program received the Harvard University Kennedy School of Government Innovations in Government Award in 2002.
• IN-CUSTODY DRUG TREATMENT. San Francisco county jails have two unique substance abuse counseling programs, one for women (SISTER) and one for men (Roads to Recovery).
• THE GARDEN PROJECT/EARTH STEWARDS. An innovative job-training program using organic gardening and landscaping skills as a path to employment.
• COMMUNITY ANTI-VIOLENCE COUNSELING. Created in 2006, The No Violence Alliance (NoVA) is a collaboration among law enforcement and community non-profit organizations to provide case management and services to violent offenders released from jail or prison.
####