Herrera IDs 76 gang members
in case for injunctions in Mission, Western Addition
Thousands of pages of evidence detail illicit drug trade, intimidation and violence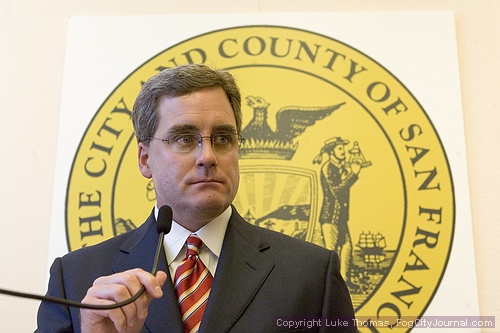 San Francisco City Attorney Dennis Herrera
Photo(s) by Luke Thomas
From the Office of City Attorney Dennis Herrera
July 12, 2007
In concurrent proceedings in San Francisco Superior Court this morning, City Attorney Dennis Herrera's office presented legal pleadings and thousands of pages of evidence supporting his efforts to secure civil injunctions against criminal street gangs that have long terrorized residents in two of San Francisco's most violence-prone neighborhoods. The court filings -- which identify 32 members of the Mission-based Norteño gang and 44 members of the Western Addition-based Eddy Rock, Chopper City and Knock Out Posse gangs -- detail a brutal reign of violence, drug pushing, intimidation and murder that disproportionately victimizes at-risk populations.
"The San Franciscans caught in the crossfire of gang violence are all too often our most vulnerable residents: children and youth, seniors and immigrants," Herrera said. "We have a moral obligation to them to do everything the law allows to target and disrupt the activities of criminal street gangs before they escalate into still further tragedies. And gang injunctions have proven to be an effective tool for doing exactly that. The evidence I am submitting for the Court's consideration today makes an overwhelming case for the urgent need for these injunctions to aid the efforts of police and prosecutors to stem the rising tide of gang-related violence here in San Francisco."
Gang-related threats to children and youth
Children and youth are commonly endangered by the illicit conduct of adult gang members, according to declarations from police officers familiar with both the Western Addition and Mission gangs. Apart from the indiscriminate dangers that gang-related shootings pose to children and other innocent bystanders, a number of juveniles have been gunned down by gang members in recent months, including a 13-year-old female shot by an adult Eddy Rock gang member in February 2007. Gang members in the Western Addition are also known to secret deadly weapons and drugs in public housing areas accessible to children, according to the declarations of police experts, while juveniles attending school in gang territory are often targeted for recruitment by both the Chopper City and Knock Out Posse gangs. In 1998, an adult member of the Knock Out Posse gang identified in the proposed injunction was arrested next to a children's playground for possession with intent to sell crack cocaine.
Mission area youths face perhaps even greater brutality when victimized by adult members of the notorious Norteño gang, according to police declarations. The tragic drive-by shooting last month that claimed the life of 15-year-old Edivaldo Sanchez -- who was not a gang member but merely standing outside his family's apartment on 24th Street -- is believed by police to have been an unintended consequence of a gang-related turf battle. In March of this year, another Norteño-related shooting at Treat and 25th Streets left a juvenile girl paralyzed from the waist down. In May 2005, a 14-year-old boy was beaten and robbed of his shoes by Norteño members in an afternoon attack corner of 26th and Capp Streets. An adult Norteño member and parolee identified in the injunction case was observed by police in two separate incidents since November 2005 attacking on younger, smaller juveniles -- none of whom would cooperate with police out of apparent fear of gang-related reprisals.
Gang-related threats to seniors, immigrants, and women
Children and youth are not alone as favorite gang targets, according to police reports and testimony provided to the court today; seniors, immigrants, and women are similarly vulnerable to gang-related intimidation, exploitation and violence. In 1999, police learned that Knock Out Posse gang members had taken over the residence of an elderly tenant in the Martin Luther King/Marcus Garvey Housing Complex, and were using the apartment to manufacture and sell crack cocaine.
"Many of the robberies that occur in the Proposed Safety Zone are not reported because the victims are too afraid of retaliatory action by the Norteño gang," observed Officer Mario Molina in a sworn expert declaration supporting the gang injunction in the Mission District. Molina went on to note that "many of the victims are recent immigrants who are monolingual Spanish speakers and reluctant to come forward." One particularly savage attack cited in court documents was by a Norteño member, who in June 2004 assaulted a pregnant tourist visiting from Los Angeles at the corner of 22nd and Alabama Streets. The Norteño attacker landed a blow to the pregnant victim's head with an aluminum baseball bat.
Proposed civil gang injunctions in the Western Addition
The proposed injunction against Western Addition-based Chopper City, Eddy Rock and Knock Out Posse targets gangs that are suspected by police of involvement in a particularly violent outbreak of recent shootings. The proposed safety zone for the Chopper City and Knock Out Posse gangs consists of a six-block area north of Turk Street to Ellis Street, between Divisadero and Steiner Streets. Two blocks east lies the proposed safety zone for the Eddy Rock gang, a roughly four-block area that also lies north of Turk Street to Ellis Street, and is bordered to the west by Webster Street and to the east by Gough Street.
Alleged gang members designated for service from the Chopper City criminal street gang are: Dennis Anderson, Deon Anderson, Byron Cheeves, Deron Cheeves, Clarence Cook, Jamal Gaines, Dwight Hart, Antoine Johnson, Makia Johnson, Ricky Rounds, Carnell Taylor, Karwarn Thorn and Sala Thorn. Alleged gang members designated for service from the Eddy Rock criminal street gang are: Dontae Allen, Andre Bernard, Maurice Bibbs, Deshawn Campbell, Maurice Carter, Raymond Davis, Robert Harvey, Leslie Howard, Dontaye Hubbard, Kethan Hubbard, Steve Johnson, Delorian Lee, Dion Martin, Paris Moffett, Delshawnte Smith, Demetrius Smith, Jonathan Smith, Hannibal Thompson and Deandre Watson. Alleged gang members designated for service from the Knock Out Posse criminal street gang are: Juan Allen, Dana Ball, Floyd Barrow, Kilamanjaro Bell, Laveaux Derosane, Jelvon Helton, Brian Hill, Darrell Luckett, Terry Luckett, Marcus Mays, Robert Mays and Gary Owens.
Proposed civil gang injunction in the Mission
The Mission-based Norteño gang, which is described in Herrera's complaint as "a nationally recognized violent criminal street gang with a substantial presence in Northern California and San Francisco," is believed by law enforcement experts to engage in criminal activities that include homicides, drug sales, assaults, robberies, shootings, stabbings, and graffiti. Herrera's proposed safety zone covers an area north of Cesar Chavez Street, between Valencia Street and Potrero Avenue. Police estimate there have been more than 59 assaults -- 55 of them involving weapons -- in which Norteños have either been involved or suspected within the proposed zone since 2005.
Alleged gang members designated for service from the Norteño criminal street gang are: Jose Amador, Noel Arguello, Ernesto Arroyo, Ana Bahena, Hector Barrera, Juan Barrera, Antonio Buitrago, Victor Cano, Kevin Chavez, Joshua Deleon, Rocky Deleon, Samuel Dueñas, Joseph Fuimano, Antonio Garcia, Hector Garcia, Daniel Gonzalez, Jesus Guerrero, Henry Hernandez, Elvis Martinez, Carlos Morales, Antonio Napolean, Bizmark Ocampo, Alex Reyes, Ruben Reynoso-Jimenez, Salvador Rodriguez, Alfred Sanchez, Michael Sanchez, Miguel Sanchez, Daniel Santiago, Anthony Urbina, Omar Varela and William Whitebone.
About the Cases
Herrera's pleadings and supporting evidence petition the court to issue an "order to show cause" as to why a preliminary injunction should not be granted that would prohibit documented gang members from engaging in such gang-related nuisance conduct as loitering, trespassing, intimidation, graffiti vandalism, gang recruitment or retention tactics, displaying gang signs or symbols, or associating with other gang members under most circumstances within "safety zones" mapping to known turf areas. The proposed injunctions would additionally prohibit gang members from possessing drugs, graffiti implements, guns and other dangerous weapons within the proposed zones. Violations of such injunctions could be pursued civilly by the City Attorney, for monetary penalties and up to five days in county jail for each violation, or prosecuted criminally by the District Attorney, as a misdemeanor for up to six months in county jail.
The cases are: People of the State of California v. Chopper City, Eddy Rock and Knock Out Posse, San Francisco County Superior Court No. 07-464493 (Judge Busch), filed June 21, 2007; and People of the State of California v. Norteño, San Francisco County Superior Court No. 07-464492 (Judge Mahoney), filed June 21, 2007.
####