San Francisco Police locate
hit-and-run suspect vehicle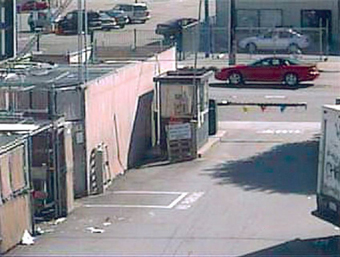 SFPD photo of the suspect vehicle,
obtained from a security camera.
By Adam Martin, Bay City News Service
February 24, 2006
SAN FRANCISCO (BCN) - San Francisco police have confiscated a red Chevrolet Camaro thought to be involved in a hit-and-run accident Wednesday that left a man with life-threatening injuries.
The Police Department received a call on its confidential tip line at about 11 p.m. Thursday advising them that the car was parked near the intersection of 22nd and Minnesota streets in San Francisco's Potrero Hill neighborhood, according to Sgt. Neville Gittens.
The driver has not yet been identified.
Gittens said the car "definitely had damage consistent with what we suspected: damage to the front windshield.''
He said it was unclear whether the car had been abandoned or simply parked for the night.
The car has been turned over to the department's crime lab, where investigators will search for fingerprints and other physical evidence that might help connect it to the crash and identify the suspect.
Gittens said media attention to the case alerted the tipster.
Copyright © 2006 by Bay City News, Inc. -- Republication, Rebroadcast or any other Reuse without the express written consent of Bay City News, Inc. is prohibited.
####