SUPES TROUNCE MAYOR
A view from the bleachers, befuddled

December 6, 2005


Lithe of mind and aspiring to greatness, those who pit themselves for leadership of a city that leads the nation last night neglected peanuts and cracker jacks to flaunt their colors and flex some flank.

"Why would people do this?" I shivered to no one in particular, in twilight zone coldness of a very dark Presidio.

"To get laid," Luke Thomas quipped, prescient managing editor of the Sentinel and San Francisco's best photographer.

He wore some sort of Soviet style headgear with fuzzy earflaps, making him look like a grinning nine-year-old.

Luke Thomas in warmer days
Photo by Supervisor Fiona Ma
"To get laid?" I recalled heady days of possibility.

"It's a butterfly dance for young people," Thomas panned women players.

My eye was elsewhere, but sharp.

My understanding of the surface endeavor, and my mind, were not.
"Well, so far," I attempted, "You, Tourk, Elsbernd and Delepine seem to be the best at this."

"I am Tourk," exclaimed Alex Tourk, Newsom administration deputy chief-of-staff, trying to find my pupils.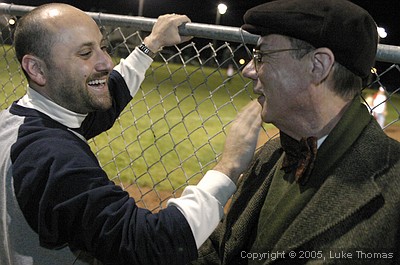 Alex Tourk, left, consoles the befuddled
Photo(s) by Luke Thomas
"I meant Ragone," waving limp fingered toward Peter Ragone, mayoral press secretary.

Ragone had worn shorts, inexplicably as had several others, content with bottled water.

I had quadruple layered, bringing three ham sandwiches (with cheese), one bag of potato chips, two bags of pretzels, and one full quart of coca cola. I hadn't found popcorn that didn't look stale, and someone had laughed in earlier daylight that the place wouldn't have hot dogs.

Impressionable 14-month-old Katie, child of the Thomas household, kept upsetting my food stash as a precocious seven-month-old white lab, I was sure, seemed intent on impregnating her.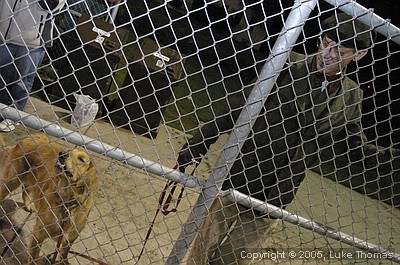 Katie, at left.
Beyond fathom, other teams waited for the diamond in colder still darkness.

And mighty players of game San Francisco headed for limitless possibilities of the nearest saloon.

####