Religious leaders decry police citations of the homeless as cruel and immoral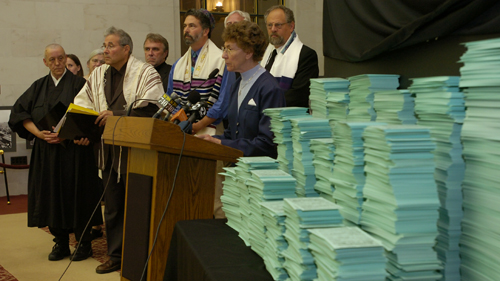 Faith leaders demonstrate number of quality of life citations issued since 2004
Photo(s) by Stephen Dorian Miner
September 1, 2006
San Francisco faith community leaders Thursday decried City homeless policy as immorally sweeping the homeless into the criminal justice system.
While praising elements of that policy, they called for an end to police citation of passive quality of life misdemeanors such as sleeping in public space.
Some 31,230 quality of life citations were issue from January, 2004, through June, 2006, at a City cost of $5,785,116, reported Sister Bernie Galvin of Religious Witness with Homeless People, a Catholic nun who organized the morning City Hall press conference.
She first lauded elements of City policy.
"Mayor Gavin Newsom is to be commended for prioritizing, in practice, supportive housing as the most basic solution to homelessness," Galvin began.
"This is the solution that Religious Witness with Homeless People has advocated for twelve years.
"Homeless people's access to services has been facilitated through Mayor Newsom's Project Homeless Connect.
"San Francisco's long history of extending a wide variety of crucial services to homeless people continues. Delivery of these services is carried out by hundreds of hard-working and truly caring men and women in the Department of Human Services and the Department of Public Health, and in City funded non-profit organizations.
"Particularly worth noting is the work of 12 Department of Public Health social workers dedicated to fulltime, direct outreach to homeless persons," Galvin noted.
She termed other portions of City homeless policy as "cruel and unjust."
To this very day San Francisco continues its shameful, immoral, and reprehensible 14-year-long history of criminalizing homeless people through the aggressive enforcement of quality of life ordinances," continued Galvin.
"Every year thousands of the homeless members of our community are cited, arrested, dragged through the courts, and even jailed for such crimes as sleeping or camping on the sidewalks or in the parks and even in their own vehicles.
"We religious leaders are deeply disturbed by the mean-spiritedness of this punitive part of our current policy on homelessness.
"We come today compelled to speak out once again about this injustice and the subsequent suffering and pain our homeless sisters and brothers endure."
Mayor Newsom did not respond to four requests made since November to meet with the group, Galvin asserted.
Instead, the group was referred to Trent Rhorer, director of the Department of Human Services with whom they had one meeting, she said.
Group members rejected perception that they portray being homeless as a grant of immunity.
"First of all we do not advocate that any person in San Francisco, homeless or otherwise, who commits a crime, who threatens the health and well being of another person, we do not propose that that person not be dealt with appropriately," responded Galvin.
Unjust laws morally require resistance, said Methodist Reverend Schuyler Rhodes.
"We need to have the accountability, the moral accountability, to understand that when laws are unjust," maintained Rhodes.
"We have to have the moral clarity to understand that just because something is the law doesn't mean that it's right.
"We have to understand that the extermination of eight million Jews was perfectly legal.
"When we starting addressing issues of law we need to come underneath it with a solid foundation of moral clarity - so certainly if there's laws being broken by anyone that threaten the betterment of the community that needs to be addressed."
Selective enforcement of law is weighted against the homeless, asserted Rabbi Peretz Wolf-Prusan.
"I just want to point out that having a home is also not a grant of immunity," Wolf-Prusan retorted a Sentinel question.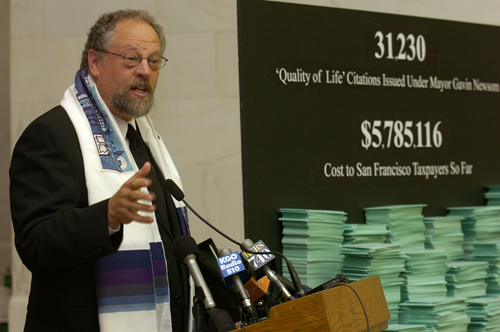 Rabbi Peretz Wolf-Prusan
"There are no grants of immunity, but I want to point out... the sample citation here is for having an open container.
"Which means that the next time they have a Stern Grove Music Festival and someone opens a bottle of Chardonnay sitting in a public space this citation should be issued.
"When we see that, when we see everyone at Golden Gate Park being booked for having an open container in a public space then we will see equity in the administration of the law," Wolf-Prusan contended.
Galvin acknowledged citation record keeping does not identify those cited as housed or homeless.

####