Star power launches campaign to consolidate hotel worker bargaining strength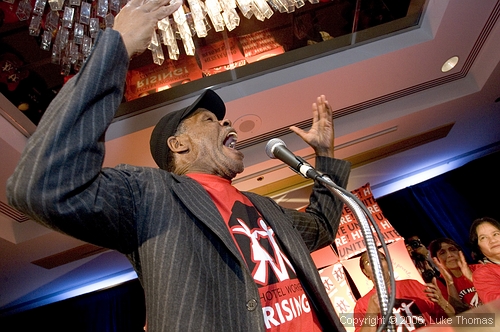 Danny Glover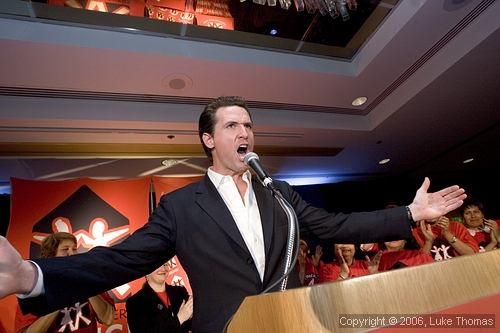 Mayor Gavin Newsom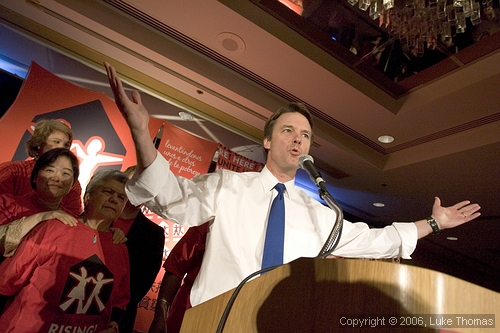 Senator John Edwards
Photo(s) by Luke Thomas
By Pat Murphy
February 16, 2006
National stars Danny Glover and Senator John Edwards joined 2,000 Bay Area hotel workers in San Francisco yesterday launching multi-city effort to consolidate bargaining power.
San Francisco Mayor Gavin Newsom predicted success "will help restore America's middle class."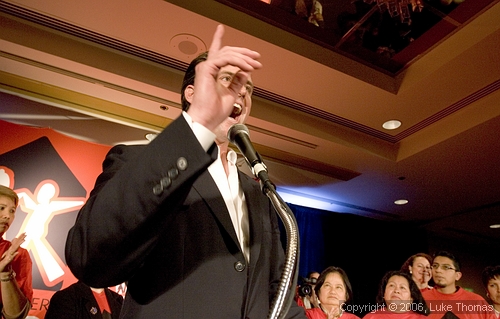 Speaking on behalf of hotel owners, spokesman Steve Trent termed the campaign a drive "to use union dues to grow its declining membership rolls."
Locally, Unite Here Local 2 has represented hotel workers in a two-year contract negotiations without settlement.
A major sticking point centers on uniform contract expiration date which would consolidate union bargaining position throughout the United States and Canada.
In addition, workers claim their workload increases without pay raise.
Former Democratic Party vice presidential candidate Edwards promised he "will do whatever I can to make their campaign a success."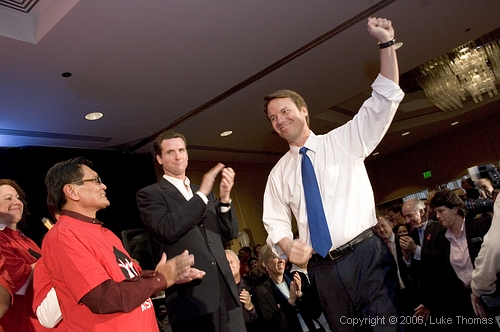 Kicking off that campaign as Hotel Workers Rising, union workers greeted Edwards with ovation.
"Can we still really call America the land of opportunity when hotel workers who work full time for profitable hotel companies cannot afford to make ends meet?" Edwards questioned.
"This is not just unjust, it is immortal, and we need to do something about it.
"Hotel workers Rising can restore the dreams of working families who seek a fair share of our prosperity and a chance to make a better life, and that is why I am participating in this tour, and will do whatever I can to make their campaign a success."
San Francisco resident and longtime labor activist Glover joins Edwards in the four-city tour which continues to Los Angeles, Chicago of Boston.
"I know how hard you work, how heavy those linen carts are, how tired you are at the end of the day," recalled Glover who held low-paying jobs before his motion picture career took off.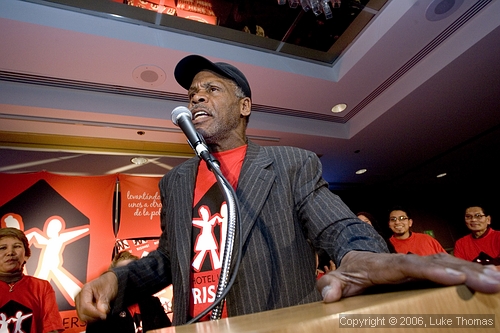 "And also the pride you take in your work, the effort you make to make others comfortable - to make me comfortable when I am a guest at your hotels.
"Well, it's my turn to do something for your comfort. I am with you all the way and I will stand side by side with you until we have won better standards for hotel workers.
Newsom, who walked picket lines when hotel owners locked-out employees following a two-week strike, said workers deserve "a piece of the American dream."
"I am proud that the kick off event for the Hotel Workers Rising campaign is taking place here in San Francisco, the City named for St. Francis," Newsom told the crowd.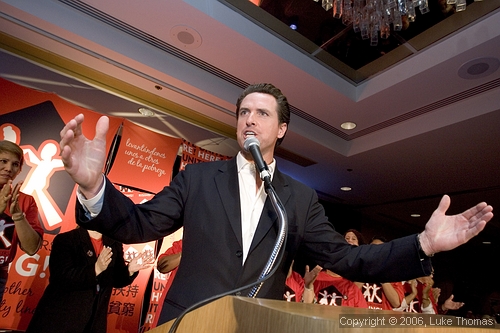 "A City with a long tradition of providing, comfort and compassion to everyone who makes a home here. Anyone who works hard and provides good service in the tourism industry, the backbone of our local economy, deserves a piece of the American dream.
"Hotel Workers Rising is a much needed movement that will help restore America's middle class.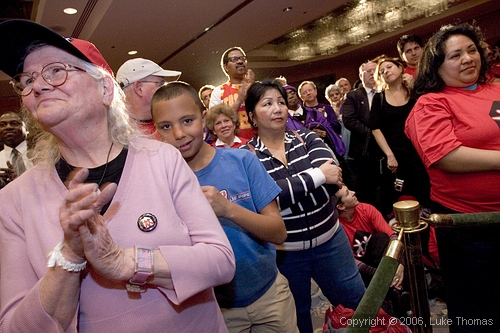 The San Francisco Multi-Employer Group (SMEG), which represents hotel owners, issued a prepared response.
"In its most recent flyer, Local 2 acknowledged that San Francisco hotel workers enjoy the best work standards in the country," said Steve Trent, spokesman for SMEG.
"Our employees are among the highest paid hotel workers nationwide, their workload is the best in the country and they enjoy affordable, quality health care and pension benefits. We are committed to working toward a contract that would continue to provide these benefits to our hard-working employees, and we believe the union leadership would be more productive if it focused on reaching a fair contract, rather than staging rallies that serve no local benefit."
"Today's rally made clear what UNITE Here's real agenda is - to use union dues to grow its declining membership rolls. Throughout the past year, SMEG has made numerous offers on the economic issues affecting San Francisco hotel workers - improved wages, comprehensive healthcare and generous benefits - as well as offering a fair compromise on contract duration. Each offer was rejected by union leadership in the interest pursuing a national union organizing strategy.
"Our commitment to our employees remains unchanged. We will continue to work hard to get a new labor agreement that provides our employees with quality, affordable healthcare, competitive wages and generous benefits," Trent said.

Visit Hotel Workers Rising.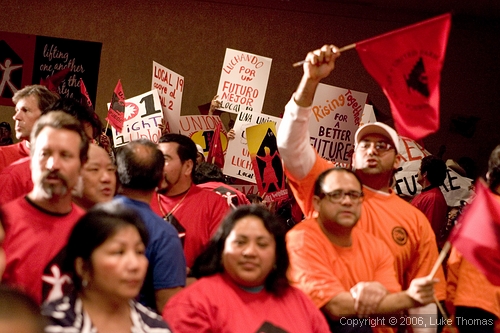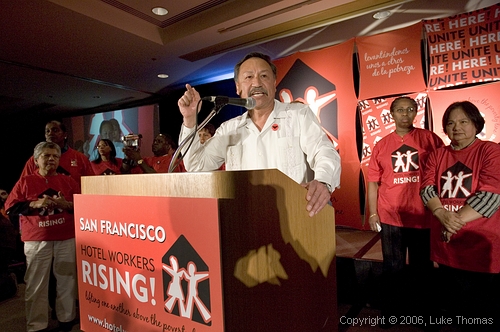 United Farm Workers Union President, Arturo Rodriguez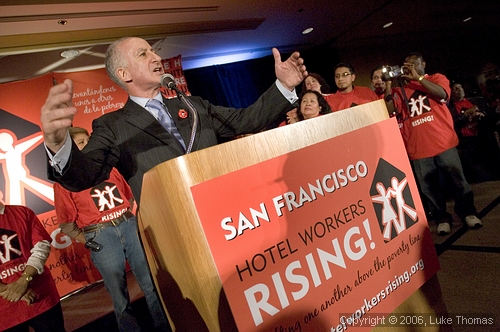 UNITE Here International Union President, John Wilhelm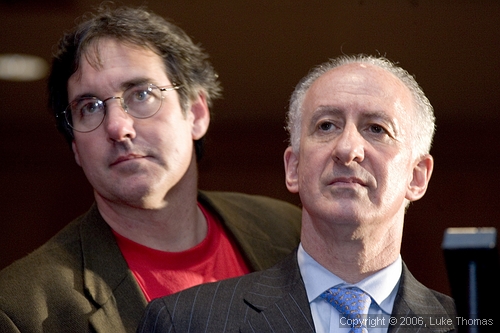 Local2 UNITE Here chieftain, Mike Casey (left)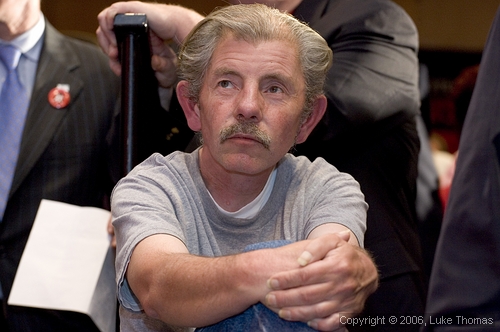 ####