Mayor announces progress toward new housing goal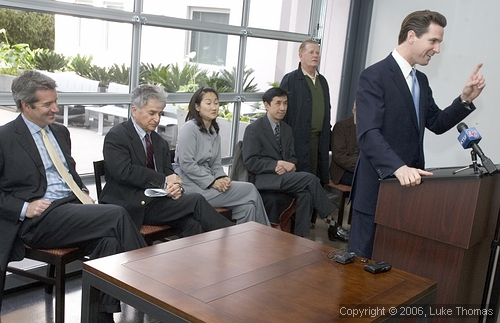 Photo(s) by Luke Thomas
By Adam Martin, Bay City News Service
March 3, 2006
SAN FRANCISCO(BCN) - San Francisco Mayor Gavin Newsom today announced a new goal of 15,000 new housing units in the city over the next five years.
Newsom stood in the lobby of a newly constructed low-income housing development at 145 Sutter St. in the city's Tenderloin neighborhood.
He said the city had been "deficient'' in its rate of housing development, averaging below 1,000 new units per year in the 1990s while the Association of Bay Area Governments recommended the creation of 2,700 units per year to keep up with growth.
He said two major changes had taken place to improve the city's new housing development rate. The first, he said, included a leadership change in the Department of Building Inspection which, he said, was "not an easy job.''
Department Director Amy Lee introduced three new department commissioners and said her department will have hired 31 of 33 prescribed new employees by the end of the month. The city's planning department also increased its staff by 20 people over the last year and plans to hire 15 to 18 more people.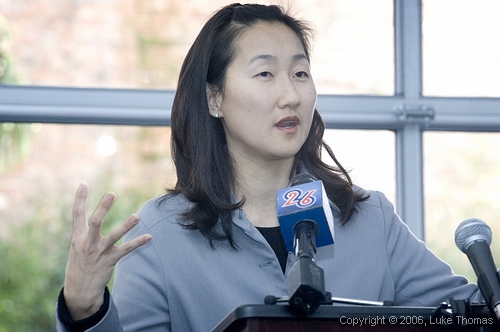 Department of Building Inspection Director, Amy Lee
The mayor gave no dollar amount for the cost of the increased staffing. Mayoral spokeswoman Jennifer Petrucione later said she did not know the exact cost, but that the new hires fit into the planning and building inspection departments' budgets.
The second major change the mayor indicated is an upgrade in technology for both departments.
Petrucione said that, overall, $4 million is being invested in the departments' technology, $2.3 million of which would go to a centralized database that would act as a single resource for developers.
Lee said the database would "pull information from all areas,'' including the planning and building inspection departments as well as fire, electrical and other permitting agencies, to streamline new housing development.
Planning department director Dean Macris said that in 2005, the city entitled 5,100 projects. Those projects will not be finished for two to three years, Macris said.
Newsom mentioned that in 2005, 1,409 new residential units had been built, of roughly 1,480 that had been entitled two and three years ago.
Of those 1,409 new units, Newsom said, 37 percent qualify as low-income housing.
Of the 15,000 units the mayor wants built over the next five years, 33 percent are to be designated as low-income units. Newsom called that number a foundation to work from, saying that the city needed more than 5,000 units, but said the number was "not insignificant.''
Copyright © 2006 by Bay City News, Inc. -- Republication, Rebroadcast or any other Reuse without the express written consent of Bay City News, Inc. is prohibited.
####