City housing policy shifts to
Prioritize homeless families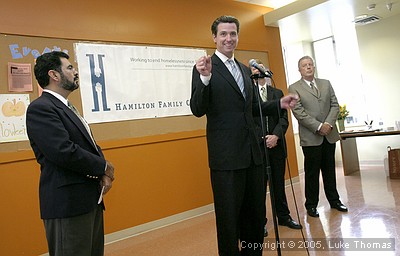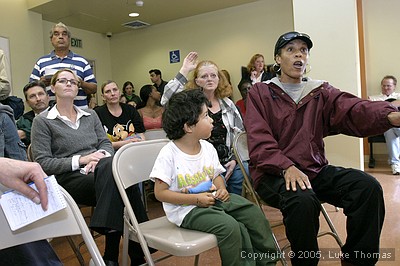 Photo(s) by Luke Thomas
October 20, 2005
With more than 1,000 mostly homeless singles now permanently housed, Mayor Newsom yesterday signaled expanded focus on homeless families.
"We did this for the single adult system which is now a model for the nation," Newsom told residents of the newly opened Hamilton Family Center.
"I think appropriately there's been a disproportionate amount of focus…with those individuals who have consistent episodes of homelessness, out on the street corner, folks who are 10% of the homeless population and using up to 50% of all the costs of emergency services," explained the Mayor.
"We've had great progress…in moving away from this emergency approach to more of a 'housing first' model.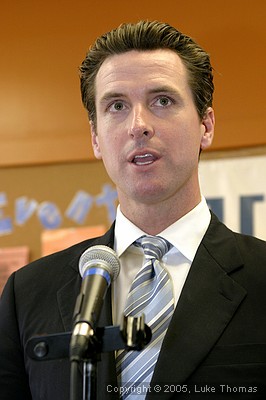 Mayor Gavin Newsom
"I would acknowledge that there has been a disproportionate amount of focus on single adults in our system. It's not out of neglect that we haven't focused on the needs of families, but we really need to step it up," Newsom stated.
Threefold strategy accompanies new priority for housing families.
Increased funding for eviction prevention, and for rental subsidies, is being sought, reported Department of Human Services director Trent Rohrer.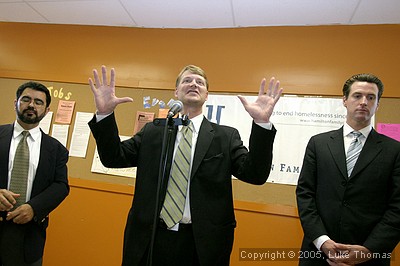 Trent Rohrer (center)
The cities of Los Angeles and San Francisco are jointly urging change in Federal regulations which would enable current Federal funds to be used more effectively for eviction prevention and rent subsidies, Newsom pointed out.
Private and city agencies should be convened - in fashion similar to Project Connect and CitySafe - for streamlined processing of family housing, urged Salvadore Menjiuare, director of the Hamiltion Center.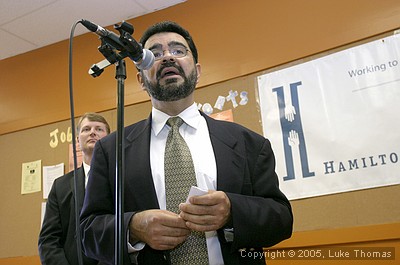 Salvador Menjiuare
Newsom credited the Coalition on Homelessness for its contribution in determining needs of homeless families.
####