Bay Area sightings of Portland rapist reported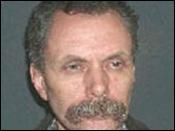 Howard Kenneth Thomas
By Erica Holt, Bay City News Service
June 28, 2006
A convicted rapist from Portland, Ore. has been spotted in the Bay Area, according to Portland authorities who say that they have received reports of sightings from local residents.
Howard Kenneth Thomas, 53, scrapped his electronic monitoring bracelet and was last seen in Portland June 14, according to Robb Freda-Cowie, spokesman for the Multnomah County, Ore. Department of Community Justice.
He stands 5 feet 11 inches with brown hair and blue eyes. Investigators believe Thomas may be in the Bay Area, but would not say why. He has traveled between Seattle and San Francisco in the past, Freda-Cowie said.
According to Officer Dan Tuke of the Portland Police Bureau, Thomas was recently released from prison after serving a sentence for rape.
He has a history of picking up victims in his car, often prostitutes, producing a gun and taking them somewhere secluded to sexually assaulting them.
Anyone who sees Thomas should immediately call 911, Freda Cowie said.
Copyright © 2006 by Bay City News, Inc. -- Republication, Rebroadcast or any other Reuse without the express written consent of Bay City News, Inc. is prohibited.
####