Hunger in America study
shows slowed increase
Newsom State of The Homeless Address today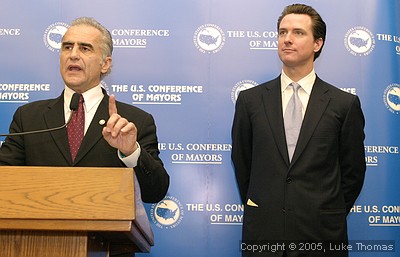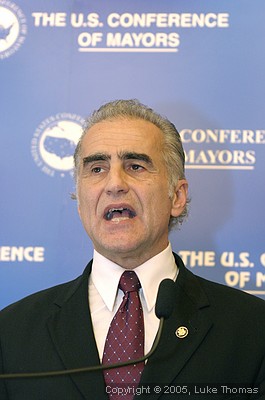 Bush administration homelessness czar Philip Mangano
pointed to 32 American cities now participating
in National Project Homelessness Connect
modeled after the effort begun in San Francisco.
Photo(s) by Luke Thomas
December 20, 2005
Hunger in America continued to rise this year although at a slower pace than the previous year, the U.S. Conference of Mayors announced in San Francisco Monday.

Conference leaders chose San Francisco to release survey results due to local efforts aimed at mitigating hunger and homelessness. It was the first time in survey 21-year history the conference announced results outside of Washington, D.C.

"What happens here in San Francisco will ripple across the country," stated Philip Mangano, executive director of the U.S. Interagency Council on Homelessness.
"The political will of Mayor Newsom on this issue is perhaps unparalleled in this country, and that's why San Francisco is seeing a turnaround on its streets," explained Mangano.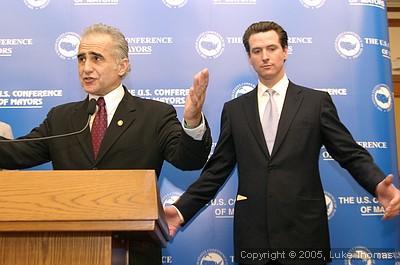 Newsom delivers his annual State of The Homeless address today at 11:30 a.m.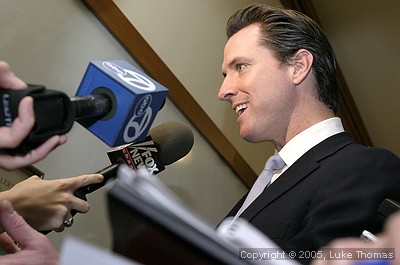 Twenty-four cities participated in the national survey, including Boston, Burlington, Cedar Rapids, Charleston, Charlotte, Chicago, Cleveland, Denver, Detroit, Los Angeles, Louisville, Miami, Nashville, Philadelphia, Phoenix, Portland, Providence, St. Paul, Salt Lake City, San Antonio, San Francisco, Santa Monica, Seattle, and Trenton.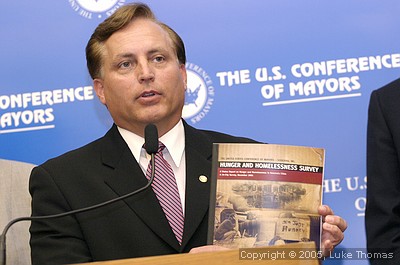 Cedar Rapids Mayor Paul Pate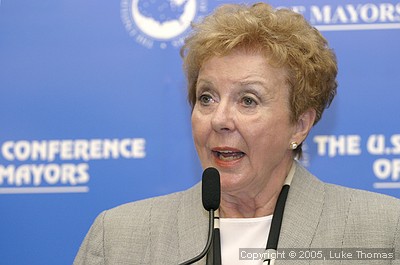 U.S. Conference of Mayors President Beverly O'Neill,
mayor of Long Beach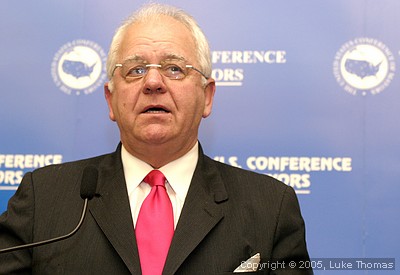 Tom Cochran who serves as executive director of the
U.S. Conference of Mayors. Results show need for housing
and food assistance grew 12% in 2005
compared to 14% jump in 2004.
For complete survey, click here.

####