Board of Supervisors call for $2 million legal assistance for immigrants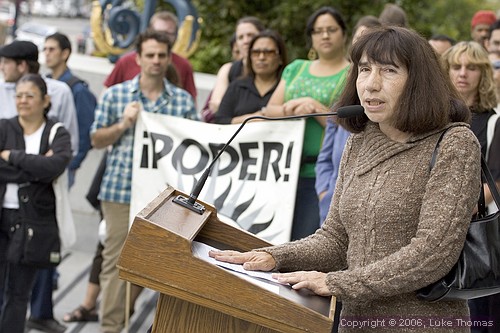 Photo(s) by Luke Thomas
June 14, 2006
Supervisor Ross Mikarimi gained the backing of the Board of Supervisors Tuesday for $2 million City funding of legal and educational aid to immigrants.
In approving the resolution, the Board also reaffirmed the City's opposition to federal legislation criminalizing undocumented immigrants.
Supervisor Chris Daly, chair of the Finance Committee, said he would use the resolution to advance funding recommendation from the Finance Committee.
"The proposed changes coming down from Washington are causing much worry and confusion in the immigrant community," Daly told a City Hall steps rally prior to board vote.
"While even the mayor expressed opposition to the federal legislation, the budget he submitted had nothing in it to meet these new challenges."
Immigrants are "the glue that holds America together, certainly here in San Francisco, if you really scrutinize our infrastructure," Supervisor Tom Ammiano noted to rally participants.
"Yet it is the worst kind of politics to say, 'You can come into our house. You can do this, do that, but then you've got to leave and if you're going to stay then you're going to have to deal with the impossible Byzantine laws to remain here.'
"San Francisco is a Sanctuary City but... if there aren't any monies provided for services... for housing, health, counseling then what's the point of the sanctuary?"
The City will move beyond symbolism of sanctuary with funding for legal assistance, Mirkarimi maintained.
"What is novel this time is that more than just a symbolic statement... this time... we companion our commitment with $2 million... especially as we face the adversity of bad policy making from the Bush administration and their allies."
####