Labor Day March focus on immigrant rights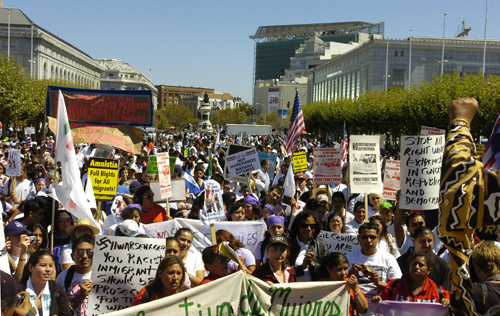 Photo(s) by Stephen Dorian Miner
By Lara Moscrip, Bay City News Service
September 4, 2006
Marchers gathered on San Francisco's Embarcadero this morning to start a half-day series of Labor Day speeches and rallies that ended near City Hall.
They met at Justin Herman Plaza around 10 a.m. to pass out leaflets, wave banners and signs, and articulate their viewpoints on issues relating to immigration and workers' rights.
One organizer, Evelyn Sanchez of the Immigrant Workers Freedom Ride Coalition, said the group's mission is half-labor, half-immigrant rights.
"For today's Labor Day, it's about unions finding that many of their workers are immigrants. There's a link between labor and immigrant rights," she said.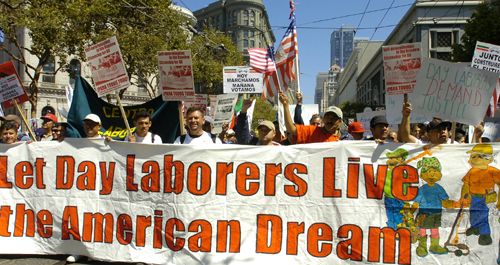 Speakers in front of City Hall marked the end of the march, which had filled Market Street some three or four blocks at a time with people chanting slogans and making music. Speakers switched from English to Spanish and back with the help of translators.
Sanchez said leaders from the Service Employees International Union Locals 87 and 790, as well as Mayor Ruben Abrica of East Palo Alto, were slated to speak.
Dozens of groups waved signs while walking along Market Street, including the Black Alliance for Just Immigration, Gray Panthers of San Francisco and Out4immigration.
Kathy Drasky of San Francisco marched as part of the Out4immigration group. She supports its cause of equal rights for gays and lesbians trying to sponsor their non-U.S.-citizen partners for green cards and on the path to citizenship.
"I can't sponsor my Australian partner for a green card because we can't get married here. We are 'legal strangers,'" Drasky said.
Labor Day marches and rallies also took place in Oakland and San
Jose. A San Jose rally against illegal immigration was scheduled as well.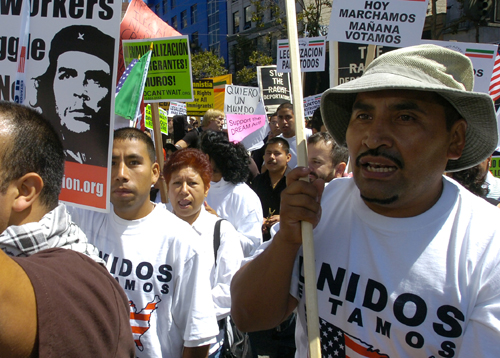 Copyright © 2006 by Bay City News, Inc. -- Republication, Rebroadcast or any other Reuse without the express written consent of Bay City News, Inc. is prohibited.
####