Iranians coming to Santa Clara conference sent home
Visas revoked, denied US entry
Mirkarimi calls for alternative to Bush misguided policy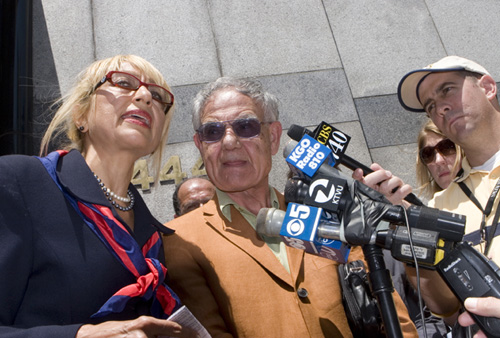 Elahe Ensanni, left, spokesperson for Sharif University of Technology Alumni Association, spoke at a noon press conference outside the Department of Homeland Security in San Francisco. Ensanni was joined by Fouden Jojapri, center, founding president of the association to protest the revocation of U.S. entry visas to Iranians.
Photo(s) s by Sean Posey
By Brigid Gaffikin, Bay City News Service
August 4, 2006
Members of an Iranian university's international alumni association are expressing frustration that more than 100 visa holders traveling to the United States to attend the group's fourth reunion in Santa Clara have had their visas revoked.
Elahe Enssani, a spokeswoman for the Sharif University of Technology Institute Alumni Association conference, which began today at the Santa Clara Hyatt Regency, said all 12 of the conference registrants who were arriving at San Francisco International Airport were denied entry and that only 15 of 105 visa applicants who had hoped to come to the conference have been allowed entry into the U.S.
The first visa holder coming to the conference was turned around July 25 at Los Angeles International Airport, and since then only a few registrants have been allowed into the country, she said.
Two of the visa holders arriving at SFO were turned around immediately and sent back to London within two hours, while the others were held at the airport, according to Enssani.
Being turned around has obviously had a financial impact on those denied entry, but it also has affected them emotionally, Enssani said.
"I really look forward to the reunion," she said. The conference draws together people who remember an era -- when Iran was governed by the shah -- to which no one can return, she explained.
The Sharif University of Technology Alumni Association conference draws professionals from around the world and the U.S., and some of the registrants from Iran had brought family members on the 30-hour journey to the U.S., Enssani said.
According to Enssani, the Iranians arriving at U.S. ports were told they could either volunteer to return home or could declare they wanted to stay in the U.S. and then be subject to deportation and restrictions on return visits.
San Francisco Supervisor Ross Mirkarimi, an Iranian American, said the detentions sprung from misguided national policy.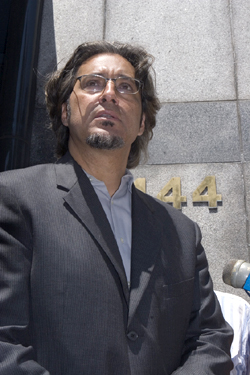 Supervisor Ross Mirkarimi
"It's indicative of the Bush Administration once again exercising its flagrant misguided and wrongful understanding on how to foster peace," stated the District 5 supervisor.
"It is absolutely absurd that we would detain and humiliate Iranians who are visiting the United States - professionals, engineers from a prestigious university who come here to help celebrate their profession, people who have been to the United States here in the Bay Area before.
"But instead of welcoming them as we have all the years past, because of this saber rattling that the United States is now entrenched in with Iran and throughout the Middle East, we are now... punishing those who have nothing to do with this war and cold war of words we are now penalizing people by sending people back to Iran."
Mirkarimi proposed an alternative policy.
"If we were to try to be smart about fostering peace then we would be currying favor as much as we possibly could and endearing ourselves in this country with the people of Iran."
Information about the individuals denied visas is unavailable for confidentiality reasons, according to Laura Tischler, spokeswoman for the Bureau of Consular Affairs in the U.S. State Department.
Tischler said only that her understanding was that the Iranian visitors were denied entry because their visas were revoked.
The revocations are not connected to current hostilities in the Middle East, she said.
Visitors can be denied visas at any time and for a range of reasons, she said.
"Iranians are subject to special processing because Iran is a state that has been designated a state sponsor of terrorism," she said.
"That's been the case for a few years."
Copyright © 2006 by Bay City News, Inc. -- Republication, Rebroadcast or any other Reuse without the express written consent of Bay City News, Inc. is prohibited.
Pat Murphy contributed to this report.
####