By Proclamation all San Franciscans
become Irish March 12
Legendary Mary Callahan lilts the high notes
Legendary Charlotte Schulz honored sans cliché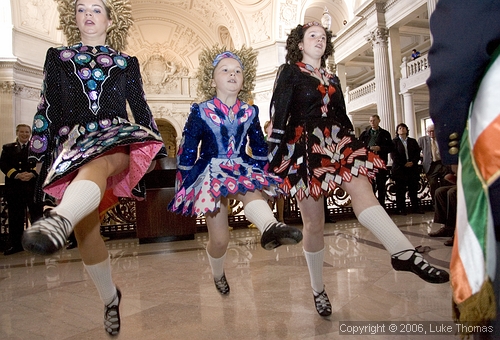 Photo(s) by Luke Thomas
March 5, 2006
All San Franciscans become officially Irish for a week beginning Friday in a tradition begun 154 years ago.
It was shortly after the City was incorporated that the large Irish immigrant community of San Francisco held its first St. Patrick's Day Parade, a tradition unbroken through the generations.
Regardless of age, natives and immigrants turned out last week for wearing of the Green as the Irish Tricolor unfurled anew on the Mayor's Balcony of San Francisco City Hall.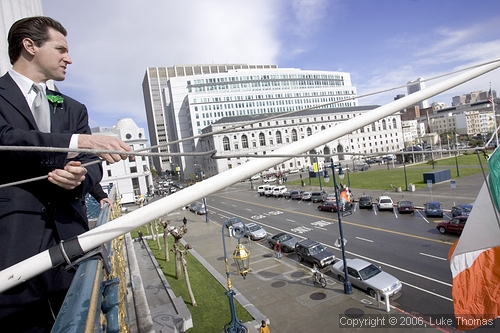 Mayor Newsom unfurls the national flag of Ireland at City Hall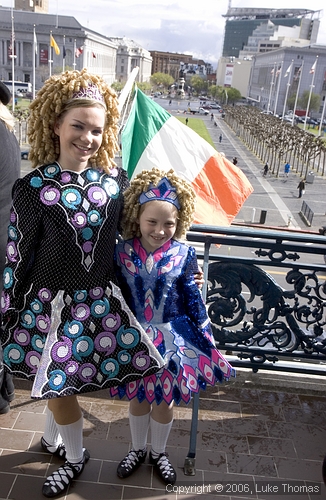 Parade Grand Marshall Bob Baker joined hands with qualifying Irish blood descendant Mayor Gavin Newsom to hoist Green, White and Orange reminder it's time once again to sprout the Shamrocks.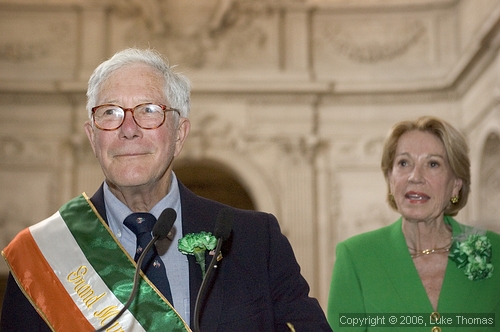 Parade Grand Marshall Bob Baker and Charlotte Shultz
Just as quickly, Newsom sounded Mayoral Proclamation that 'tis officially grand for all to be Irish March 10 through March 17.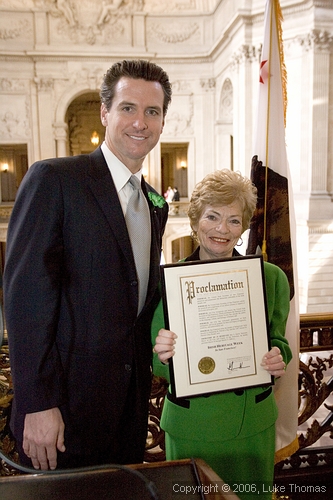 Mayor Newsom and Mary Clooney

March 17 marks the religious Feast Day of St. Patrick, the first Archbishop of Ireland, commemorating the day Roman Catholic faithful hold that he entered the fullness of life.
Scant months ago Newsom, a practicing Roman Catholic, led a City delegation to Sister City Cork with Irish full bred Supervisor Sean Elsbernd.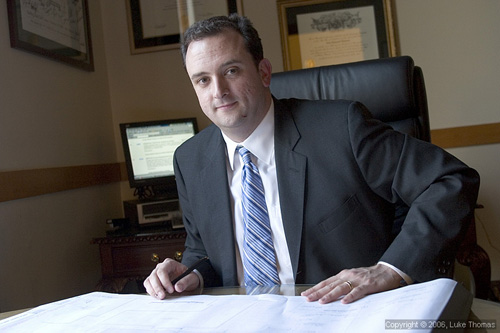 Supervisor Sean Elsbernd. File photo, 2/12/6
Shortly thereafter, County Waterford descendant Elsbernd begged off from San Francisco reception for England's Prince Charles, eyes twinkling that wedding preparations took all of the District 7 supervisor's time, what with custom fittings required for groom Elsbernd's Irish Kilt.

County Cork immigrants and descendents are highly visible at any San Francisco Irish gathering and this year's Tricolor raising was no exception.
Legendary former San Francisco Treasurer Mary Callahan returned to City Hall for songful ode to Cork, all things Erinacht, and to throw a maith an fear (good man) nod to the mayor.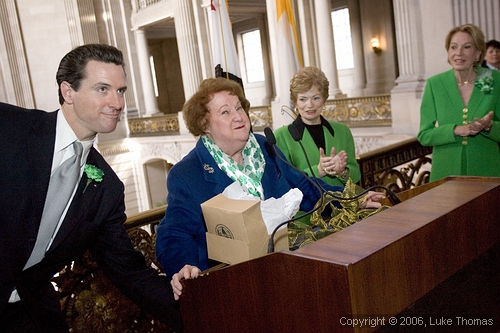 Mary Callahan (center)
Surpise of the event came to Charlotte Schulz who unexpectedly received uncliched and broadly agreed recognition.
Mary Dunleavy, past president of the Irish Societies of San Francisco, interrupted the mirth to spotlight community gratitude for Schulz' oft taken for granted service to the City she loves.
A longtime philanthropist, board member of many foundations, and volunteer San Francisco Chief of Protocol, Schulz has been described as helping without fingerprints.
"Charlotte is everywhere helping and she doesn't leave prints," recalled publicist Terry Sellards who worked with Schulz on the 1985 Golden Gate Bridge 50th Anniversary Celebration.
Her work ethic goes beyond planning, directing and writing checks, a veteran City Hall reporter observed.
"I've always had the greatest respect for Charlotte since the first time I saw her," San Francisco Chronicle staff writer Rachel Gordon told the Sentinel.
"The first time I met her she was at an event and Charlotte was putting out chairs on the floor. I thought, 'Wow, that's a really good rich person -- the kind that you can really like.'"
Gordon has held the mayor's beat for the Chronicle through three administrations.
While American exuberance for St. Patrick's Day can startle the native Irish, one community leader applauded the opportunity to celebrate Irish culture.
"The St. Patrick's Day Parade is a day of joyful celebration and a treasured expression of culture and heritage in our language, literature, games, poetry, music, and dance," said Pilar Barton of Irish Northern Aid after the event.
Irish Northern Aid (INA) raises funds to help support families of imprisoned Irish political prisoners.
Local INA parade contingent will recall the 90th anniversary of the Easter Uprising, the 25th anniversary of the H-Block Hunger Strike, and honor the Rossport Five, INA President Seamus Collins told the Sentinel.
"In honoring those brave men and women who gave their lives for future generations, we chose to honor the Rossport Five who are present day examples of courage," Colins explained.
"These give men and their communities are standing up to Shell Oil and the Irish government and saying, 'The lives of our families and the well being of our beautiful country is not up for sale to the highest bidder.'"
The Rossport Five, residents of County Mayo, are honorary grand marshals of this year's parade.
"This is an appropriate time to raise awareness regarding the continuing struggle in Ireland for reunification and independence," Collins said.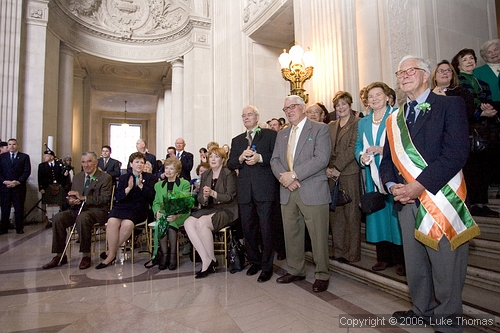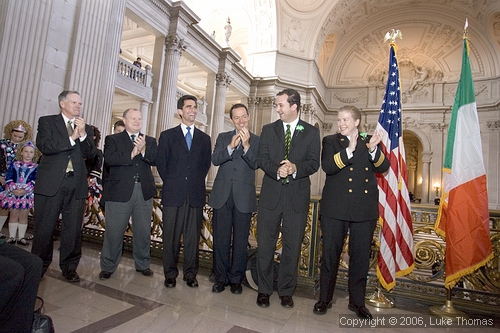 San Francisco Controller Ed Harrington, Sheriff Michael Hennessy,
Assemblymember Mark Leno, Supervisor Bevan Dufty,
Supervisor Sean Elsbernd, Fire Chief Joanne Hayes-White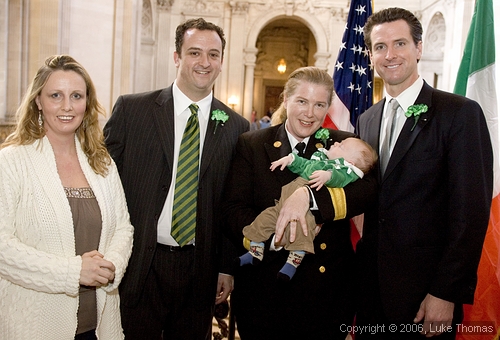 Supervisor Aide Olivia Scanlon, Supervisor Sean Elsbernd,
Fire Chief Joanne Hayes-White, Mayor Gavin Newsom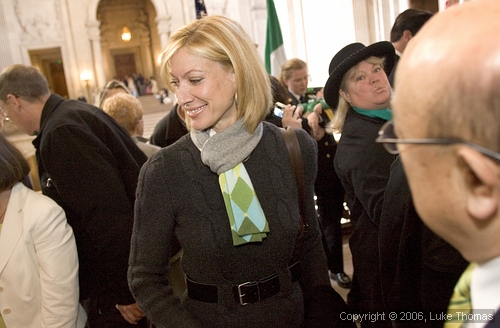 District 12 candidate Janet Reilly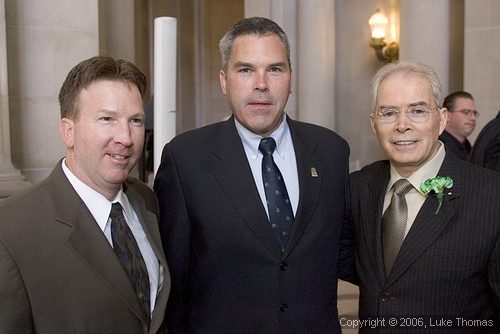 Tony Guilfoyle (right)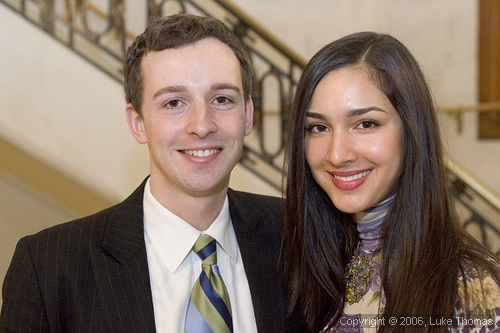 Diplomat from the Consulate General of Ireland, Owen Feeney, and International Convention on Human Rights Program Director, Mishana Hosseinioun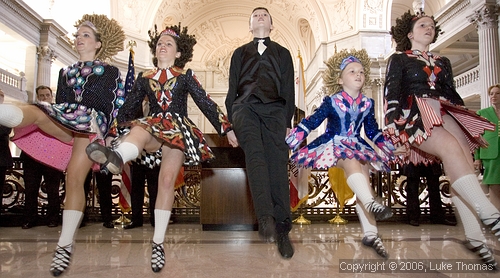 ####