Israel-Lebanon conflict draws 10,000 protesters
to San Francisco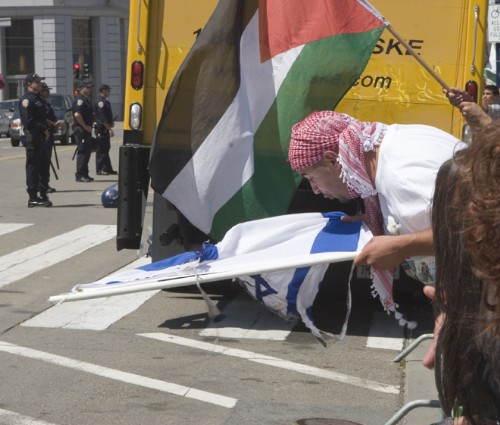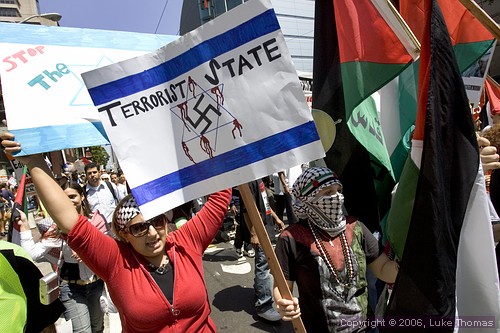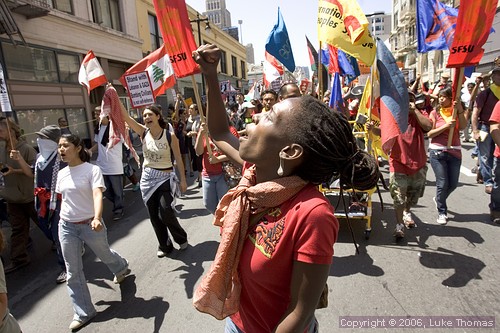 By Brent Begin, Bay City News Service
Photos by Sean Posey and Luke Thomas
August 13, 2006
San Francisco police made only one minor arrest as thousands converged upon the Civic Center this morning to voice their opinions on the conflict in Israel and Lebanon.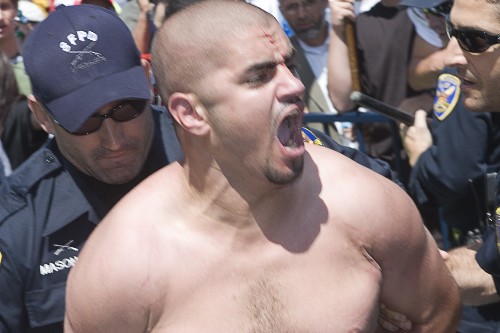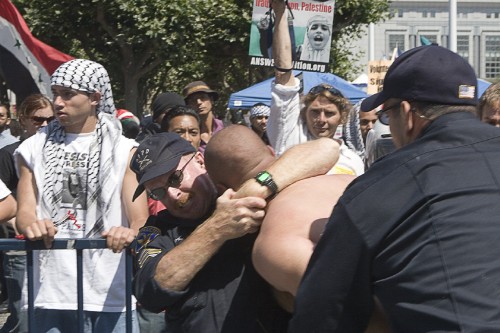 According to police, dozens of officers from the Northern station, many working overtime, were on hand to make sure the demonstration did not escalate into a physical altercation.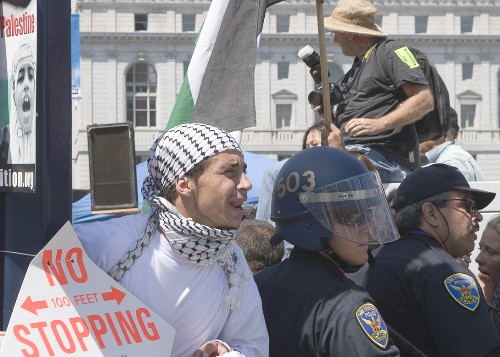 Members of Act Now to Stop War & End Racism and other groups originally organized the demonstration, which also took place in cities such as Los Angeles and Washington D.C., to oppose Israeli aggression and U.S. involvement in the Middle East.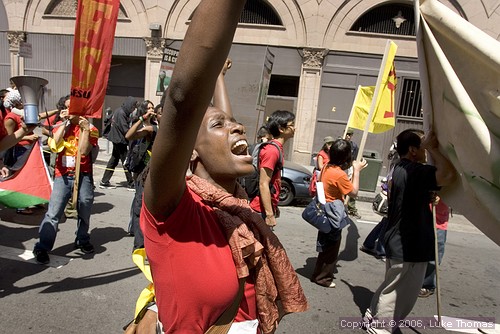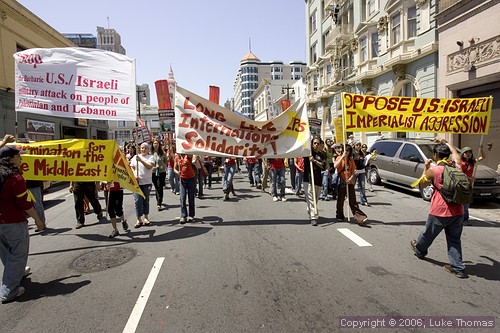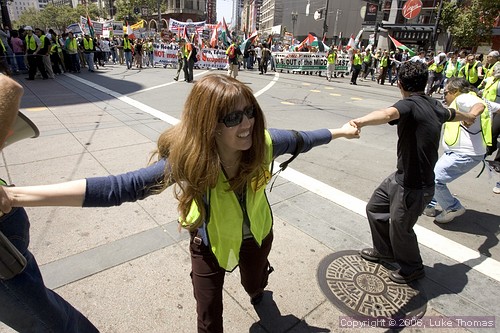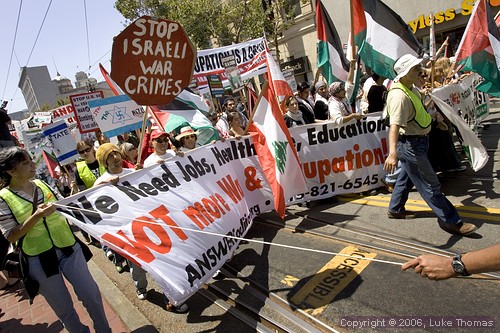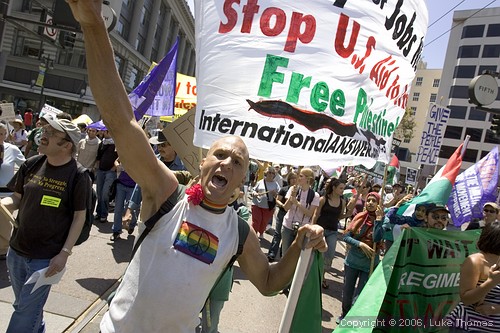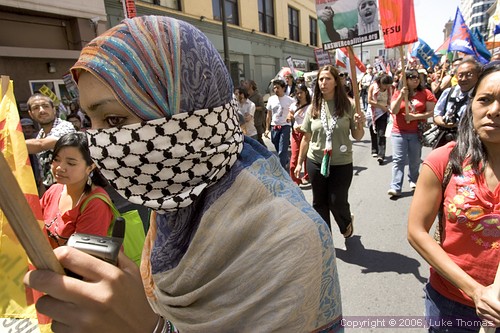 Members of a counter-protest group called Stand With Us/San Francisco Voice for Israel also showed up to condemn Hezbollah attacks on Israeli civilians and to assert Israel's right to defend itself.
The demonstrations lasted over four hours and led to minor traffic delays throughout the city as protesters began a march that would snake through downtown streets and eventually back to the Civic Center.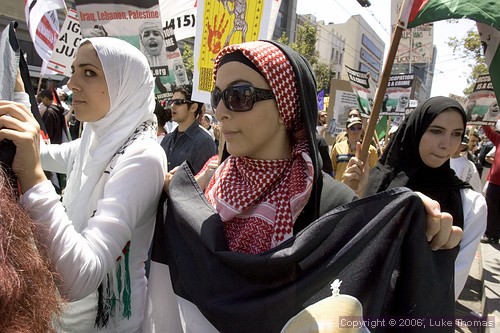 Demonstrators began around 10:30 a.m. with speeches and chants.
"It is critical that the people of the United States -- the country that is providing the bombs falling on our brothers and sisters in Lebanon and Palestine -- have joined in mass demonstration activity to make it clear to this government that it cannot continue its brutal path of war and conquest," said Richard Becker, the western regional coordinator for Act Now to Stop War & End Racism.
Mike Harris, a spokesman for Stand With Us/San Francisco Voice for Israel said about 500 people from his organization came out to counter demonstrate against around 2,000 protesters.
"We were there to stand up for Israel's right to exist in peace, with secure borders and free from threats of destruction," Harris said.
Harris said that while demonstrations in the past have escalated to violence, yesterday's event was relatively peaceful.
According to protest organizers, over 10,000 people took part in yesterday's demonstration, which ended around 3 p.m.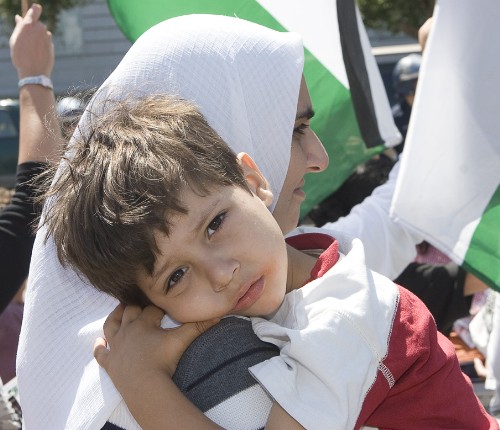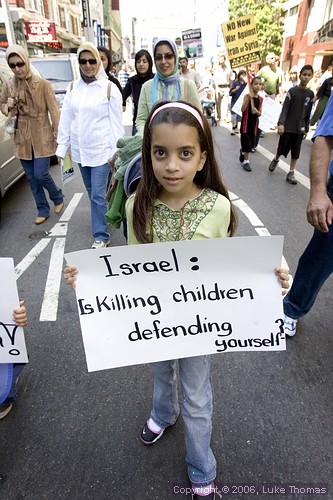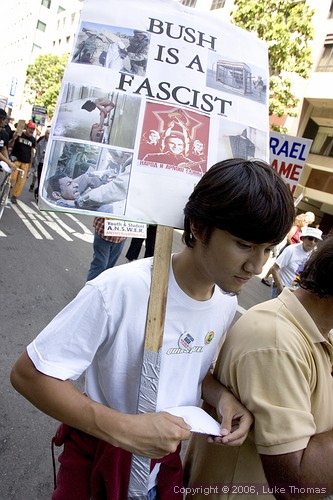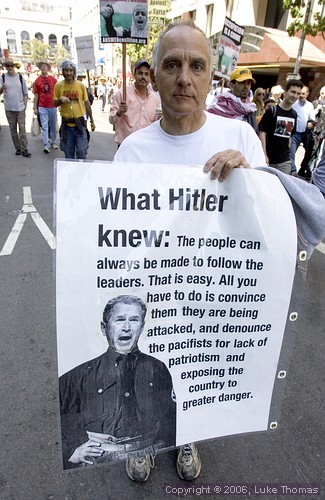 Copyright © 2006 by Bay City News, Inc. -- Republication, Rebroadcast or any other Reuse without the express written consent of Bay City News, Inc. is prohibited.
####