Israel Prime Minister Ehud Olmert encouraged
to visit San Francisco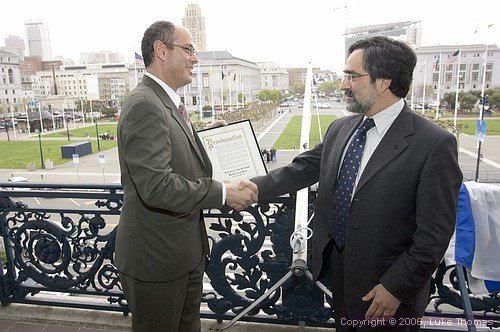 Visit to San Francisco by Prime Minister Ehud Olmert would be in keeping
with Israel new direction, Consul General David Akov notes as Wednesday
is proclaimed Israel and Jewish Heritage Day in San Francisco.
At right, Acting Mayor Aaron Peskin formalizes the proclamation.
Photo(s) by Luke Thomas
May 4, 2006
Israeli Prime Minister Ehud Olmert will visit San Francisco if Olmert follows advice of the local Israeli Consul General.
Olmert is set to present his new government within days and signaling a visit to a Sister City considered of major importance to Israel culturally and economically would be in keeping with Olmert's new direction for Israel, David Akov told the Sentinel.
"I will personally encourage him to come," Akov pledged following ceremonial raising of the Israel Flag at San Francisco City Hall. And encourage Mayor Gavin Newsom to visit Israel.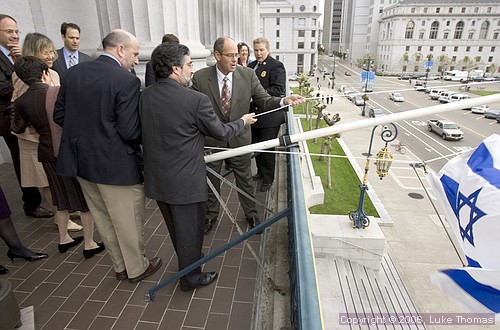 Akov serves as the Israeli Consul General for Northern California and was present as May 3 was proclaimed Israel and Jewish Heritage Day in San Francisco by Acting Mayor Aaron Peskin.
San Francisco has a large Jewish and Israeli community with the region acknowledged as the "high tech capitol of the world," Akov told those gathered.
"This is also a symbolic day for us because there is a new government in Israel that will be presented in Israel in a couple of days.
"This is a new direction in Israel. We are looking for new ways to give content to the relations between San Francisco and Israel - to think of new ideas for the Sister City Agreement.
"We hope there will be a visit by the mayor next year or maybe the year after.
"We certainly hope the prime minister will come."
Peskin, whose mother emigrated from Israel to the United States in 1963, recalled historic ties between San Francisco and Israel.
"The contributions of not only of the Jewish community but also by the Israeli community for San Francisco and for the United States of America are legion," said Peskin.
"San Francisco and Israel have a long standing relationship.
"Our seventh Sister City was Haifa, in 1973, some 33 years ago, and relations between the State of Israel and the City and County of San Francisco are something that we are very proud of.
"I am joined by the esteemed Consul General for the Pacific Northwest Region David Akov.
"To you and to the State of Israel and on behalf of Mayor Gavin Newsom to acknowledge your good work as we lift the flag of Israel and resolve that the City and County of San Francisco does hereby proclaim May 3 as Israel and Jewish Heritage day in San Francisco," Peskin stated.
For his part, Akrov described the San Francisco Jewish and Israeli community as unique in its understanding of Israeli issues.
"I want to say this is a very special city and I think it has a really special relationship to the State of Israel.
"It started long ago and it has an even brighter future.
"It is known all over the country that this is one of the strongest, maybe also the largest, Jewish communities here in the City and the whole Bay Area.
"The connection to Israel is very immediate and direct and is very important to Israel.
"This community is really like no other in terms of understanding the real issues in Israel and trying to help and tackle these issues.
"This area being the high tech capitol of the world also has a very special meaning to Israel.
"We have Israeli companies who are based here and it also something that is crucial to our economy and our future," Akrov stressed.
San Francisco Fire Chief Joanne Hayes-White, recently returned from Israel for sharing of disaster preparedness, joined the ceremony.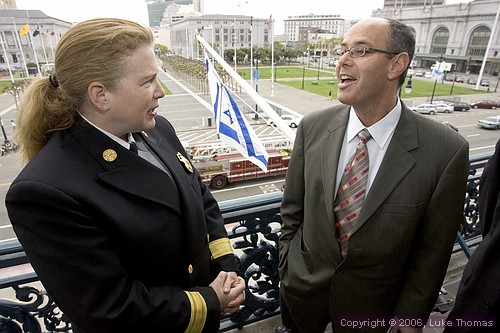 Israeli Consul General David Akov hears of San Francisco Fire Chief
Joanne Hayes-White's trip to Israel to study disaster preparedness.
She was struck by emphasis Israel places on human observation despite state-of-the-art airport security technology.
"The one thing that I was most impressed by... is the common theme that technology is only one aspect," reported Hayes-White.
"The human element of interrogating and interviewing and making that eye contact was emphasized every step of the way.
"I particularly was interested in how the mass casualties were taken care of.
"We had a full-scale exercise in a high school where they actually had a terrorist attack.
"They took us through the decontamination procedure prior to the arrival of hospital personnel."
As the ceremony began Peskin spoke a few words in Hebrew which Peskin later chortled roughly meant, "Happy Holiday of the National Day 58."
Israel celebrates its 58th birthday on May 14.
"His accent actually wasn't too bad," Akov whispered an understanding heart.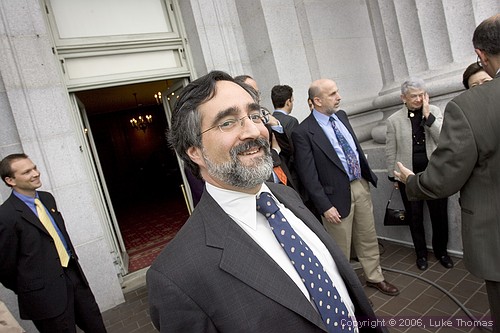 ####