Janet Reilly kicks-off 12th Assembly campaign January 28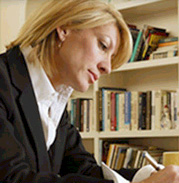 Janet Reilly. Photo courtesy
JanetReilly.com
From the Janet Reilly for Assembly 12 Campaign
January 28, 2006, 10:00 a.m.
Democratic Assembly candidate Janet Reilly will hold her campaign kickoff on Saturday, January 28th at 10:00 a.m. at West Portal Elementary School. Janet Reilly is running for Assembly in the 12th Assembly District in the June 2006 primary. The event is open to the public and the media.
WHAT:
Democratic Assembly candidate Janet Reilly kicks off her campaign for a healthier California.
WHEN:
10:00 a.m.
Saturday, January 28th, 2006
WHERE:
West Portal Elementary School
5 Lenox Way (at Taraval).
Transportation: Take the K, L or M Muni lines to the West Portal station and walk west one block to Lenox.
Democrat Janet Reilly currently serves as a Director of the Golden Gate Bridge Board. Janet is a former journalist and has an extensive background in the non-profit world. Janet Reilly believes that we are never going to have real reform in Sacramento until we elect public officials who are willing to advocate for the bold solutions that are going to make a difference. That's why she has proposed a single payer health care system to provide health care to every Californian, a statewide plan for controlling growth and preventing sprawl, and guaranteed access to higher education for every student who graduates high school with a B average or higher.
Janet Reilly has been endorsed by a broad coalition of Bay Area public officials and community leaders including Assemblyman Leland Yee, Supervisors Aaron Peskin, Jake McGoldrick, Gerardo Sandoval, Tom Ammiano and Michela Alioto-Pier; former Supervisor Matt Gonzalez, former Lt. Governor Leo McCarthy, Councilwoman and former Mayor of Daly City Carol Klatt, and San Francisco Fire Fighters Local 798.
For more information, please visit: www.janetreilly.com.
####