Assembly candidate Janet Reilly launches campaign with call for universal health coverage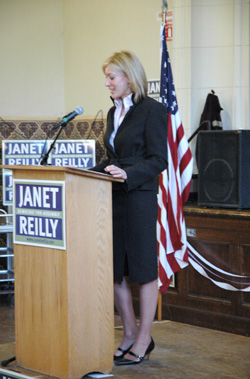 Health care, education and competing in a
global economy top Janet Reilly campaign issues.
Photo courtesy Reilly campaign.
January 29, 2006
Golden Gate Bridge Commissioner Janet Reilly yesterday pledged to fight for universal health coverage and improved education as she launched her campaign for the California Assembly 12th District seat.
Reilly drew some 250 supporters to the 10:00 a.m. campaign kick-off and precinct walk gathered at West Portal Elementary School.
She faces San Francisco Supervisor Fiona Ma as both vie to fill the seat being vacated by Assemblyman Leland Yee.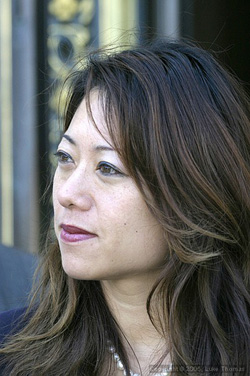 Fiona Ma
Photo by Luke Thomas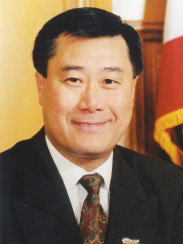 Leland Yee
Photo courtesy Leland Yee
Yee, a moderate Democrat who has endorsed Reilly, introduced her to the crowd which included progressive San Francisco Supervisor Tom Ammiano, moderate San Francisco Supervisor Michela Alioto-Pier, and former Assembly Speaker Leo McCarthy.
Reilly recalled the generation of McCarthy's leadership.
"We inherited from that generation the richest and the most progressive state in the entire nation," recalled Reilly.
"Leaders from that generation like the great Pat Brown and the great Leo McCarthy...gave us so much - the world's best college and education system, the world's best public schools, the nation's most progressive and most effective environmental protection, and yes they even gave us the state government that was recognized as the very best in the nation.
"And for nearly 30 years we have coasted on that progress.
"But now I think everyone in this room knows the truth - we are running on empty.
"Our public schools are ranked 43rd in per student spending. Poverty is still in our midst. Our roads and our public transportation system are reaching their maximum capacity.

"And our state government is now ranked as one of the worst in the nation - we are tied with Alabama."
Reilly focused on California health care.
"In the 12th District alone we have some of the nation's highest asthma rates. The highest rates of autism. The highest rates of breast cancer.
"We have a growing epidemic of Type 2 diabetes. We have shrinking resources to fight this very treatable, very preventable disease.
"I watched my own sister die of breast cancer at the age of 36-years-old and I see too many friends fight and lose this battle.
"In California today we have seven million who have absolutely no health insurance and millions of those people are children. One half of all the bankruptcies that occurred in this country last year because people could not pay their medical bills.
"We are the seventh largest economy in the entire world here in California and people are dying because they cannot afford to see a doctor.
"There is and answer, and I think it is a good answer. It just isn't easy politically so most of the politicians want to run away.
"I'm going to stand up and fight for a plan that covers every single Californian with health care - it's called universal health care coverage and we're going to fight to make it a reality.
"The truth is we do have the money to cover everyone right now.
"We're spending today 30-cents out of every health care dollar on paperwork and bureaucratic overhead and the universal coverage that I'm talking about provides coverage for everyone, allows you keep your own doctor, and allows you to make your own medical decisions."
Reilly, who serves on Mayor Gavin Newsom's Policy Council for Children, Youth, and Families, turned to California education.
"I think we know the answer to improving our schools," Reilly stated.
"We need to pay our teachers well. We need to hold everyone possible to the highest possible standards. We need to send our kids to school ready to learn."
She asked support for a Universal Pre-School ballot measure.
"We're going to need to make sure that every child in California has the chance to attend pre-school and that's why I support the Universal Pre-School initiative that's going to be on the June ballot and I hope you will support it too.
"It asks the richest people in California to pay just a little bit more on their income taxes so every child has an equal chance to learn."
Voters need remember that elected officials are responsible for potholes, Reilly added.
"Every time you hit a pothole, or you can't get on the crowded bus, or that crowded streetcar, or you can't get across town, remember somebody we elected is responsible.
"I want to continue that fight and make sure we have the world's best transportation system in San Francisco and in Daly City.
"We need to improve the 38-Geary. There needs to be more buses on Geary and they need to move faster.
"Every streetcar line needs better service and we need to extend our mass transit throughout the entire region."
She scored Governor Arnold Schwarzenegger for reducing state transportation revenues by cutting fees on Hummer purchases.
"I think that the governor's action reducing the fees for luxury cars was terribly shortsighted.
"Don't you think people in Hummers can afford to pay a little bit more so all of us can have a better quality of life?"
Californians must have a top rate education system to compete in a global market, continued Reilly.
"This world is getting faster, it's getting harder and the competition from around the world is fierce.
"We going to need the world's best trained workers to compete which is why we're going to need the best universities and college systems we can possibly have.
"We have neglected these institutions for too long. Last year was the very first year in an entire generation that we actually turned away qualified high school graduates from our public colleges and universities.
"When you need trained workers to keep our state moving you don't drive Californians away colleges and universities - it does not make sense.
Reilly is married to millionaire political consultant Clint Reilly. They have two daughters.
"I don't want to run for this office because I need a job. I don't want to run for this office because I want to spend my entire life in politics. And I certainly don't want to run for this job because I need or I want to see my name in the newspapers.
"I'm running because one of us has to - we can't wait any longer for change. We've got to start making change and progress right. I'm ready. I will fight for you."

For more information, please visit: www.janetreilly.com.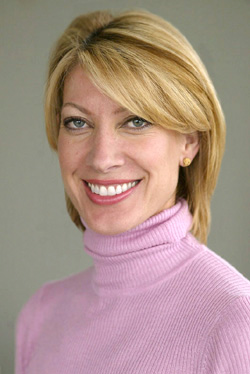 Photo Courtesy Reilly Campaign
####