Jeff Burwell: New Paintings and Sculpture
at Lincart Gallery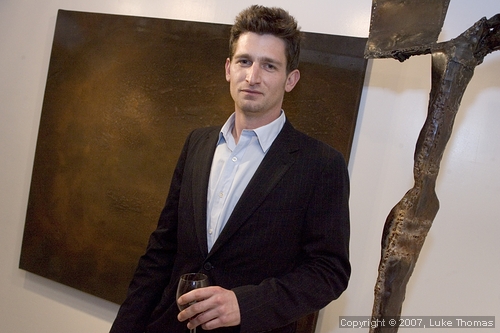 Jeff Burwell: maestro of transforming the ineffable into the tangible
is exhibiting his latest inspirations at Lincart Gallery through February.24.
Photo(s) by Luke Thomas
By Hope Bryson
January 17, 2007
We at Lincart Gallery believe that it is the lifestyle of the artist that imbues their work with depth and intrigue. The process is as essential as the end product, whereby the ineffable is transformed into the tangible.
Jeff Burwell's paintings and sculptures embody this ideal. He is a young man who, by a happy combination of good fortune and native drive, has cultivated the life of a genuine artist. Indeed, he went to art school and graduated from the California College of Arts.
But perhaps just as importantly, he has grown up close to the soil, watching and helping to coax fruit from the fertile land of Sonoma county. He has learned to craft wine from the grapes that grow on his family vines, by picking, crushing, fermenting, pressing and bottling the fruit with a studied passion.
Over the last year he has been apprenticing as a blacksmith at Angelo Garro's Renaissance Forge, absorbing the age old and practically obsolete practice of bending metal with the raw tools of strong hands and a hot fire. These processes within these artisanal skills inform Burwell's artwork. His paintings are a rich fusion of the elements, melding wine and oil paint and metal dust onto a linen canvas, creating abstractions steeped with character.
The surfaces are textured and uneven, and speak of many things: of the earth, of the horizon, of the landscape of our dreams. The forged steel sculptures are at once wild and sublime, scraps of ragged metal tamed into elegant, gestural forms.
Burwell's works tell the story of our primal fascination with materials, of our innate desire to shed the layers of civilization and go back to rolling in the warm and bubbling mud.
Last Thursday's opening reception for Jeff Burwell was a warm and bountiful celebration of the artisan's lifestyle. Many of the guests who attended are revered figureheads in the Bay Area's slow food movement, such as chef Alice Waters, hunter-gatherer and blacksmith Angelo Garro, writer Peggy Knickerbocker and the newly crowned king of Salumi, Paul Bertolli.
Paul walked among the crowded room, proudly cradling an enormous salami as if it were a small child. One wondered who was going to be the lucky recipient of that hand-made treasure?
The wine served to the exuberant crowd was all red, either biodynamic or organic, and primarily made by people present in the room, including the evening's star, Jeff Burwell.
For nibbles, we had delicious homemade chocolate treats courtesy of Robyn Valarik.
Yet the most stunning component of the evenings display was, of course, the artwork itself. Lincart invites you to visit the gallery to see for yourself.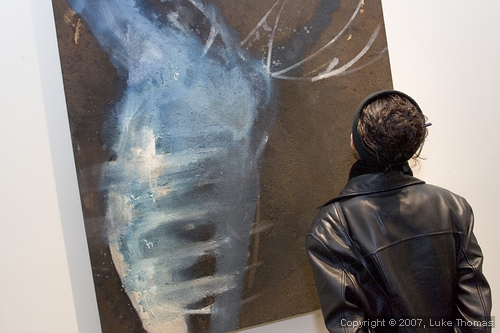 ####