Jew leaves U.S. for China amidst Federal investigation
into alleged corruption and tax evasion
Spokesperson says trip was pre-planned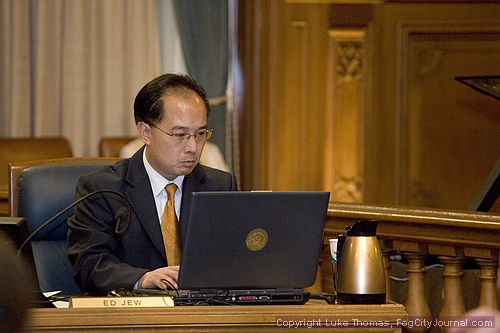 District 4 Supervisor Ed Jew at yesterday's Board of Supervisors meeting, left the country for China early this morning. According to a spokesperson, the trip was planned as far back as January, months before Federal investigators raided Jew's city hall office, his flower business, and other properties linked to Jew.
Photo(s) by Luke Thomas
By Luke Thomas
May 23, 2007, 1:00 p.m.
The San Francisco Chronicle is reporting District 4 Supervisor Ed Jew left the U.S. for China this morning at 1 a.m.
Jew has been the focus of a Federal investigation related to a $40,000 cash transaction that changed hands between the embattled supervisor and a group of businessmen seeking help in obtaining permits.
Contacted by phone, Supervisor Jew aide, Kira Eldemir, said Jew's trip to China was planned as far back as January.
"The trip was planned in January and February, and the tickets were purchased on May 1", Eldemir told Fog City.
"The supervisor has a receipt for the purchase of the ticket," Eldemir added.
Jew has also been the focus of inquiries looking into whether Jew is in violation of the city charter. As a sitting San Francisco supervisor, Jew has allegedly not been domiciled at his San Francisco residence as required by law. Water bill records suggest the residence has been vacant since Jew won election to the Board of Supervisors in November 2006.
Jew's wife and child, according to reports, are domiciled at the family's Burlingame residence.
Jew is expected to return to the U.S. before June 5, the date of the next Board of Supervisors meeting.
####