New San Francisco Jewish Museum
to celebrate joy of life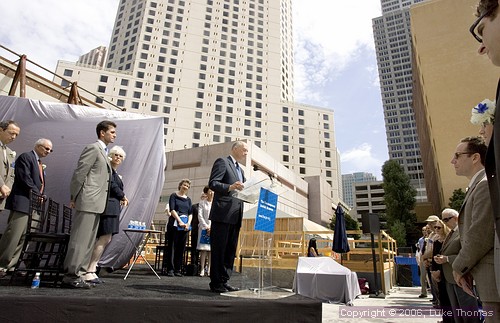 A prayer and blessing precedes a ceremonial groundbreaking of the new Jewish Museum located on Mission Street between 3rd and 4th streets.
Photo(s) by Luke Thomas
July 20, 2006
World renowned architect David Liebeskind, the seed of Abraham and holocaust survivors, Wednesday described his latest creation as a monument to the joy of life.
Liebeskind joined some 700 celebrants for groundbreaking of that creation, the Contemporary Jewish Museum nestled in Yerba Buena Gardens set to open in 2008.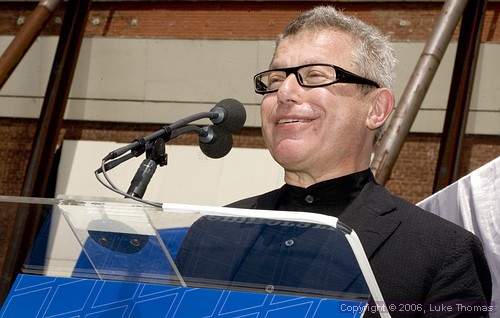 Architect Daniel Liebeskind
"A moment of groundbreaking is so exciting for any architect but this is not just any building," said Liebeskind.
"As a child of holocaust survivors I have built some museums which deal with the dark side of history, with man's inhumanity to man.
"But here in the Contemporary Jewish Museum of San Francisco I had the occasion to deal with the joy and the celebration of life.
"There could be nothing more meaningful than standing here in this vital center of San Francisco with St. Patrick's Church, with the future Mexican Museum, with the Contemporary Jewish Museum, showing that history, that tradition is what makes us together and also that tradition is what allows us to be free into the future."
The three-story 63,000 square-foot museum will host collaborative exhibitions with museums worldwide. Its $77 million capital program is 78% fulfilled.
Fourteen years in the making, the museum's collaborators detailed significance.
"Today we are celebrating the realization of our vision for the new Contemporary Jewish Museum and the design by our cherished and inspired friend Daniel Liebeskind which will result in a glorious contemporary space that resounds in the Jewish imagination and spirit," reported museum board president Roselyne 'Cissie' Swig.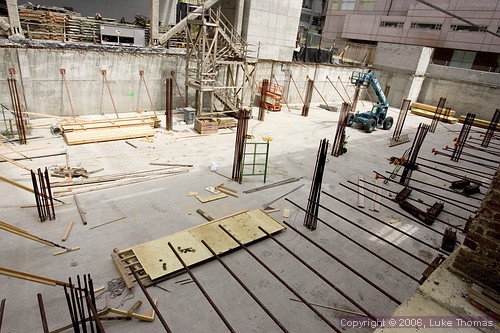 "Twenty-four years ago the museum was founded with foresight and leadership of the San Francisco Jewish Community Federation and through the stalwart efforts of our dear friend, who is departed, Alfred Fromme and to Cissie and Ted Jabal.
"The museum's vision and mission from the beginning was to establish a standard of excellence of exhibitions and programs which it continues to do and to serve the Bay Area and its broad and diverse community.
"The museum from its beginning had a vision to grow and inevitably moved to a larger space in order expand. I can think of no finer location than this one with its vibrant Yerba Buena cultural district."
Cultural vibrancy of the district grew this year, noted Redevelopment Agency executive director Marcia Rosen.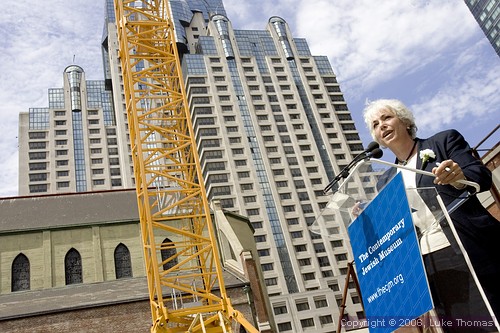 Marcia Rosen
"This morning is the culmination of a year of tremendous activity in Yerba Buena Gardens," Rosen stated.
"This year alone we saw the opening of the St. Regis Hotel, the opening of the Museum of the African Diaspora, the opening of the Museum of Crafts and Folk Arts... the opening of Yerba Buena Lane... and the final piece of the cultural jewel of the Mexican Museum in the years ago come.
"This is also a residential neighborhood. We have not only the condominiums of the St. Regis representing one end of our housing market - we also opened this year Eugene Coleman Community which is low-income senior housing for 85 seniors at the other end of Yerba Buena Gardens and joining the vibrant senior community... the childcare community and the residents of the paramount St. Regis and the Four Seasons.
"There's something very special about celebrating the Contemporary Jewish Museum which fuses... the power of the symbol of Chaim in the design in the Contemporary Jewish Museum.
"But also celebrating the cultural specificity and at the same time the universality of an institution like this.
"Cynthia Ozick, the wonderful Jewish American author wrote an essay about ethnically specific literature and culture in which she used the Shofar as a metaphor - the narrow opening of the ram's horn in which we blow into a very small space comes out as a very loud sound that resounds in a universal manner.
"She used that metaphor to say how we all celebrate our common humanity by appreciating the fine details and cultural specificity of our individual arts and culture. I know when the museum opens its door it will be and example of that, both culturally specific and universal, something for all of us to celebrate our common humanity," Rosen envisioned.
The museum represents San Francisco's beacon of diversity in a world torn by ethnic violence, Mayor Newsom stated.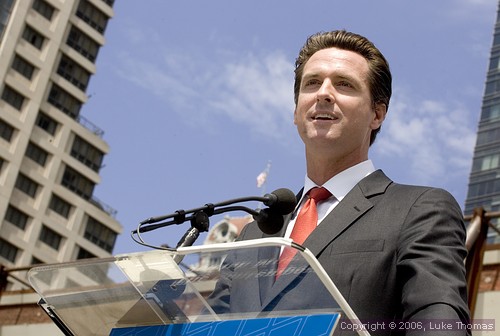 San Francisco Mayor Gavin Newsom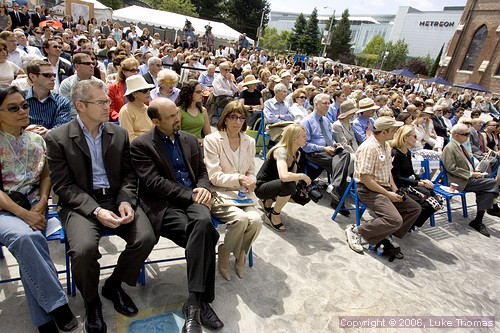 "How blessed we are... with everything that's goes on around the world - with the nations and people being torn apart," reflected Newsom.
"The racial and ethnic controversies fueling fanaticism, fueling terror, here we are in San Francisco in the Bay Area in the world's most diverse democracy, America.
"And we are living together and advancing together and prospering together across our differences. Think about that. That's a very remarkable thing and it's something I think we all should pause and reflect upon.
"This is a city that doesn't just tolerate its diversity - it celebrates it and this is a big part of that celebration of what's right in the City and County of San Francisco and what's right in the region that we all call home," Newsom stressed.
The mayor declared Wednesday to be Contemporary Jewish Community Groundbreaking Day, presenting the proclamation to Swig.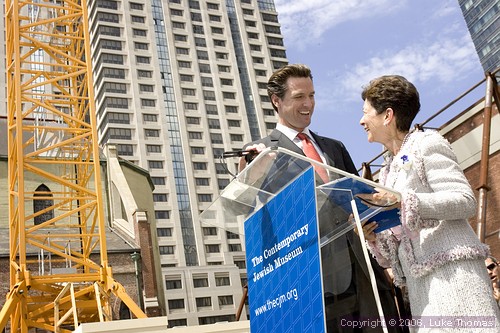 Assemblyman Mark Leno brought congratulations from the California Assembly, and San Francisco Supervisor Bevan Dufty suggested people should not be misled by his Irish name.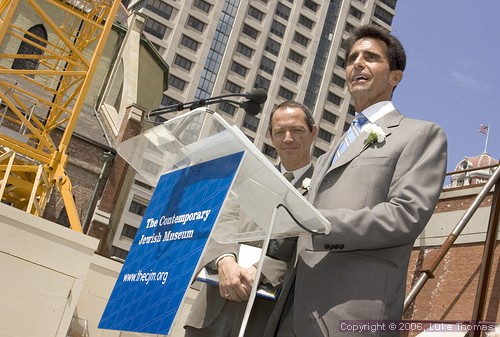 Bevan Dufty, left, joins Mark Leno in offering Mazel Tov
"Most people figure out that I'm gay pretty quickly," grinned Dufty, who represented the San Francisco Board of Supervisors.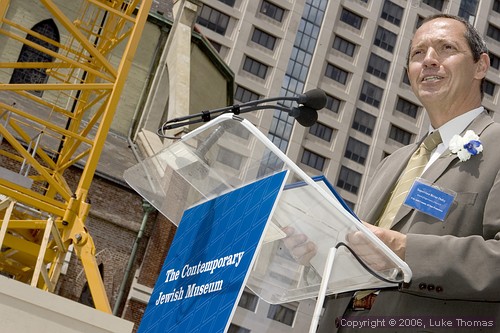 Bevan Dufty
"It's the Jewish part that they often don't get because I have such an Irish name. I don't know why my mom let it happen but Bevan Doyle Dufty doesn't cut it," Dufty chortled.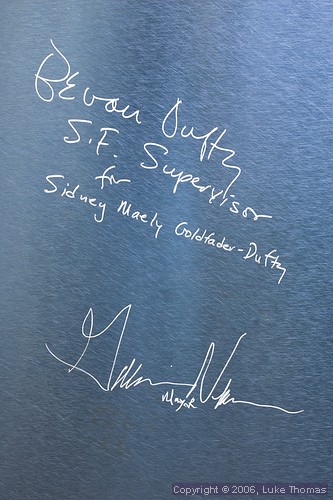 Groundbreaker signatures affixed to metallic blue facade of museum.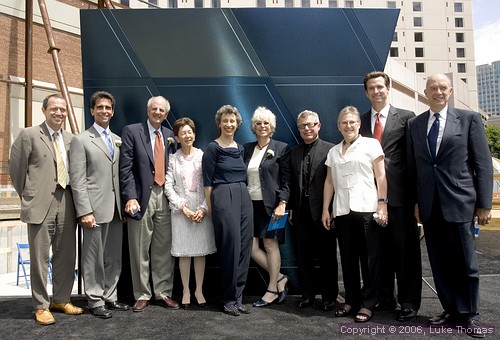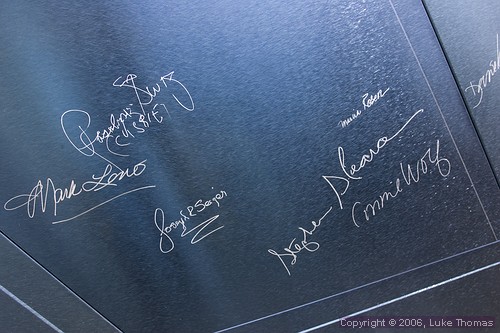 "I get to live that diverse experience," Dufty continued.
"I have some new extended family this year because actually in the San Francisco tradition I'm having a daughter with a Jewish lesbian.
"So Rebecca and I are going to have a little girl and her name is Sydney... I so look forward to coming back and bringing my daughter here," Dufty said.
Leno invoked a unique Jewish blessing.
"At the risk of denying Bill O'Reilly the opportunity to suggest that San Francisco is completely heathen in our municipal transactions, I just want to add an additional prayer to Rabbi (Stephen) Pearce's," Leno prepared the crowd.
"Blessed are you Creator of the Universe according to whose word all things will be, including the Contemporary Jewish Museum," Leno intoned to applause.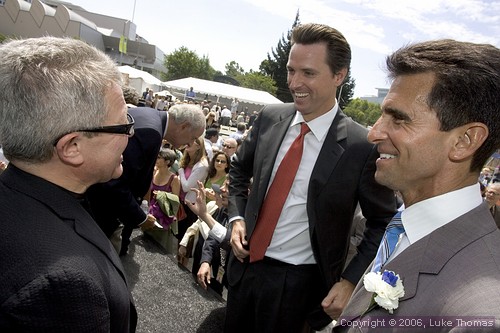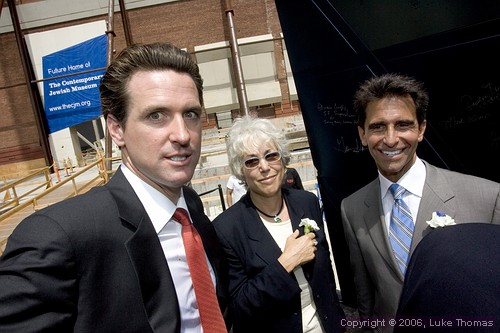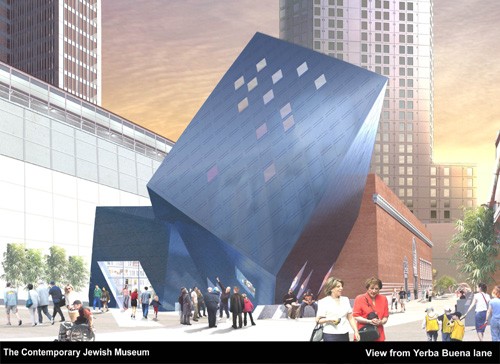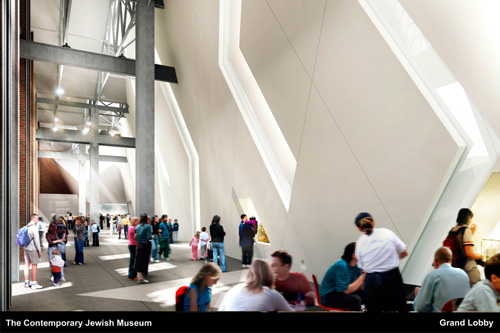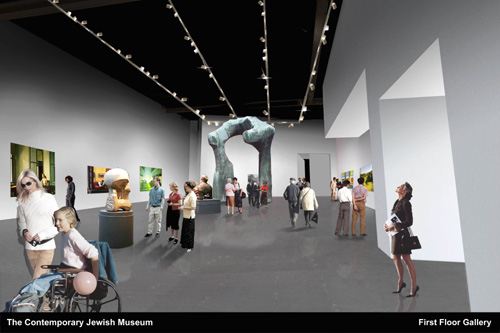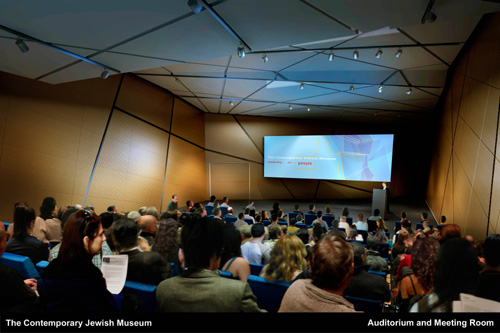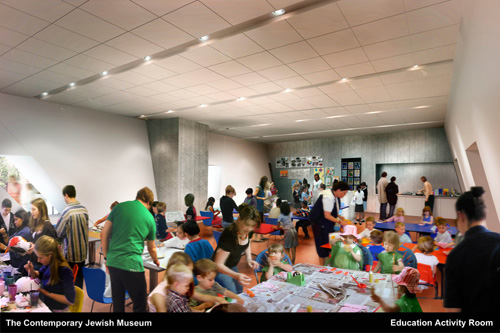 ####