San Francisco, South Korean labor leaders
challenge Pelosi free trade support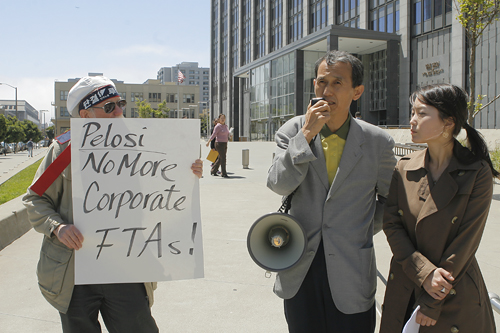 Korean Confederation of Trade Unions Vice President Young Koo Heo.
Photos by John Han
By John Han

June 11, 2007
A press conference was held Friday to challenge Speaker Nancy Pelosi on her support for the Korean-U.S. Free Trade Agreement (FTA). San Francisco labor leaders and visiting South Korean union leader, Young Koo Heo, urged Pelosi not to support the agreement..
Standing in front of the San Francisco Federal Building, speakers took turns to discuss "the devastating effect on working people in Korea," as well as working people in the U.S.
Howard Wallace, Vice President of the San Francisco Labor Council, said any trade legislation that does not take into account the interests of workers and the environment, "is not something worthy of support."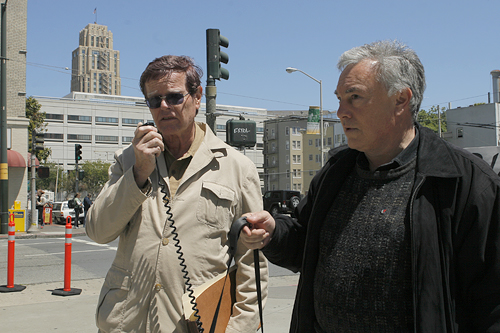 Vice President of the San Francisco Labor Council Howard Wallace (left)
Representing 150 local offices in San Francisco, Wallace said, "we are entirely in support of the sisters' and brothers' attempt to prevent their system from being privatized, and any legislation that would lend itself to that."
Young Koo Heo, Vice President of the Korean Confederation of Trade Unions, said that democratic rights and free-speech have been repressed, calling the FTA "unfair," and benefiting corporatate interests at the expense of workers.. Heo said the FTA would cause unemployment rates to increase in both the US and South Korea.
Anuradha Mittal, from the Oakland Institute, criticized the FTA for "taking away the democratic rights of people in countries like South Korea to determine what kind of trade agreements they really want."
Mittal described the agreement as "basically declaring a war on the poor, not a war on poverty."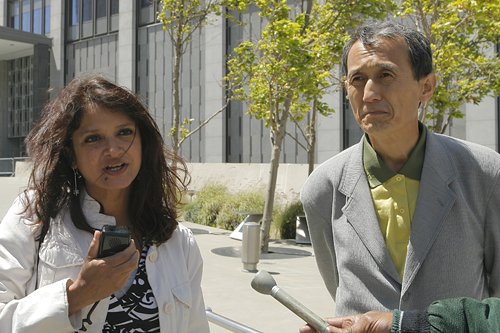 Anuradha Mittal
Jeff Vogt, Global Economy Specialist, AFL-CIO, said the FTA is a model that provides little or no protection for workers' rights, or the environment, and is bill of rights for multi-national corporations. He said the FTA provides "strong intellectual property protections on pharmaceuticals that tend to threaten the healthcare of Korean working people everywhere," and that "it is not the right model for either countries."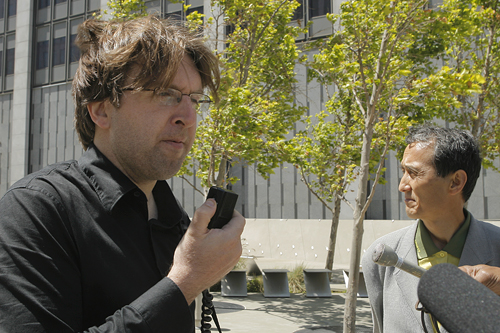 Jeff Vogt
Labor Media's Steve Zeltzer stated Korea has a national healthcare system. He noted that one of the effects of the FTA is that it would force privatization of the national healthcare system of Korea.
"Do we want in the U.S. to force our healthcare system on the people of Korea, and people of other countries, when so many people (in the U.S.) are not covered by healthcare?" Zeltzer asked.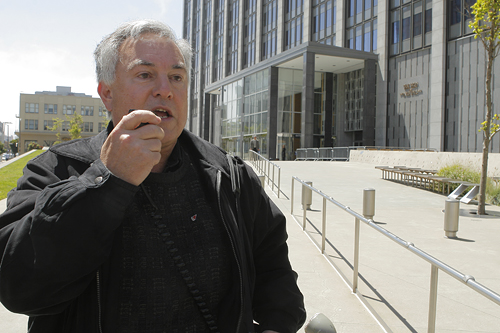 Steve Zeltzer
Zeltzer said the FTA would allow drug companies to force Koreans to buy high-priced drugs and prevent them from buying less expensive generic drugs, furthering the privatization of the healthcare system. He said South Korean workers are going to jail for striking and companies are legally able to sue workers for striking because of the cost of going on strike.
"We believe the Speaker of the House, Nancy Pelosi, should be standing up for the democratic rights for the people and workers of Korea and the people and workers of the United States," Zeltzer said.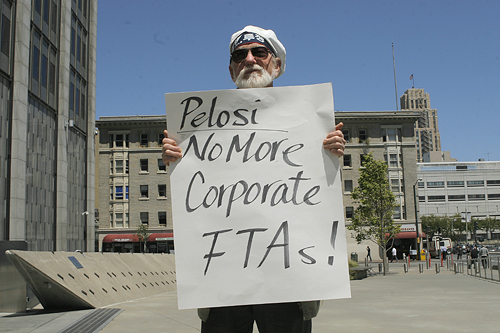 ####