Feds arrest anti-war "die in" protestors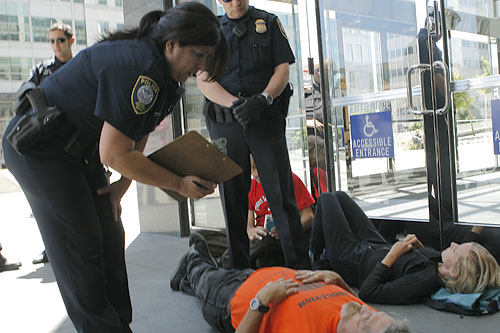 Eight anti-war protestors were arrested outside the San Francisco Federal Building yesterday.
Photos by John Han
By John Han

August 3, 2007
Eight protestors were arrested yesterday outside the San Francisco Federal Building during an anti-war protest against the U.S. occupation of Iraq.
The protestors were arrested for blocking the main entrances to the building in a "die in" to bring attention to the spiraling death toll in Iraq and Afghanistan.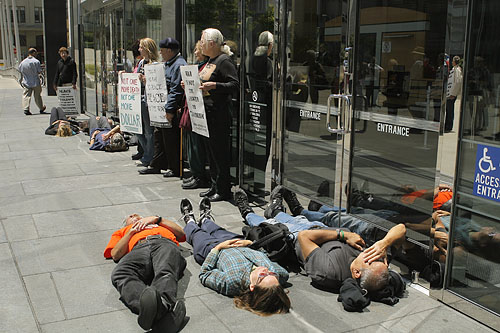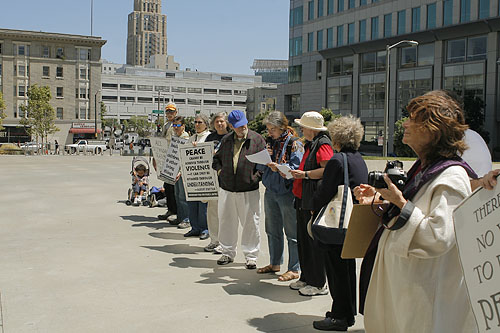 The protest was organized by Declaration of Peace, American Friends Service Committee, Watada Support Committee, and several religious-based organizations that joined together to call on Congress to end the war in Iraq and bring U.S. troops home.
"Let's focus on the things at home that we really need," said Sally Hindman. "There's so much we can do with the billion dollars we're spending every two and a half days on this war."
Hindman said our tax dollars could be better spent on national health care, housing and education.
An analysis by the Congressional Budget Office in Washington D.C. states 'Congress has appropriated $602 billion for military operations related to Iraq, Afghanistan, and the "war on terrorism" since September of 2001.'
The report states appropriations averaged about $93 billion a year from 2003 to 2005, $120 billion in 2006, and $170 billion in 2007. Over $9 billion per month is currently spent on operations in Iraq alone.
Hindman said House Speaker Nancy Pelosi is acting as a "political pragmatist."
"She's doing what is politically feasible to do, and we're disappointed that she isn't taking more of a leadership role and going out more on a limb to end this war," Hindman said.
"It's a meaningless war," she said. "It's bringing people home in body bags everyday."
To date, 3659 U.S. service personnel have been killed in Iraq, 27,104 have been wounded or maimed for life, and as many as 655,000 Iraqis have been killed.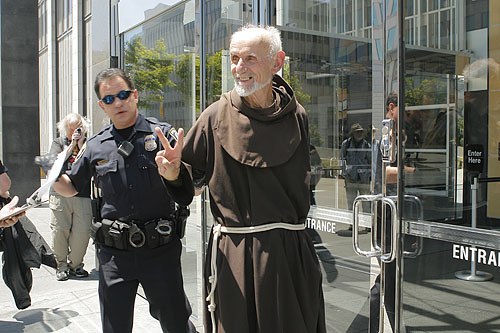 ####