San Francisco Labor Council endorses Newsom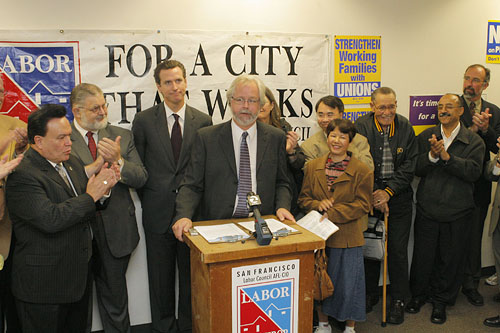 San Francisco Labor Council Executive Director Tim Paulson
announces the SFLC's endorsement of incumbent Mayor Gavin Newsom.
Photos by John Han
By John Han

June 20, 2007
In a press conference Tuesday the San Francisco Labor Council (SFLC) announced their endorsement for Mayor Gavin Newsom's campaign for re-election. Tim Paulson, SFLC Executive Director, said that in a previous meeting the SFLC "overwhelmingly" endorsed Gavin Newsom to a second term in office as Mayor of San Francisco.
"Four years ago this council was more divided when it came to the mayor's race, and I think we're all very proud right now that we can move forward with the unanimity that we exhibited at our meeting last night," Paulson said.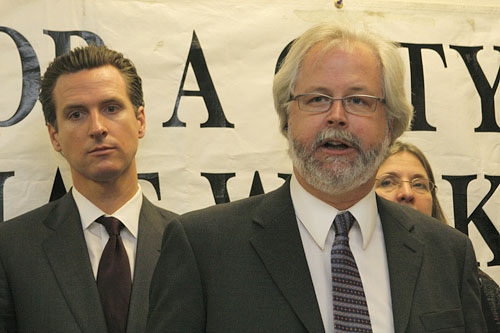 The endorsement is said to reflect a unity in the San Francisco labor movement based on the Newsom's worker policies.
Newsom thanked the SFLC and union members for the early endorsement.
"Arguably it's not so early, I guess anymore, it just feels early 'cause this race hasn't necessarily, to this day, taken shape as most traditional mayor's races have," Newsom said.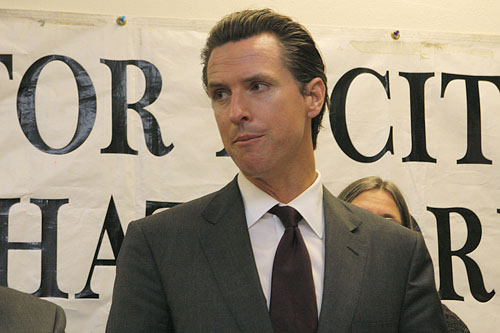 Mayor Gavin Newsom
Newsom predicted the mayor's race would be competitive, that he would not be taking anything for granted.
"The fact that labor has stepped up... is standing side by side with me is going to make an immeasurable difference, and I cannot impress upon you how appreciative I am to each and everyone of you for this endorsement," Newsom said.
Newsom called San Francisco a labor town, and said there are "remarkable trends in this country that is basically eviscerating the middle class in this country."
Stating that the decline in labor can be directly connected with the decline of the middle class, Newsom said elected officials "historically have stood side by side with labor" and should do so "now more than ever as we see a remarkable consolidation in the corporate sector, the likes of which I don't think any of us could have imagined five or ten years ago."
Newsom said that, as a San Franciscan, the endorsement means "a great deal to me as a person, not just as a politician to have labor support."
He assured all present that they would have his support.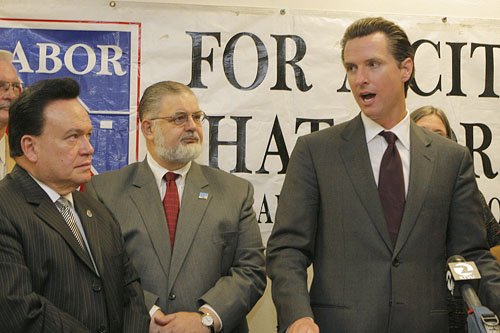 ####