Budget Committee recommends funding
to keep John Swett Elementary open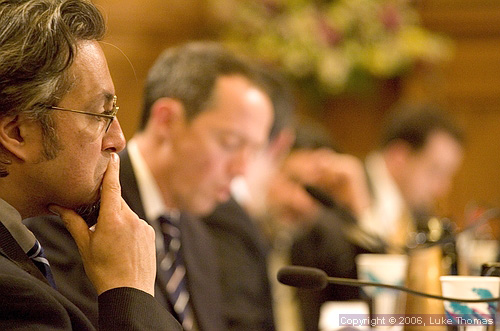 Supervisor Ross Mirkarimi remains steadfastly committed
to saving John Swett Elementary from closure
Photo(s) by Luke Thomas
April 6, 2006
The City's Budget and Finance Committee yesterday recommended funding to save a local elementary school set to close this year.
Funding of $660,000 from the General Fund to keep the John Swett Alternative School open was referred to the full Board of Supervisors with approval recommendation.
The elementary school, located in the Western Addition, has a strong performing and visual arts program, Supervisor Ross Mirkarimi said. It currently has an enrollment of 232 students which come from the Western Addition, Presidio and Tenderloin neighborhoods.
The city's Board of Education voted in January to merge students and staff from John Swett with John Muir Elementary School, about a mile away.
Various parents and school employees appealed to the committee to take action and save the school at today's meeting.
"I come with a heavy heart," school employee Juanita Wilson said. "We finally have a safe zone for our children and to watch it being taken away is disheartening."
The elementary school has empowered children for over a hundred years, first grade teacher Jeremiah Jeffries said.
"John Swett has helped children become literate and overcome adversity," he said. "We give children the chance to hope and dream."
Ann Connery said she transferred her two grandchildren Maya Rose, 6, and Drew, 10, from John Swett after finding out about the merger.
Connery said the school district considered closing the school down because of low test scores. She said Drew found himself taking the same test multiple times.
"Test scores do not represent an education," she said. "Education means my granddaughter coming home and telling me what photosynthesis is. And she learned that at John Swett."
Swett's arts programs can not be merged with John Muir, which is a reading and arts school, Supervisor Ross Mirkarimi said.
Grants from art foundations and annual contributions from public utility commissions that John Swett currently receives also won't move with the school merger, Mirkarimi said.
"Trying to merge John Swett and John Muir was a complete mistake," he said.
Transcripts and tapes from the school board's discussions about John Swett's merging revealed that the school district was interested in relocating their offices to the school's facilities, Mirkarimi said.
"It's not okay to dislodge 232 students without facing some scrutiny," he said.
Mirkarimi asked Matthew Kellerman, chief development officer for the San Francisco Unified School District, if he looked at the merger plan for John Muir and John Swett elementary schools.
Kellerman said he hadn't looked at the plan yet but he would discuss the issue with the district.
The committee approved the ordinance 4 to 1. A loud cheer echoed throughout the room.
"It's our responsibility and obligation to make sure that our communities are whole and are protected and defended when necessary," Mirkarimi said.
Supervisor Sean Elsbernd said the resolution does not guarantee that John Swet will stay open. It will be up to the school district whether or not they will use the funds to keep the elementary school open.
Mirkarimi said he remains hopeful that the school district will comply.
"I'm gambling that this ordinance will bring the issue up in the school board again," he said.
The resolution relieves working parent Sandra James, whose son Isaiah, 6, attends John Swett.
"John Swett provides a free after school program which I would have to pay for if my son had to transfer to John Muir," he said.
Isaiah James had no comment, but he did a silent leap of joy.
####