John Mark Karr confesses to killing JonBenet Ramsey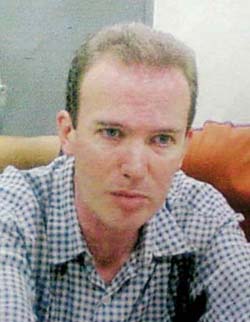 John Mark Karr
Photo courtesy Royal Thailand Police
August 17, 2006, 9:00 a.m.
The suspected killer of child beauty queen JonBenet Ramsey confessed to the crime Wednesday, according to reporters and investigators.
John Mark Karr, once a Petaluma school teacher, described the killing as an accident in a $118,000 ransom attempt.
Lt. Gen. Suwat Thamrongrisakul, chief of Thai immigration, said Karr confessed to strangling Ramsey when the ransom scheme went awry.
The child died from a blow to the head and by strangulation with a paint brush handle by twisting a rope around her neck, according to the autopsy report.
"I was with JonBenet when she died," Karr told reporters in Bangkok yesterday.
"I loved JonBenet and she died accidentally," Karr, 41, added.
When a reporter asked Karr if he was an innocent man, Karr responded, "no."
Karr was under investigation for two unrelated sex crimes, law enforcement officials told the Associated Press, which led to his arrest at his Bangkok apartment Wednesday.
American embassy officials reported Karr will be expedited next week to Boulder, Colorado, and charged with murder, kidnapping, and sexual assault on a child.
####