Details of John Mark Karr divorce proceedings
Wife unaware of husband's bent toward child pornography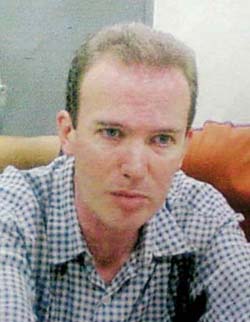 John Mark Karr
Photo courtesy Royal Thailand Police
By James Lanaras, Bay City News Service
August 18, 2006
SANTA ROSA (BCN) - The former wife of John Mark Karr, the man suspected of killing of JonBenet Ramsey, said in her Sonoma County divorce papers she was unaware of Karr's Internet activities "as they related to pornography and certainly not his propensity to 'kiddy porn.'"
Lara Karr asked the Sonoma County Superior Court to protect her and her children in an Oct. 18, 2001 request for sole custody of the couple's three children. She also asked that Karr have no visitation with them.
John Karr faced five misdemeanor charges of possessing child pornography on his computer. He was released from the Sonoma County Jail under supervision on Oct. 5, 2001. He failed to appear in court on Dec. 13, 2001 and an arrest warrant was issued.
The warrant is still outstanding.
Karr was arrested in Thailand on Wednesday on suspicion of murdering the 6-year-old beauty pageant contestant in her family's Boulder, Colo. home on Dec. 26, 1996.
He was a substitute teacher in Napa, the Petaluma area and in San Francisco between the fall of 2000 and April 2001. His teaching credentials were revoked in April 2003.
In her statement to the divorce court, Lara Karr said there was no physical violence between her and her husband, but Karr was "very controlling.'' She said he insisted she cut off ties with her family and friends, which she later resumed.
Lara Karr said she was a 16-year-old bride who "didn't know any better than to give in to his demands.'' She said Karr "purposely set about to get me pregnant so we could marry without parental consent, as is the Georgia law.''
Karr wrote, "I am now informed differently and realize that this too, is a form of domestic violence and request that respondent be restrained from contacting me, or the children and from annoying, telephoning, e-mailing, or otherwise bothering us.''
Lara Karr said she was told by one school in 1997 or 1998 that Karr would not be asked to continue to serve as a substitute teacher "because he had a tendency to be too affectionate with the children.''
"I thought nothing of that statement until I was apprised of the current criminal proceedings,'' Lara Karr wrote regarding the child pornography charges against her husband.
Lara Karr said she had just learned her husband was being investigated for possession of child pornography on the Internet when she filed for divorce.
"I had no idea of the severity of the allegations until his arrest on April 13, 2001, Lara Karr wrote.
Lara Karr represented herself during her divorce proceedings. The Karrs were divorced on July 10, 2001.
Copyright © 2006 by Bay City News, Inc. -- Republication, Rebroadcast or any other Reuse without the express written consent of Bay City News, Inc. is prohibited.
####