John Mark Karr retains two San Jose lawyers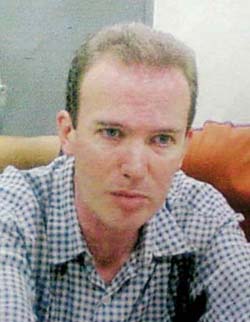 John Mark Karr
Photo courtesy Royal Thailand Police
By Jason Bennert, Bay City News Service
August 24, 2006
SAN JOSE (BCN) - Two San Jose attorneys announced yesterday that they have been retained by John Mark Karr, the man suspected of killing 6-year-old beauty pageant contestant JonBenet Ramsey a decade ago.
Lawyers Jamie Harmon and Patience Van Zandt said at a hastily arranged news conference that they do not expect Karr to appear in a Colorado courtroom this week.
"He will not make a first appearance until at least next week," Harmon said. Van Zandt represented Karr in 2001 when he faced child pornography charges in Sonoma County.
Harmon said that Karr and Van Zandt developed a rapport in 2001 that led to his decision to have them represent him.
"He and Patience spent a great deal of time together. He likes her very, very much," Harmon said.
Neither attorney would comment on the details of the case because Karr has not been arraigned and they have not seen the prosecution's evidence.
Copyright © 2006 by Bay City News, Inc. -- Republication, Rebroadcast or any other Reuse without the express written consent of Bay City News, Inc. is prohibited.
####