Sonoma District Attorney wants John Mark Karr to face child pornography charges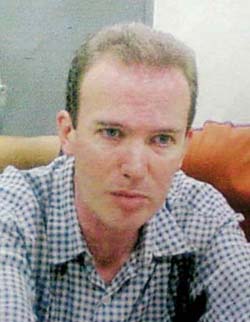 John Mark Karr
Photo courtesy Royal Thailand Police
By James Lanaras, Bay City News Service
August 28, 2006
SANTA ROSA (BCN) - Sonoma County intends to prosecute John Mark Karr on five misdemeanor charges of possession of child pornography on his computer now that Boulder, Colo. authorities are not trying Karr for the murder of JonBenet Ramsey, District Attorney Stephan Passalacqua said this afternoon.
Prosecutors in Colorado said this afternoon they will not prosecute Karr for the December 1996 murder of the 6-year-old beauty pageant contestant because DNA tests do not place Karr at the scene despite his claim he was with the girl when she died.
Passalacqua said his office notified Colorado authorities that Sonoma County wants Karr extradicted. Passalacqua said that could take 30 days or less time if Karr waives extradition.
Gov. Arnold Schwarzenegger must issue a warrant for extradition, Passalacqua said, and the county Sheriff's Department will travel to Colorado to accompany Karr back to Sonoma County.
An extradition hearing is scheduled for Karr in Colorado Tuesday afternoon, Passalacqua said.
Karr will eventually appear in Sonoma County on a warrant for his arrest that was issued when he failed to make a court appearance in December 2001. Further court dates will then be set, Passalacqua said.
"The main purpose of the extradition is the fact that he has to register as a sex offender,'' Passalacqua said. Karr faces a year in the county jail if he is convicted of each of the five misdemeanor charges, but Passalacqua said there will likely be defense arguments for a lesser sentence because the alleged offenses are believed to have occurred on the same date.
Chief Deputy District Attorney Joan Risse will handle the prosecution, Passalacqua said.
A hearing is scheduled for Tuesday afternoon in Sonoma County Superior Court on a motion by Bay Area media to unseal arrest and search warrant documents on Karr's 2001 Sonoma County case. Passalacqua said his office will oppose unsealing the documents to protect the integrity of Karr's pending case in Sonoma County.
The documents were unsealed in August 2001 but were sealed by two Sonoma County judges on Aug. 16 and 18, 2006 after Karr surfaced as a suspect in Ramsey's murder.
The Sonoma County Sheriff's Department reported last week it never uncovered any confession statements or overt evidence that Karr murdered Ramsey or had secret knowledge that only her killer would know.
Copyright © 2006 by Bay City News, Inc. -- Republication, Rebroadcast or any other Reuse without the express written consent of Bay City News, Inc. is prohibited.
####