Karr was not suspected of molesting Petaluma students but California teaching credential revoked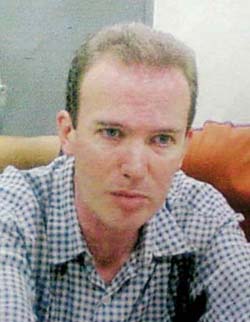 John Mark Karr
Photo courtesy Royal Thailand Police
By James Lanaras, Bay City News Service
August 17, 2006, 6:00 p.m.
SANTA ROSA (BCN) - The prosecutor who handled John Mark Karr's child pornography case in Sonoma County in 2001 said today there was never any evidence the former teacher molested children in the county, as some parents have worried since his arrest on Wednesday in connection with the murder of 6-year-old JonBenet Ramsey.
Julia Freis, now a defense attorney, said the five pornographic images that Karr allegedly had on his computer were of children and adults.
The children were dressed normally.
"I don't remember any of them being 'dressed up,''' Freis said.
In a statement this afternoon, the Sonoma County district attorney's office reported prosecutors would not grant individual interviews about Karr's pending pornography case and would not release any other information.
Karr was arrested in Thailand Wednesday on suspicion of killing Ramsey, the child beauty pageant contestant who was found beaten and strangled in her family's Boulder, Colo. home on Dec. 26, 1996.
Karr was arrested in Sonoma County on April 13, 2001 on five misdemeanor charges of possessing child pornography. He was jailed in lieu of $100,000 bail, got out on supervised release in October and failed to appear in court on Dec. 13, 2001. A warrant for his arrest is still outstanding.
Freis said Karr's wife Lara filed a restraining order against Karr during the criminal proceedings in Sonoma County. The couple divorced in July 2001.
Karr was a substitute elementary school teacher in four Sonoma County school districts in the Petaluma area between January and April 2001, county Superintendent of Schools Carl Wong said today.
Wong said Karr cleared a background check before he was hired and claimed to have taught computer classes at an elementary school and a community college in Alabama.
Karr was let go in April 2001 after the Sonoma County Sheriff's Department informed the education office that Karr had been arrested for an unspecified, non-school-related incident, Wong said.
Karr also worked as a student teacher in a fourth-grade classroom at the Pueblo Vista Elementary School in Napa between Feb. 1 and April 4, 2001. He also served as a substitute teacher under a temporary county office of education certificate for seven days at the school in kindergarten through third grade between Feb. 7 and March 15, 2001, according to Sharyn Lindsey, assistant superintendent of human resources in the Napa Valley Unified School District.
Lindsey said today nothing in Karr's background check would have precluded him from teaching.
"Mr. Karr appeared to be a pleasant and friendly gentleman with good manners. As I recall, there was nothing unusual to remember about him,'' Lindsey said.
The Napa County Sheriff's Department informed the school district that investigators were going to speak to Karr at the elementary school on April 4, 2001, the last day he worked there.
Karr also was a teaching assistant in the fall of 2000 at the Convent of the Sacred Heart Elementary School in San Francisco.
Anne Wachter, head of the all-girls Catholic school, said today a thorough background and reference check of Karr was conducted and that he was never left alone with students.
Wachter said Karr left after less than four weeks without incident because he did not like the position.
The California Commission on Teacher Credentialing revoked Karr's teaching certification on April 3, 2003, citing Karr's violation of a section of the education code, part of which pertains to a teacher's commission of "any act involving moral turpitude.''
Copyright © 2006 by Bay City News, Inc. -- Republication, Rebroadcast or any other Reuse without the express written consent of Bay City News, Inc. is prohibited.
####