1906-2006 Rebuilding: Then and Now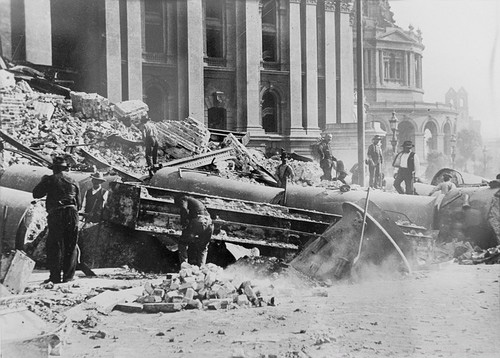 Clearing debris, City Hall, San Francisco, August 1906
Schmid-Allmond Album
July 6, 2006
The Rebuilding San Francisco Committee presents an extraordinary photographic exhibit entitled "1906-2006 Rebuilding: Then and Now." Featuring over 80 black-and-white images, the exhibit celebrates workers reconstructing the San Francisco Bay Area following the 1906 Earthquake and Fire, and workers of today constructing Bay Area buildings and bridges. Both the historical and contemporary photographs give a behind-the-scenes, close-up look at how workers have built the San Francisco Bay Area during the last century.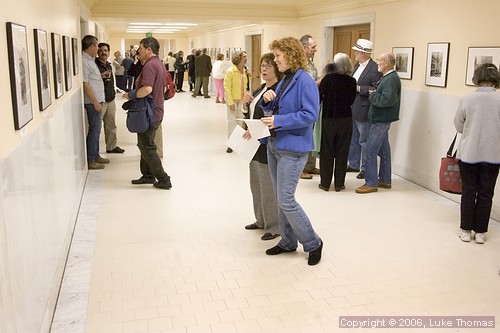 The exhibit opened June 22, 2006 on the lower level of the San Francisco City Hall and closes on August 25, 2006. City Hall is open 8 a.m. – 8 p.m. weekdays.
The historical photos are the most extensive collection of post-earthquake images of workers rebuilding San Francisco ever exhibited. They were taken by an unknown photographer and are part of a collection known as the Schmid-Allmond Album. Dating from April, 1906 until early 1908, these fascinating photographs show carpenters, bricklayers, masons, ironworkers, teamsters, piledrivers, laborers, operators, and electrical workers rebuilding well known sites such as the Bank of California and the Palace Hotel, as well as homes and businesses throughout the city.
The contemporary photographs, taken by Joseph A. Blum, document many of the same crafts, as well as boilermakers, painters, and glaziers. Blum's images bring the workers and their labor process to the forefront. In these striking photographs we see workers engaged in high-rise construction in downtown San Francisco, rebuilding the Conservatory of Flowers and the Ferry Building, and constructing the Al Zampa Memorial Bridge over the Carquinez Strait and the new East Span of the San Francisco-Oakland Bay Bridge.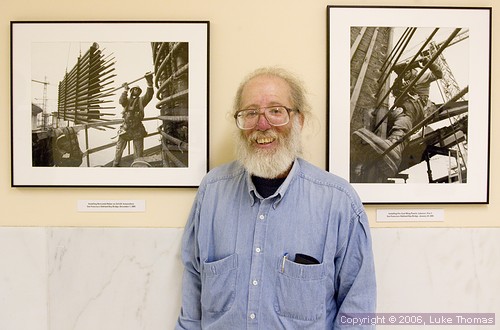 Photographer and exhibit curator, Joseph Blum.
The exhibit curator Joseph A. Blum is a retired boilermaker and photographer. His photographs have been exhibited at the Berkeley Art Museum, the J. Paul Leonard Library and the Gallery at San Francisco State University, the Metropolitan Transportation Commission, the Labor Archives of San Francisco State University, the SomArts Cultural Center and at the Photo Center, San Francisco.
For further information please contact Joseph A. Blum, People and Work Photography.
####