Contempt of court hearing for freelance journalist continued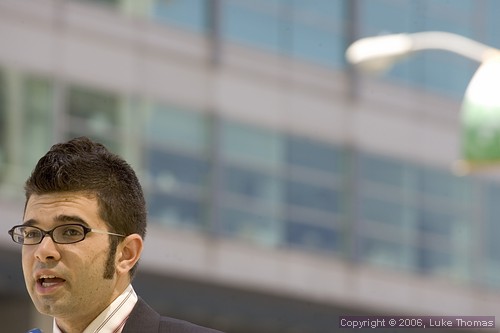 Josh Wolf, 24, faces a contempt of court charge brought about by federal investigators purportedly interested in identifying anarchists who may have been involved in torching a San Francisco police car at a 2005 protest demonstration.
Photo(s) by Luke Thomas
July 21, 2006
A federal contempt of court hearing which may send a San Francisco freelance journalist to jail was continued yesterday until August 1.
The U.S. Attorney's Office has asked that 24-year-old Josh Wolf be held in contempt of court for refusing to surrender unedited video to a grand jury.
Wolf could face jail time if U.S. District Judge William Alsup issues a ruling of contempt.
The case stems from a 2005 protest demonstration videotaped by Wolf. Portions of the video subsequently were broadcast by local television stations.
A San Francisco police car was set on fire during the demonstration and local police sought unpublished portions of the tape for arson investigation.
After Wolf refused to surrender the entire tape, citing the California Reporters Shield Act which precludes subpoena of unpublished material, local police asked for federal intervention.
Federal law precludes such subpoenas in civil cases, but the U.S. Attorney's Office contends that protection does not extend to criminal investigations.
To justify federal entry into the case, prosecutors maintained the local police car was manufactured from parts which crossed state lines.
Alsup asked prosecutors to consider granting immunity to Wolf thereby overcoming Fifth Amendment objection that Wolfe has a right to remain silent due to fear of prosecution. Alsup also asked prosecutors to demonstrate why Wolf also is not right to fear prosecution by lower California courts.
The judge also posed a challenging question for Wolf to consider.
"Since the press is constantly saying the public has a right to know, why is the press constantly saying it has a right to keep things secret?"
The hearing is scheduled to resume August 1 at 9:00 a.m.
####