Freed local journalist Josh Wolf less tanned
but more confident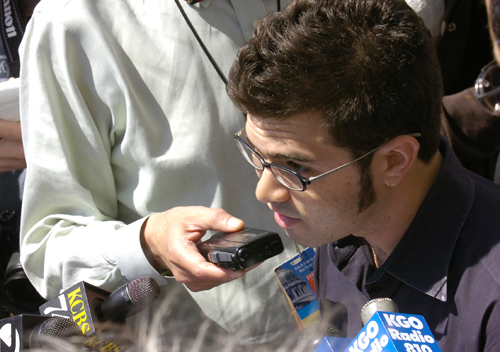 Josh Wolf meets with reporters afternoon of his release from federal prison
Photo(s) by Stephen Dorian Miner
September 1, 2006
Josh Wolf lost his tan but had grown more comfortable with his smile as an applauding press corps welcomed the American free man back to the streets on San Francisco.

He stood on 7th Street at 1:00 p.m. today, before the United States Court House, freed by federal Appellate Court order releasing Wolf on his own recognizance after one month of incarceration in federal prison.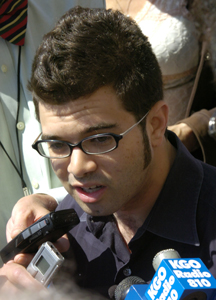 Having forgot to bring cash with him to prison, Wolf thanked his former fellow inmates "support of solidarity" before reading a prepared statement.

Inmates pooled toiletries for Wolf despite his lack of commissary funds.

Federal Judge William Alsup order Wolf jailed in contempt of court August 1, 2006, for refusing to surrender unpublished video of a San Francisco demonstration.

Wolf's basis for appealing for release on bail "was not trivial," the Appellate Court ruled. The ruling implicitly acknowledged Wolf's appeal of the entire case has standing, said Dan Siegel, one attorney representing Wolf.

Attorney Carlos Villarreal echoed Siegel.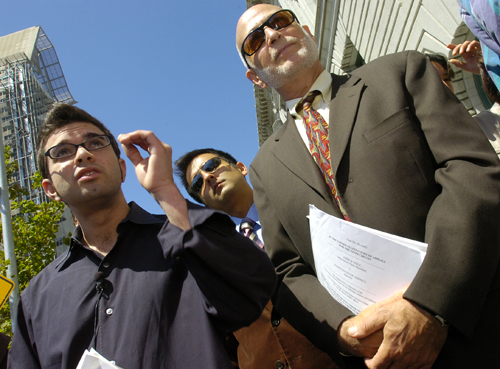 Attorney Carlos Villarreal, center, with Dan Siegel, right

"This provides some vindication and we are cautiously optimistic about what the Ninth Circuit will ultimately decide," stated Villarreal, executive director of the National Lawyers Guild for of the San Francisco Bay Area.
"We are hopeful that justices are going to consider the importance of a free and independent media, especially when journalists are covering free speech activities."
Wolf said he is optimistic his case will prevail.
"They have concluded my appeal is not frivolous or simply for a delay, so that's a positive sign," began Wolf.
"I have confidence that these vital rights are at the core essential to the practice of journalism and eventually will be recognized at the federal level - if not through the courts then at least through Congress."
San Francisco Chronicle reporters Lance Williams and Mark Fainaru-Wade face federal contempt of court imprisonment. Wolfe offered veteran advice should they go to jail.

Honor unspoken inmate protocol of not asking why an inmate is incarcerated.
And bring cash, Wolf stressed.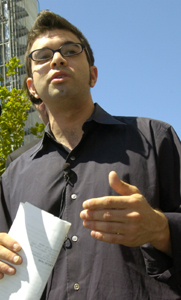 ####