Journalist found in contempt of court
Jailed for refusing federal subpoena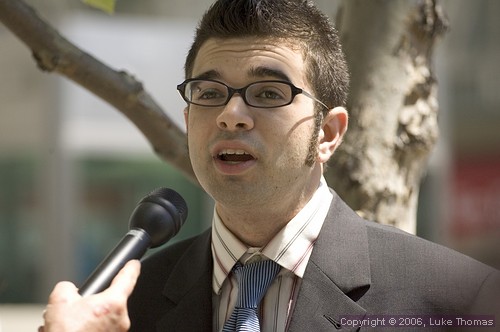 Josh Wolf, 24, was jailed eariler today after Federal Judge William Alsup found Wolf in contempt of court, a charge brought about by federal investigators purportedly interested in Wolf's videotape footage identifying anarchists who may have been involved in torching a San Francisco police car at a 2005 G8 protest demonstration.
Photo(s) by Luke Thomas
By Julia Cheever, Bay City News Service
August 1, 2006
SAN FRANCISCO (BCN) - A freelance video journalist was found in contempt of court and ordered jailed by a federal judge in San Francisco today for refusing to turn over a videotape of a demonstration to a U.S. grand jury.
Josh Wolf, 24, was taken into custody and led out of the courtroom by a deputy U.S. marshal after U.S. District Judge William Alsup found him in contempt of court.
Alsup said, "There is no reporter's privilege" under federal law, as set by a key U.S. Supreme Court ruling in 1972, to refuse to respond to a grand jury subpoena.
"The grand jury has a legitimate need" to see the tape of the July 2005 protest in San Francisco, Alsup said.
Wolf's lawyer, Jose Fuentes, said outside of court that he will immediately file an already prepared notice of appeal with the 9th U.S.
Circuit Court of Appeals in San Francisco.
Fuentes said he will file a brief within several days asking the appeals court to grant Wolf release on bail during the appeal. He said he did not know to which jail or prison Wolf will be taken.
The demonstration in the Mission District of the city on July 8, 2005, was an anarchist protest of the Group of Eight summit meeting then being held in Scotland.
During the melee, an officer was injured and an apparent fire or smoke bomb was set under or near a police car.
The federal grand jury is investigating possible attempted arson of the police car, which would be a violation of a U.S. law that makes it a crime to use fire or explosives to damage a vehicle owned by an institution that receives federal funds. Like many law enforcement agencies, the San Francisco Police Department receives some federal money.
Fuentes argued unsuccessfully that the federal connection to the case was "remote and tenuous" and that any investigation should be carried out by local rather than federal authorities.
Unlike federal law, California law does include a shield law that generally protects reporters' materials.
But Alsup said that although it is not yet clear whether arson actually occurred, "The grand jury has a legitimate right to look into violations of that law."
The judge also turned down Wolf's lawyer's request that he try to balance the needs of Wolf and the grand jury.
Alsup said the case was a "slam dunk" for the government because the videotaped incident occurred in public and no confidential sources were involved.
Assistant U.S. Attorney Jeffrey Finigan, who had sought the contempt order, argued that Wolf was "placing himself above every other citizen in our society" in refusing to turn over his tape.
Finigan contended that any damage to Wolf's ability to work as a reporter was his own responsibility because he had publicized the dispute in news conferences and on his Web site.
Alsup told Wolf as he was led out of the courtroom, "In no way is this punitive. When you change your mind, let the marshals know and you will be released."
Wolf could be kept in prison until the grand jury's term expires in July of next year.
The judge used similar language when he found personal trainer Greg Anderson in contempt of court and ordered him jailed on July 5 for refusing to testify before a different grand jury investigating possible perjury by professional athletes in a sports steroids probe.
Anderson, whose clients include San Francisco Giants slugger Barry Bonds, was jailed for 15 days until that grand jury's term expired.
He was then given a second subpoena to testify before a new grand jury and last week appeared in court before a different federal judge in a closed hearing. Anderson left the federal courthouse without being jailed and the outcome of that hearing has not been revealed.
Today's hearing before Alsup was the fourth of four hearings before three different judges in which Wolf sought to oppose the subpoena issued on Feb. 6.
Copyright © 2006 by Bay City News, Inc. -- Republication, Rebroadcast or any other Reuse without the express written consent of Bay City News, Inc. is prohibited.
####