Green Party candidate Keefer repeats unanswered challege to Pelosi to respond to voters concerns through open debate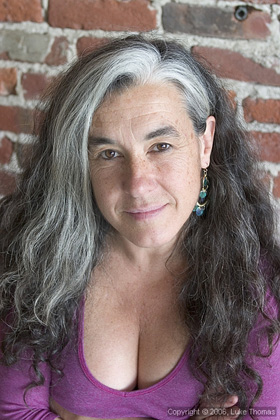 Green Party congressional candidate Krissy Keefer.
Photo(s) by Luke Thomas

August 2, 2006
Green Party congressional candidate Krissy Keefer yesterday sent off her latest unanswered request for incumbent Nancy Pelosi to agree to a debate.
A debate that includes Keefer and any other candidates running for the California 8th District seat in November.
Keefer has sent letters every day asking Pelosi to grasp the debate podium.
Smaller party candidates often are not included in televised debates and Pelosi has not agreed to debating Keefer anywhere, Keefer told supporters.
Such debate would draw Pelosi to San Francisco for an explanation of Pelosi policies, Keefer maintained.
"So far as I know Nancy Pelosi has not debated in the last 20 years because she has not had a significant challenger," stated Keefer.
"It's important with these far reaching issues that she show up in San Francisco and start talking about not only her national policy but her foreign policy as well."
The Green contender highlighted policy difference between herself and Pelosi.
"Primarily the most recent thing is her foreign policy stand on the bombing of Lebanon.
"Her only foreign policy, as we can tell so far, is Israel has a right to defend itself which is not a foreign policy, it's an emotional reaction, and as far as we can determine she has no boundaries around how far Israel is allowed to go.
Keefer cited Pelosi stand on broader Middle East conflicts.
"We have a horrible war in Iraq on which she has no policy about bringing the troops home.
"We have a war in Afghanistan, we have a breakdown between the Shiites and the Sunnis, we have... this war in which 150,000 Iraqi's have been killed.
"I think it's time we see that Nancy Pelosi refuses to draw a wedge between Bush's agenda and the agenda of the San Francisco people which is peace, cooperation, negotiation and a ceasefire."
####