Keefer campaign makes a splash on the streets
of San Francisco
Delivers an ensemble of music, dance, art, and homemade cookies in camaign bid for Congress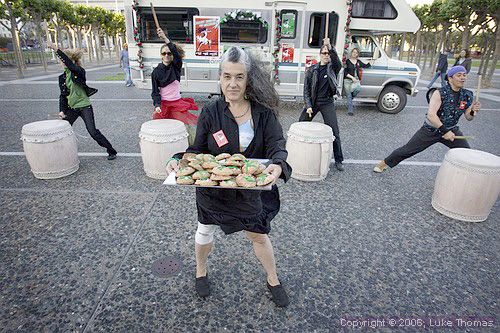 Krissy Keefer and taiko drummers perform an ensemble
of drum standards on Alioto Plaza yesterday.
Photo(s) by Luke Thomas
From the Keefer for Congress Campaign
June 7, 2006
In the spirit of San Francisco's anti-war artistic counter-culture life style, and to add life to what can only be called the most disheartening negative campaigning in recent memory, Krissy Keefer celebrated receiving 96% of the Green Party votes by taking to the streets with taiko drumming, 60's music and "Cookies for Congress".
This roving movable feast of a party called for the Impeachment of George Bush and the immediate withdraw of American troops from the Iraq war. She also brought attention to problems of global warming as recently brought to our attention in Al Gore's new movie, "An Inconvenient Truth".
Keefer's caravan hit 16th and Mission, City Hall, the Yes on A party, Union Square, Eric Safire's party, ending at Medjool's with many San Francisco's political insiders including Mayor Gavin Newsom, Ross Mirkarimi, Aaron Peskin, Bevin Dufty, Debra Walker, Michael Goldstein and DCCC hopefuls. Cookies for Congress prepared by Marc Powell were enjoyed by over 100 people thoughout the city, delivered with ease by "chauffeur for a day", Doug McAbee.
In the Castro District, Keefer reminded everyone that her opponent Nancy Pelosi has no clear position on gay marriage, as the senate voted yesterday to change the constitution in what can only be called a vicious attack on civil liberties.
As the Italian Goverment are pulling their troops from Iraq U.S. forces are becoming more and more isolated amid accusations of massacres, torture and misconduct. Real support for our troops would include bringing them home, to end and repair the horrendous damage unleased on Iraq.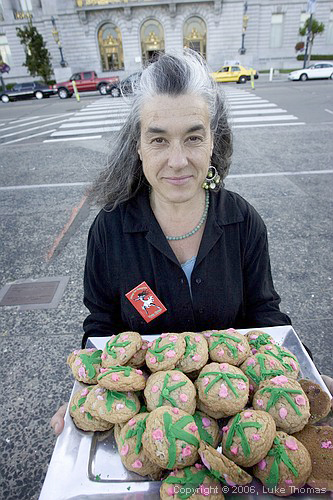 For more information go to KeeferForCongress.com.
####