Krissy Keefer officially launches campaign bid for Congress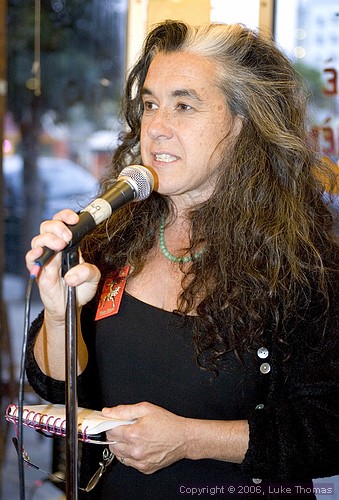 Krissy Keefer
Photo(s) by Luke Thomas
From the Krissy for Congress Campaign
May 25, 2006
Local activist legend Krissy Keefer, the Green Party candidate for Congress (8th District), has officially launched her campaign for congress.
At the venerable Café La Boheme, one of San Francisco's oldest coffeehouses and cultural meeting places, Keefer and her supporters spoke out on a number of issues. Running against incumbent Congresswoman Nancy Pelosi, Keefer called for a political voice that represents the forward-thinking, progressive ideology of San Francisco, and reproached Pelosi for her lack of political leadership, specifically her refusal to consider impeachment or censure of President George Bush.
Citing the president's dismal approval rating of 33%, Keefer called for the impeachment of George Bush and Dick Cheney and the removal of Donald Rumsfeld and Condoleezza Rice.

Keefer also called for the immediate removal of troops from Iraq, for reparations to that country for the damage to infrastructure and human cost of continued occupation and military aggression since 2003, and for greater accountability from the US- based civilian and military contractors who control the rebuilding of Iraq.

Keefer also supports the immediate ratification and implementation of the Kyoto agreement, development of alternative sources of fuel and power, stronger regulations to drastically reduce carbon emissions, and other efforts to acknowledge the reality of global warming, which the US government continues to turn a blind eye to.

Opposed to the demonization of immigrants and the militarization of the border between the US and Mexico, Keefer holds the position that economic reconstruction of Latin America should be the priority of our foreign policy, focusing on the creation of jobs, housing and education in economically distressed areas. She also spoke of the need to protect civic land, buildings, parks, and federal property against Pelosi's agenda of privatization, as demonstrated in San Francisco's Presidio.

Keefer also emphasized the need for stronger federal support for community arts programs, to ensure the place of the arts as a means for social change, preserving freedom of speech, and fostering the health of communities. She mentioned specifically the areas of Bay View/Hunter's Point, the Mission, and the Excelsior districts as communities that would benefit from prioritizing neighborhood arts programs.

Known for her long and distinguished career as an artist and activist, Keefer is currently working with San Jose Repertory Theater on the critically acclaimed project, Iphigenia at Aulis.
Following the close of this production and the Primary in June, her campaign will begin in earnest.

For more information go to Krissyforcongress.com

####