District 2: The forgotten BOS election
By David Pascal

October 28, 2006
For the majority of the current campaign cycle, District 2 has shown no signs that there is, in fact, a major election on the November ballot. Neighborhoods in the district have seen none of the traditional products of a district election: no window signs or door hangers, no mailings, not a single candidates forum.
That changed in recent weeks when write-in candidate David Kiddoo, the last candidate to enter the race, became the first to launch a webpage and the only candidate to demonstrate grassroots support.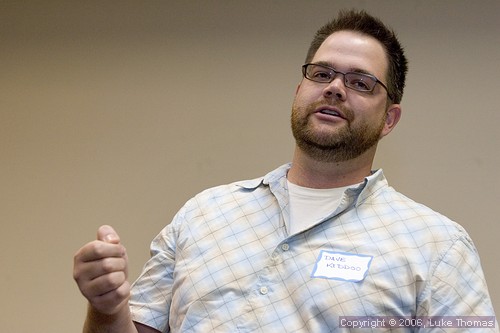 District 2 write-in candidate David Kiddoo.
Photo(s) by Luke Thomas
Last Saturday, the 32-year-old Kiddoo and a group of young volunteers took their message to the streets of the Presidio and Pacific Heights.
The incumbent Supervisor, Michela Alioto-Pier, has already managed to spend over $50,000 without conducting any person-to-person campaigning, such as the hand-delivery of campaign literature. Since the entry of Kiddoo into the District 2 race, her campaign has taken on a public face, with Internet and bus shelter ads promoting her less-than-inspiring accomplishments over her first term: tax breaks to movie producers and 2004's dubious, costly, and redundant Proposition I.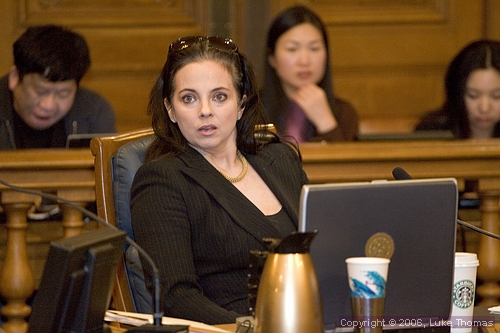 District 2 Supervisor Michela Alioto-Pier. File photo (10/17/6).
If making five-figure expenditures for consultants, polling, and media buys seems odd for an incumbent in a neighborhood election with no apparent competition on the ballot, consider the excitement generated by the late entry of Kiddoo in this year's race. As a last-minute write-in candidate, Kiddoo has built a grassroots campaign that has garnered the endorsements of progressive groups such as the San Francisco Tenants Union, the San Francisco Bay Guardian, and the League of Young Voters. Kiddoo works as a non-profit developer of affordable housing and holds a Masters Degree in City and Regional Planning.
A 2004 candidate for District 2 Supervisor, I caught up with Kiddoo shortly after last Saturday's precinct walk and had a few questions for the candidate.
DAVID PASCAL: The decision to enter the race at this stage is an interesting one. What made you throw your hat in the ring?
DAVID KIDDOO: I took a look at the choices on the ballot and immediately knew that progressive voters in District 2 wouldn't have a choice when they went to the polls this year. I've been in that situation before, and it's a lousy feeling - knowing that you can't, in good conscience, vote for anyone on the ballot. So, I'm here to give progressives in my district a choice on November 7th.
PASCAL: Well, your current Supervisor, Michela Alioto-Pier, has been endorsed by a wide range of organizations, including the San Francisco Democratic Party. If she's good enough for the Democrats, why isn't she good enough for you?
KIDDOO: Look, anyone who is a sitting supervisor in our city is going to be endorsed by the Democratic Party. It's effectively a one-party town. But all you have to do is take a look at this year's voter guide to know that she's hardly a progressive. She shares a number of positions on our propositions with the local Republican Party - is that supposed to boost her progressive cred?
PASCAL: So, as a progressive, what questions would you ask Supervisor Alioto-Pier?
KIDDOO: Well, there are a lot of them. I've yet to receive any literature from her this election cycle - she's raised nearly a hundred grand and I still don't know what she's all about. Specifically, though, I have a few:
With kids dying on the streets of our city, why did Supervisor Alioto-Pier oppose the plan to initiate police foot patrols in our most dangerous neighborhoods? She's gone out of her way to make sure that movie producers don't have to pay fees when they have their shoots here, which amounts to a dedication of police resources to make sure that donuts don't get stolen off of the set of "The Wedding Planner." Is that more important than preventing violent crime?
Even if you're willing to accept that the shell game of forgoing tax revenues from movie productions isn't curtailing our ability to pay for city services because police fees are still being paid, these tax breaks aren't necessarily driving economic development. If you ignore the constant bleating of Republicans and corporate types about how taxes are killing our economy and actually look at the research instead, you'll find that quality of life is a bigger development engine than tax cuts actually are. That explains how California continues to be an economic miracle while Mississippi isn't, and it makes a pretty good case that we should be concentrating on keeping kids from being shot on our streets rather than giving tax breaks to rich corporations.
PASCAL: How about questions that you have that are more directly related to the quality of life in our district?
KIDDOO: District 2 has some of the most famous and unique shopping areas in the world on streets like Union, Chestnut, and Fillmore. Still, Supervisor Alioto-Pier sided with the San Francisco Republican Party in her opposition to Proposition G, claiming that protection for small businesses should be given on a neighborhood-by-neighborhood basis. Does she think that local small business owners in the Marina need more protection than those in Hunters Point, or is she just too dependant on big-money downtown and out-of-town interests to take a principled stand in favor of our local businesses?
And have those interests made her forget that three-quarters of her constituents rent their homes? Supervisor Alioto-Pier amassed a voting record that has earned her the endorsements of known anti-tenant organizations such as the San Francisco Realtors Association and the San Francisco TIC Coalition, and hardly seems to have the best interests of most of her constituents at heart.
PASCAL: Then how do your proposed policies differ from those that have been promoted by Supervisor Alioto-Pier?
KIDDOO: Well, first off, I recognize that we're facing a serious public safety problem in our city, and I believe that a move away from the status quo is absolutely necessary to restore order to our streets. I think that the recent vote by the Board of Supervisors to establish foot patrols is a great start, and I'm disturbed that Supervisor Alioto-Pier voted against that measure. I also support community policing measures similar to those that were proposed under Proposition A in our past June election, and I was shocked and disappointed when so much of the Downtown establishment came out in opposition to that proposition. That is proof to me that she doesn't get it when it comes to matters of public safety.
I'm also disturbed by her open opposition to Proposition G. It's a good start towards preserving much of "what makes San Francisco San Francisco" - local businesses that provide us with a good part of the local flavor we're famous for. Proposition G isn't going to prevent business growth in our neighborhoods; instead, it's just going to give our citizens more of a voice in what the character of their neighborhoods are, and I just can't see how that can be represented as a negative.
Finally, I have proposed a housing policy that goes beyond building million-dollar condos wherever the big, for-profit developers see fit. So many of our citizens depend on rental housing in order to stay in San Francisco, including three-quarters of District 2. The only way this city will keep its character is if there are housing options available that don't require a pair of six-figure incomes and $300,000 of equity from mom and dad. That's what our inclusionary ordinance, local reforms to the Ellis Act, and other pro-tenant legislation are all about, and my vote on those issues will NOT be for sale to groups like BOMA and the San Francisco Realtors Association.
PASCAL: As a write-in candidate, how are you spreading the word about your candidacy?
KIDDOO: Any way we can - pounding the pavement, making calls, leaning on the progressive media and the blogs, contacting key progressive figures. I admit that we're behind the 8-ball in terms of timing; had I known that Supervisor Alioto-Pier would not be facing legitimate opposition during this election, I would have filed for this race much sooner. The fact is, though, I didn't, and we have to deal with that. I'm really depending on running a 'viral' campaign here - we need as many concerned San Franciscans as possible to get the word out that there's an actual choice in this election. Word of mouth can be effective, though - there's plenty of precedent for successful grassroots campaigns here, and we feel like we can catch lightning in a bottle this year as well.
####