WITH DANIELA KIRSHENBAUM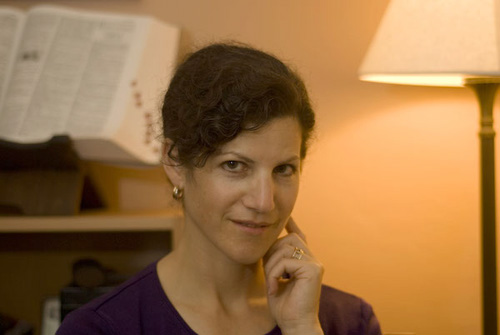 Photo by Andrew McDonald
Call it Ultimate Real Estate
September 24, 2006
Don't sob for the San Franciscan who has just lost his view to a boxy new development. Fear instead the bigger picture.
Think of the city's local connection to the number 37, as in Oregon's Measure 37, the most stylish bit of new legislation. It's now all the rage in at least six more western states. California will vote on Prop 90, its own vicious version, this November.
Here it's titled the "Protect Our Homes Act." Get it? The very title calls to mind wicked governmental meddlers using terms like "eminent domain," who are poised to swoop in and seize your house, your land, your property and your dog!
An east coast real estate tycoon is paying for the campaign (see link below). He wants you to fear the property rights dismantler. Your reward, with the passage of Prop 90, will be the right to demand Cash Money from the evil state any time zoning regulations come along.
Of course, the state can't start writing checks to everyone. So they will just drop. Any new. Land use. Regulations. Wow.
The imagination boggles with the possibilities. After all, this could kill any kind of rezoning! Let's see: how many units do you figure you can jam on that little bit of land between your garage space and the front door? How wide could those floodgates open?
Poor Oregon started this whole new age gold rush. Now, you can order your very own copy of a "claim manual," designed for draining your share of money out of Salem's coffers. Just click here.
What could this mean for San Francisco? Well, just across the Bay last week, Berkeley Mayor Tom Bates and the City Council rushed through some adjustments to their land use laws, in case Prop 90 passes.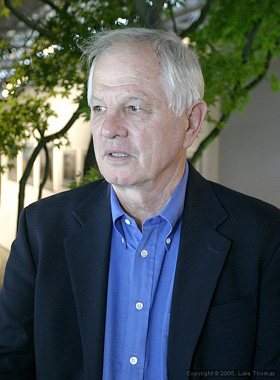 Berkeley Mayor Tom Bates.
Photo(s) by Luke Thomas

"Both Berkeley and San Francisco are very dense, built-out places where neighborhoods need protection," said Cisco DeVries, Chief of Staff to Berkeley Mayor Tom Bates. "This state proposition would come in and undermine our ability to determine how much to build and where to build it."

Who likes having no control over one's built environment? Not the fragile neighborhoods that make up the celebrated "character" of San Francisco. We are all too used to relinquishing control - frequently over all-too-insensitive new development. We mustn't be naïve: the passage of Prop 90 could be another blow in favor of a continued scramble for development dollars, damn the inconvenience to those affected.

Fortunately, people in the neighborhoods have started practicing the honored dictum of "following the money." We may be densely populated and built-out city, as Mr. DeVries notes, but that's not stopping the vast numbers of people - speculators, land use attorneys, and lobbyists are but a few - who support themselves handsomely in the development trade. Many use righteous titles: "green" and "affordable" and "family" and "workforce" are all happy adjectives used in the marketing of character-crushing development.

What's needed, of course, is a really strong set of city departments - and that's even if Prop 90 doesn't pass. We need a Planning Department with a leader who can see (without help) that we need big, comprehensive solutions because we won't win the race in building enough housing. We need a Building Department with a leader who can boost morale by avoiding favoritism and rewarding merit, so that inspectors can perform their jobs without fear.

During the previous mayoral administration, payrolls were fattened and merit was confused with loyalty. That alone is adding to the number of steps it will take to get those strong city departments we crave.

In the meantime, a small band of savvy neighborhood veterans is meeting at City Hall most Fridays. They call themselves the San Francisco Neighborhood Network, and their motto is "Good Planning, Good Government."

I used to meet with them myself. In fact, I helped establish the group. But with threats like Prop 90, you might want to join them in their effort to keep our city planning and our city government accountable.

One veteran land use attorney calls Prop 90 a "meat axe." Cisco DeVries wonders: "Prop 90 doesn't make a lot of sense - will people be able to look past the eminent domain bait and understand that? That it will be 'guess what, discussion over?'"

As Supervisor Chris Daly puts it: "If I win the election and Prop 90 passes, I can take off for the beach -- there'll be nothing for me to do!"
More information:

San Francisco Neighborhood Network
Contact - jim.meko@comcast.net

Oregon's Measure 37

"Claim Manual" for Measure 37

California's Prop 90
####
Editor's Note: Views expressed by columnists published on FogCityJournal.com are not necessarily the views or beliefs of Fog City Journal. Fog City Journal supports free speech in all its varied forms and provides a forum for a complete spectrum of viewpoints.