Analysis of the Mayor's Race:
The High Stakes in Letting Newsom Go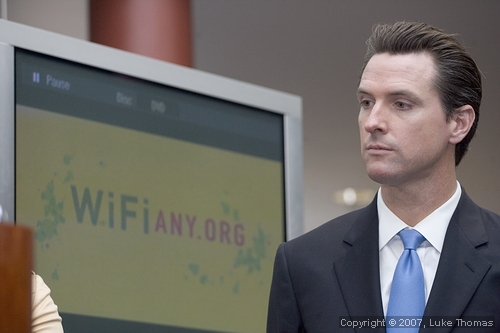 Mayor Gavin Newsom. File photo. 1/31/7
Photo(s) by Luke Thomas
February 6, 2007, 11:16 a.m.
This past Saturday, one of our sources came upon Mayor Gavin Newsom at the Ferry Building market. He was especially well dressed, thought our source, but golly, there he was, right after that huge public apology about You Know What. And that was before the announcement that Newsom would enter rehab. Now the scrutiny of his every gesture will intensify even more.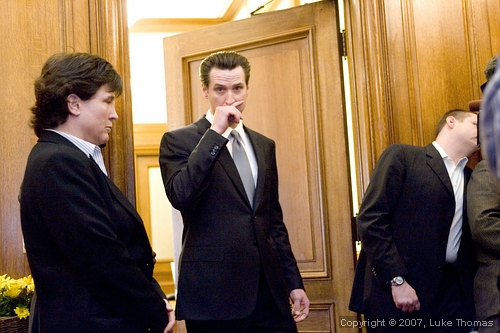 We've seen politicians rehabilitate their careers after a scandal or rehab. After a while, the public is able to perceive them without a cloud of impropriety. Perhaps Newsom is just such a politician. But he is also one who is known for depending heavily on a coterie of loyal and long-standing "handlers." It's not especially unusual, and even his staunch defender, Ken Garcia, uses the term.
Mayors in the style of Willie Brown use handlers mainly to carry out instructions. In Newsom's case, the handlers are guarding a very pricy investment: a stratospheric $5.7 million went into getting the guy elected in 2003, and his campaign donors demand a return on their money. Like any venture capitalist, they spend carefully and expect reliability and even obedience.
The handlers are there to see that Newsom is reelected, doubling the investment. Presumably, they ensure he takes the right positions on key issues. To be fair, not all of Newsom's actions seem to follow a script: his moves on the hotel strike, for example, may have been an impulse of independence.
Of all the hearsay and rumors that have been phoned in to Fog City Journal, the one tip that caught our attention was that the mayor's reelection campaign had hired someone just to make sure he stayed in the race.
We have no way of knowing if there's any truth to that. The Newsom campaign denied it - we'll keel over from surprise the day they admit to anything even slightly unpleasant. But it did fit in perfectly with the notion that the stakes are so high, Team Newsom will do whatever it takes to keep the leaky Gavin boat afloat.
What's even more disturbing than having a mayor guided so closely by a calculating staff is the fact that nobody can afford to run against him. There are plenty of potentially viable candidates who would love a chance to take on the mayor this November. Not that it would be easy: he's an incumbent who has had high approval ratings. But it's the money that really wards off the would-be challengers.
All that cash is suffocating our democracy because nobody can come up with the presumed millions it would take to defeat Newsom. Matt Gonzalez would never have come so close to beating Gavin almost four years ago had he tried merely to outspend him.
It's not clear that any of the conceivable mayoral candidates could muster that same grass-roots, shoe-string appeal. More likely, they will have to count on Newsom's new vulnerability to peel away some of the backers who have grown disenchanted. The lesson, repeated again in 2003, is that he or she with the most money wins. Every time. Even in San Francisco.
With only nine months to Election Day, big donors may decide to stick with Newsom - despite his implosions - merely because there isn't enough time to come up with a different, "reliable" candidate. Could Kamala Harris or Dennis Herrera or Susan Leal pull it off?
For the big donors, it might be safest to leave Newsom in the race as long as possible, even if he isn't expected to win. From their point of view, it's risky to allow the race to open up so widely. One primary beneficiary of a clear field would be Board of Supervisors President Aaron Peskin.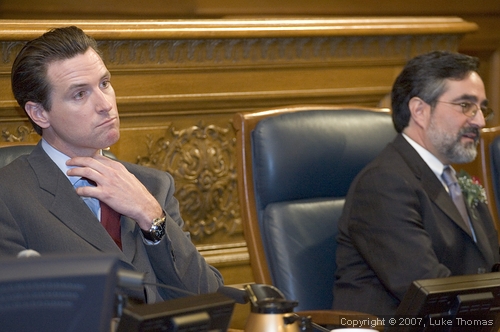 Board President Aaron Peskin (right). File photo 1/8/7.
Peskin is considered the opposite of Newsom, mainly because big money backers know they couldn't rely on him to take positions they find favorable. By keeping Newsom in the race as long as possible, it is all the harder for Peskin - or anybody else - to get the funding to go after the mayor's seat. We asked Peskin for a prediction and he demurred, saying only that, given his position, any commentary would seem self-serving.
The fear of Peskin as a potentially "unreliable" mayor means our current mayor must campaign at the worst time possible: precisely when his personal life is unraveling to such an extent that his accomplishments as mayor are getting extra scrutiny. It could be that his handlers miscalculated on the Tourk affair. Perhaps they thought they could keep it under wraps at least until after Newsom was reelected.
We can only hope that democracy in San Francisco has an extra chance this go-round. If there is any silver lining to the Newsom developments, it's that there's a hope that big money can't wash away the problems, and some lesser-funded, capable candidates can have their chance, too.
####