Lennar slapped with racial discrimination lawsuit,
accused of violating toxic asbestos cleanup restrictions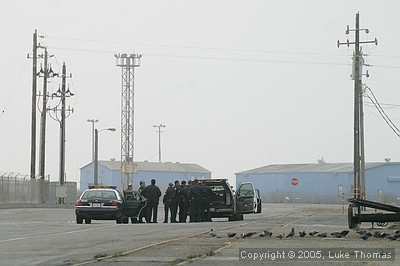 Bayview Hunters Point Shipyard, file photo.
Photo(s) by Luke Thomas

March 17, 2007
Lennar Corporation is considered the King Midas of developers, ready to turn the Bay Area's most toxic sites to gold. But a lawsuit filed March 16 alleges the firm is poisoning the community and is discriminating against its workers.
The lawsuit lists numerous instances when African-American employees for the firm's Bayview-Hunter's Point Shipyard project were subject to humiliation and insulting comments about their race.
The three plaintiffs are Gary McIntyre, a project manager; Clementine Clark, a community benefits manager and a member of San Francisco's Fire Commission; and Ceola Richardson, an administrative assistant. They describe an atmosphere in which African-American employees were made to feel they were hired specifically to fulfill minority-owned business requirements, and yet those requirements were not met.
The lawsuit also details instances when the plaintiffs tried to alert their supervisor, Paul Menaker, about dangerously high levels of asbestos in the air and near an adjacent school. Menaker made a point of disregarding the warnings and did not ensure that basic steps were taken to mitigate the release of dangerously high levels of toxic asbestos dust, the suit alleges.
The San Francisco Redevelopment Agency has had to step in (item 4d) to request that Lennar undertake routine asbestos handling practices.
Conceivably, the case could affect Lennar's standing as a favored government contractor. The firm is one of the largest in the country. Locally, they are the developers for the lucrative Treasure Island, Mare Island, Bayview-Hunter's Point, and potential 49ers stadium/housing project.
The case creates political implications on a number of levels, which may make things awkward for Mayor Gavin Newsom. One of the plaintiffs in the case is a mayoral appointee to the Fire Commission. Plaintiffs' attorney Angela Alioto plays a role in the Newsom administration. And finally, House Speaker Nancy Pelosi is involved in Lennar's local projects.
MORE INFORMATION:

Lennar is a green builder with SF government support.
Lennar is on the record as supporting African-American cultural history.
Lennar's stock price has looked better, but at least one Democratic heavy hitter is a Lennar president.
Lennar's failures at Hunters Point Shipyard highlight the risk of putting the Bay Area's prime real estate into the hands of profit-driven developers.
####