Labor federation endorses Angelides
for Governor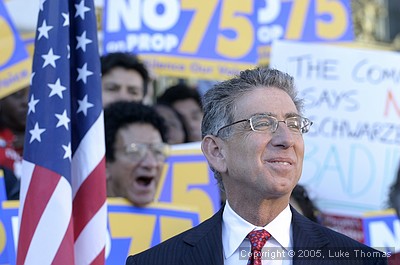 Phil Angelides at a San Francisco rally on 11/4/5
urging voters to vote no on Proposition 75. File photo.
Photo(s) by Luke Thomas
By Jeff Shuttleworth, Bay City News
March 8, 2006
OAKLAND (BCN) - After winning the endorsement of the powerful California Labor Federation at its pre-primary convention in Oakland, Democratic gubernatorial candidate Phil Angelides said, "Today marks the end of the Schwarzenegger administration."
More than 500 delegates from around the state came to vote on labor's official endorsement for governor, state and federal offices, and ballot measures.
The federation is the umbrella group for labor in the state and includes both the AFL-CIO and Change to Win unions.
The group endorsed Angelides, the state's treasurer, over his Democratic rival, Controller Steve Westly.
Referring to Schwarzenegger and the Republican Party in general, Angelides said, "We'll give them hell for what they're doing to our state and country."
He said organized labor should "stop retreating and go on offense for our values."
Angelides said, "We're going to stand tall for what we believe in" and promised the delegates, "I'll never let you down." Art Pulaski, the federation's executive secretary treasurer, said,
"Today we endorsed Phil Angelides because he has a vision to put California back on the right track. He has a vision for a California where good jobs are created and where the economy works for ordinary Californians, not just corporate CEOs."
Pulaski said, "With today's endorsement, our unions are pledging to work with Phil Angelides to take California back and to make our vision of a more just California a reality."
The federation hedged its bets on several other statewide races.
In the race for state attorney general, it issued a dual endorsement of both Democratic candidates, Oakland mayor and former governor Jerry Brown and Los Angeles City Attorney Rocky Delgadillo.
In the race for state treasurer, it endorsed three Democratic candidates: John Chiang, Joe Dunn and Dario Frommer.
The federation only one endorsed one Republican, Chris Lancaster in Assembly District 59, among its list of about 150 endorsements.
Copyright © 2006 by Bay City News, Inc. -- Republication, Rebroadcast or any other Reuse without the express written consent of Bay City News, Inc. is prohibited.
####