Supporters launch Mark Leno
to take down Republicans

Popular 13th District Assemblymember Mark Leno running unopposed
seeks re-election in Democratic primary with sufficient campaign funds
to help strengthen Democrats statewide.
Photo(s) by Luke Thomas
April 5, 2006
Bright blue spotlights were on Assemblymember Mark Leno Tuesday evening at the Ruby Skye Nightclub. Over a hundred supporters gathered at the Mason Street club to help Leno launch and fundraise for his re-election campaign.
"I never had to deal with Republicans in San Francisco," Leno said. "I think we're with friends so we can just let loose tonight."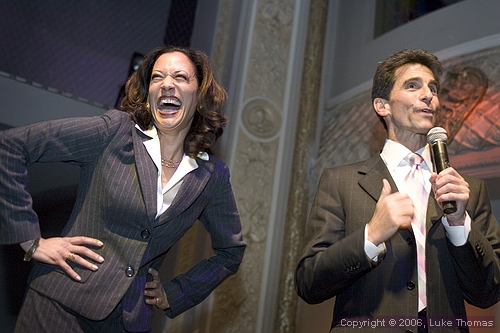 Friend Kamala Harris, San Francisco District Attorney, has known Leno long enough
for Harris' mother to suggest Leno would make a fine son-in-law.
Leno said this would be his final term if he is re-elected since assemblymembers can only be re-elected for a maximum of three terms.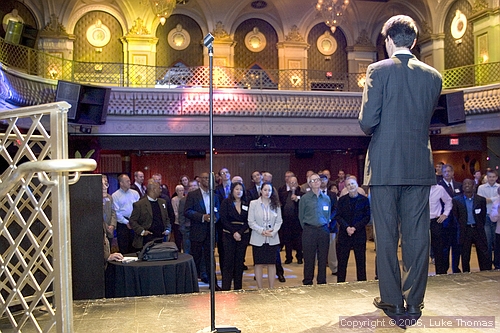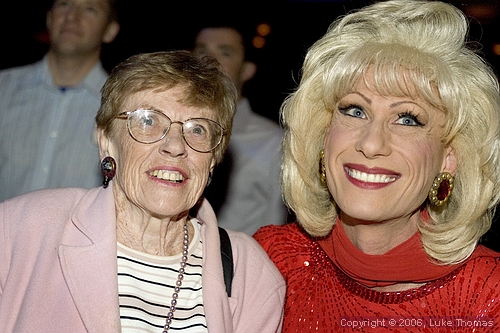 San Francisco progressive icon Sue Bierman, left,
with 13th District Honorary First Lady Donna Sachet.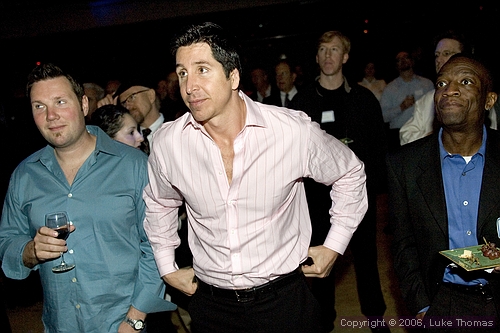 San Francisco artist and television personality Tim Gaskin, center.
"I feel so lucky and so privileged to do my job," he said. "You all give me the life and energy to do this task and I thank you all for being here."
Many public officials attended the event to express their support for Leno, including District Attorney Kamala Harris, City Attorney Dennis Herrera, Assessor-Recorder Phil Ting, Treasurer Jose Cisneros, Board of Supervisors President Aaron Peskin, Supervisor Bevan Dufty, Supervisor Sean Elsbernd, and City commissioners.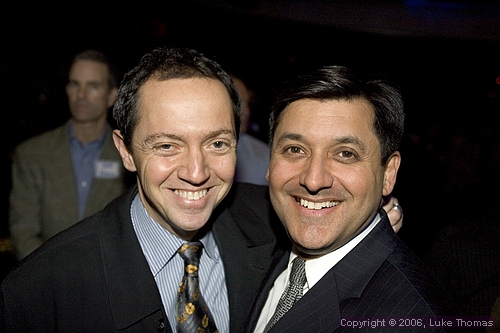 Supervisor Bevan Dufty, left, with San Francisco Treasurer Jose Cisneros.
"Leno is one of the most hardworking members of the legislature," Harris she said.
"He carefully studies, thinks, and checks in with people before he takes action."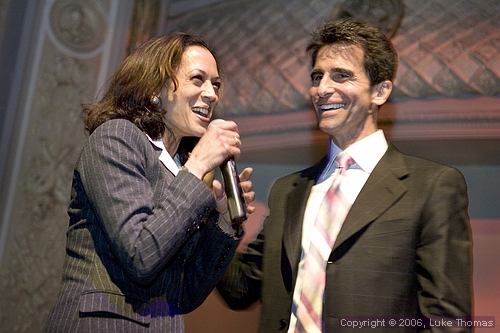 Harris added she applauds Leno's work in supporting the rights of women, children and immigrants, including recent legislation that makes human trafficking a criminal act.
"We need to let to let Leno know that San Francisco supports him 100 percent as he takes his lonely drive back up to Sacramento," she said.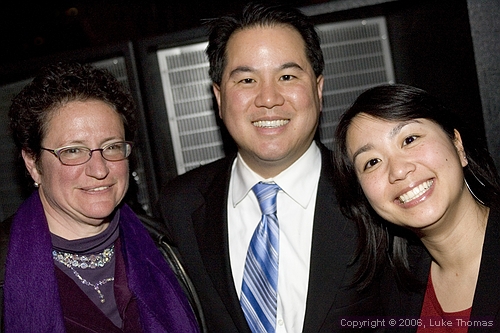 San Francisco Assessor-Recorder Phil Ting with wife Susan Sun, right, district director for Leno's San Francisco office, and Leno senior field representative Anna Damiani.

Leno said he will also continue to advocate renewable energy resources, affordable housing, universal access to healthcare, full funding for public education, and civil rights.
Jane Morrison, former chair of the county's Democratic Party Central Committee lauds Leno for his legislation acknowledging the rights of local crab fishermen.
"He looks at local sustainable environmental issues as much as he does with civil rights issues," she said.
One of the major civil rights issues that Leno said he feels strongly about is marriage equality. Last year Leno authored AB 849, which would have allowed same-sex couples to marry in California under the state constitution.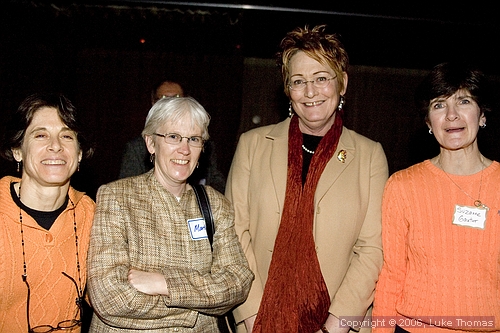 San Francisco Police Commissioner, and first transgendered woman to hold the post, Theresa Sparks, second from right.
"I'm going to work on helping elect a new governor that will finally sign that bill," he said.
Leno's continuous fight for civil rights means much for life partners Louis, 81, and Wally, 79, who have been together for over 55 years.
"Leno works hard for the rights of the people," Wally said.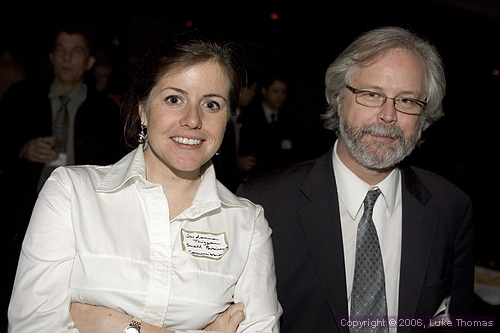 San Francisco Small Business Commissioner Jordanna Thigpen
with San Francisco Labor Council executive director Tim Paulsen.
As the techno version of Heather Small's "Proud" plays in the background later in the evening, Leno himself got to let loose with a martini.
As he sipped the clear liquor and savored the moment, Leno recalled mentor Robert Hertzberg, former speaker of the assembly, telling him that assemblymembers have only 72 months to make their impact.
"The clock is ticking," Leno said, "and I'm going to get as much work done as I can."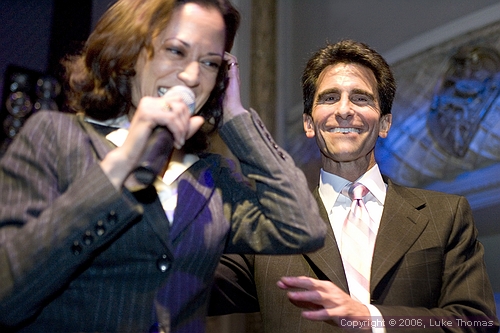 ####