READER-IN-THE-KNOW CORRECTLY NAMES CITY HALL MYSTERY MAN
Wins frolicking $10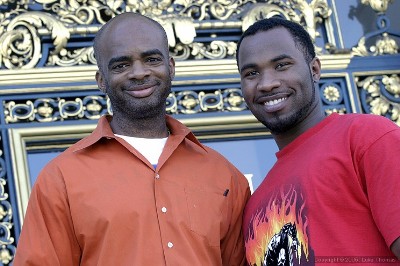 Photo(s) by Luke Thomas
Tuesday, September 13, 2005
Reader Keith Thompson yesterday correctly named the man pictured at left on August 30, 2005.
The quiet, swift moving figure around City Hall maintains a low profile, often seen but seldom heard.
Thompson correctly identified the gentleman, shown with newly registered domestic partner Desmond Simpson before the couple left for Atlanta celebration, as Lloyd Eric Martin.
Thompson wins a fulsome $10, still good for a righteous burger and a decent cup of joe.