San Francisco police arrest 65 in hotel worker protest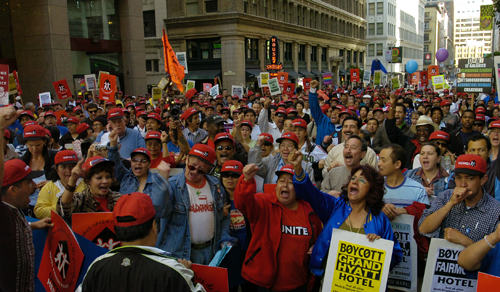 Photo(s) by Stephen Dorian Miner
By Tamara Barak, Bay City News Service
September 1, 2006
SAN FRANCISCO (BCN) - Police arrested 65 demonstrators yesterday afternoon after they allegedly blocked the entry to the Palace Hotel during a large protest carried out by San Francisco hotel workers and their supporters.
All 65 people were cited for trespassing and released, Sgt. Neville Gittens said.
Union representatives from Unite Here, Local 2, said 63 people were arrested and 1,200 more picketed in the street in front of the Union Square-area hotel to send a message to hotel management.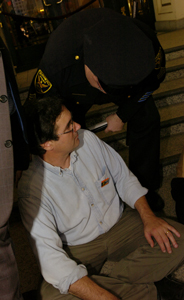 Mike Casey, Local2 Unite Here union boss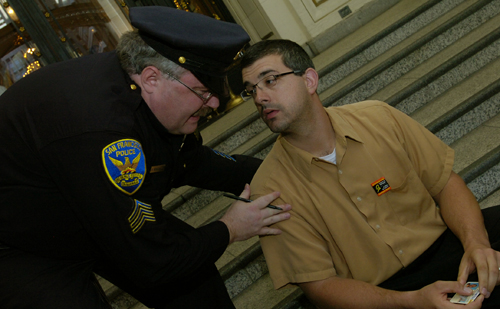 Supervisor Chris Daly
Last week, workers at 13 Class A hotels in San Francisco voted to authorize a strike if a contract agreement is not reached with hotel management.
Union leaders say 9,000 San Francisco hotel workers are currently working without a contract, and many of them have not had a new contract in two years.
In 2004, the last official contract between the Multi-Employer Group, which represents the management at the hotels, and the union expired, resulting in a two-week strike by workers in four hotels, and a subsequent seven-week lockout period where workers in all 13 hotels were not allowed to return to work, according to a spokesman for the mayor's office.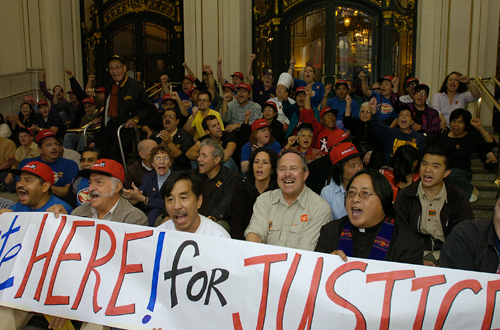 Copyright © 2006 by Bay City News, Inc. -- Republication, Rebroadcast or any other Reuse without the express written consent of Bay City News, Inc. is prohibited.
####