Lockyer approves sale of San Francisco
Kabuki Theatre to Redford Group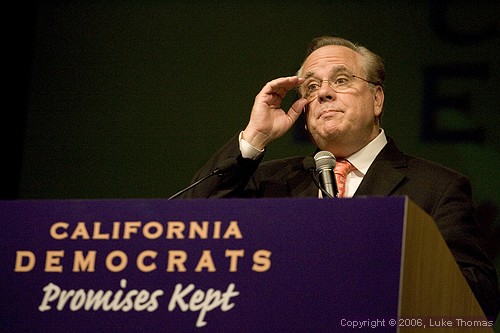 California Attorney General Bill Lockyer.
Photo(s) by Luke Thomas
By Julia Cheever, Bay City News Service
May 9, 2006
SAN FRANCISCO (BCN) - California Attorney General Bill Lockyer announced Monday that he has approved the sale of the eight-screen Kabuki Theatre in San Francisco to Sundance Cinemas LLC, a theater chain owned by actor Robert Redford.
The movie house in the Japantown district of the city is now owned by Kansas City-based AMC Entertainment Inc.
The proposed sale to Sundance was announced in March, but Lockyer's approval was necessary under the terms of a federal court settlement allowing the merger of AMC and Loews Cineplex Entertainment Corp.
Lockyer spokesman Tom Dresslar said the attorney general's approval of the sale of the Kabuki to Sundance was made contingent on a guarantee that Sundance will show first run films there through at least Jan. 18, 2011.
Sundance is permitted to lease the theater to another operator, but only if that operator agrees to show first-run films until the same date.

The merger of AMC and Loews was completed in January and created the second largest theater chain in the nation, with interests in approximately 415 theaters in 29 states. The new company retains the name of AMC Entertainment Inc.
Lockyer challenged the merger in an antitrust lawsuit filed in federal court in San Francisco in December, but simultaneously filed a proposed settlement containing the condition that AMC sell two multiplex theaters in San Francisco.
The settlement also gave Lockyer the right to approve the transactions selling the two theaters.
The second theater, the 14-screen AMC Van Ness, is still awaiting a buyer, according to Dresslar.
Lockyer said in January that without the divestiture of the two theatres, the new AMC chain would have controlled 77 percent of the screens in San Francisco's first-run commercial movie market.
AMC was also required to sell eight other theaters in Seattle, Dallas, Chicago, Boston, New York and Washington D.C. in settlements of other antitrust lawsuits filed by other state attorneys general.
Copyright © 2006 by Bay City News, Inc. -- Republication, Rebroadcast or any other Reuse without the express written consent of Bay City News, Inc. is prohibited.
####