Lockyer confirms investigation of Hewlett Packard over phone records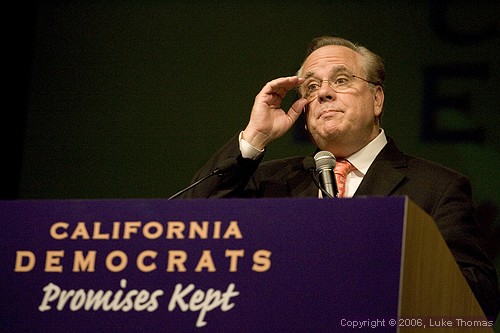 Attorney General Bill Lockyer. File photo 4/29/6
Photo(s) by Luke Thomas
By Jason Bennert, Bay City News Service
September 6, 2006
PALO ALTO (BCN) - California Attorney General Bill Lockyer confirmed today that his office is investigating Hewlett-Packard over allegations that company investigators obtained personal phone records of the company's board of directors using an illegal practice known as "pretexting.''
Lockyer said subpoenas were issued today in connection with the investigation, which is one of six investigations the attorney general's office is conducting into pretexting.
"We're in the middle of an active investigation. It's been underway for a number of weeks,'' Lockyer said in a phone interview.
Pretexting is when someone falsely identifies himself as the owner of a home or cell phone and provides some personal information in order to obtain the records connected with the particular phone number. Lockyer said authorities are beginning to see more and more instances of it.
"It's beginning to happen a lot. It's an offensive invasion of personal privacy,'' Lockyer said. "It is illegal.''
HP admitted in a Securities and Exchange Commission filing released today that investigators hired by company Chairwoman Patricia Dunn obtained the personal phone records of board members during an investigation into unauthorized leaks of company information to the media.
"HP informed Mr. Perkins that no recording or eavesdropping had occurred, but that some form of 'pretexting' for phone record information, a technique used by investigators to obtain information by disguising their identity, had been used,'' according to the HP filing with the SEC.
HP board member Tom Perkins angrily resigned after being informed that his phone records were obtained by pretexting. According to a letter he sent to the HP board members, he believes the investigation authorized by Dunn was "improper and likely unlawful.''
"I have direct proof of these untoward and illegal practices. My personal phones records were 'hacked.' Attached is a letter from AT&T confirming this unauthorized and fraudulent access of my personal phones records for January 2006, the month covered by the chair's investigation,'' Perkins wrote in his letter.
Perkins is the co-founder of venture capital firm Kleiner, Perkins, Caulfield and Byers. He was married to popular romance novelist Danielle Steel from 1998-1999 and earlier this year his first novel "Sex and the Single Zillionaire'' was published.
Lockyer said the other pretexting investigations involve "mostly data brokers'' and not corporations such as HP, currently ranked 11th on the Fortune 500 list of largest U.S. companies. Lockyer hopes the investigation will be completed in "the next several weeks.''
If investigators discover any wrongdoing, the offenders could be charged with either a felony, misdemeanor or in a civil action, according to Lockyer.
"It's a wobbler,'' Lockyer said.
Copyright © 2006 by Bay City News, Inc. -- Republication, Rebroadcast or any other Reuse without the express written consent of Bay City News, Inc. is prohibited.
####