Lockyer takes california out of Medicare lawsuit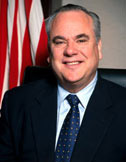 Bill Lockyer, California Attorney General
By Brigid Gaffikin,Bay City News Service
February 27, 2006
California will not join other states in a challenge to the new federal prescription drug plan, Attorney General Bill Lockyer announced last week.
The new program, implemented Jan. 1. under the federal Medicare Part D law, was intended to save the state hundreds of millions of dollars on the costs of drugs it makes available to poor and disabled seniors.
The new law allows for private-sector health plans to provide drugs to seniors and other eligible patients who were previously covered by Medicare and Medicaid.
But the way the plan was initially designed meant California ended up paying more than the Bush administration reimbursed the state and Lockyer announced Feb. 1 that California would join other states in a challenge to the law.
Because of the formula the federal government used to determine the state's reimbursements for drug spending, California would have had to pay some $131 million to cover drug costs for the fiscal years 2005-06 and 2006-07, according to Lockyer's office.
Since the administration recently revised the way reimbursements are calculated, it now appears the state will not lose more money than the amount of federal aid it receives, and so California has decided not to be part of the lawsuit.
However, Lockyer will either re-join the multi-state suit or litigate separately if it looks like California will face costs because of the new law.
"Time and time again, this administration has manipulated numbers, doctored data and suppressed science,'' Lockyer said in a statement. "If it turns out they've done it again this time, we owe it to our seniors and taxpayers to not let them get away with it.''
Copyright © 2006 by Bay City News, Inc. -- Republication, Rebroadcast or any other Reuse without the express written consent of Bay City News, Inc. is prohibited.
####